If you're looking for a place to have a great night and even better food, Aria should be at the top of your list. Chef Gerry Klaskala has perfected the art of delicious cuisine. The menu has a variety of dishes that are all raved about by new and returning guests. The beef short rib, which has been on the menu since day one, is a must try along with the lobster. If you are going for a more intimate setting for a special night, reserve dinner for two at their table in the wine cellar.
Atlanta is the city of dining out, so dine out in the best way possible at Aria.
Highlights
Butter braised lobster, truffle potatoes, broccoli mousseline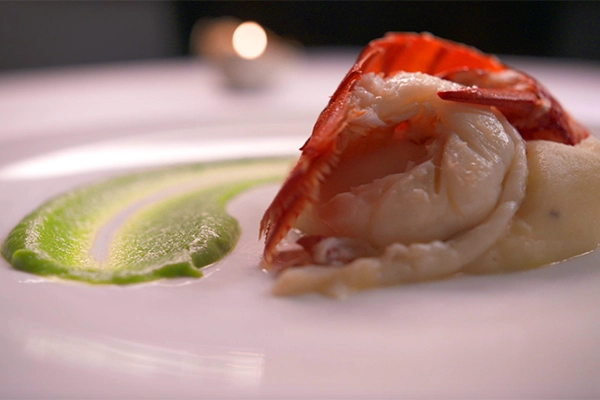 Soft, buttery lobster goes perfectly with smooth, creamy truffle potatoes in this stunning dish from Aria. The hint of broccoli flavor from the mousseline finishes this dish off perfectly!
A saute of locally foraged Chanterelles, olive oil, shaved shallots
These meaty Chanterelles are paired with crispy shallots and sautéed in olive oil. Served with toast for a crunchy bite.
Sea scallops, sunchokes, romanesco, brussels, fingerlings
Fresh seared scallops paired with artichokes, romanesco, singed brussels, and buttery fingerlings.
Essentials
490 East Paces Ferry Rd NE
Atlanta, GA 30305 
Hours
Monday-Saturday: 5:30pm-10:00pm

| | |
| --- | --- |
| Price Range | $$$ |
| Credit? | Yes |
| Outdoor Seating? | No |
| Parking? | Valet |
| Family-Friendly? | No |
| Delivery? | No |
| Alcohol? | Yes |