Archives
Desta Ethiopian Kitchen
Desta is often called Atlanta's best Ethiopian restaurant – and for good reason. They focus on familiar items on their menu, but with the flavors and preparation of Ethiopia. Everything is served with freshly made Injera flatbread, which can take a long time to make since it's fermented before baking. A great place to share your dishes with others while experiencing flavors from a part of the world that you may not be used to, Desta's the go to place for Ethiopian food in Atlanta and the entire of state of Georgia.
Highlights
Salmon Starter Salad
Pasta
Even though the Italians weren't successful at colonizing Ethiopia, centuries ago: they left their love of pasta.  Get Pasta with veggies, shrimp, fish and more.
Tibs
Their most popular dish – this is tender cubed meat of your choice – sauteed in Desta's blend of spices, onions, tomatoes and peppers.  Pick your meat, choose your starch and pick your side for a delicious meal.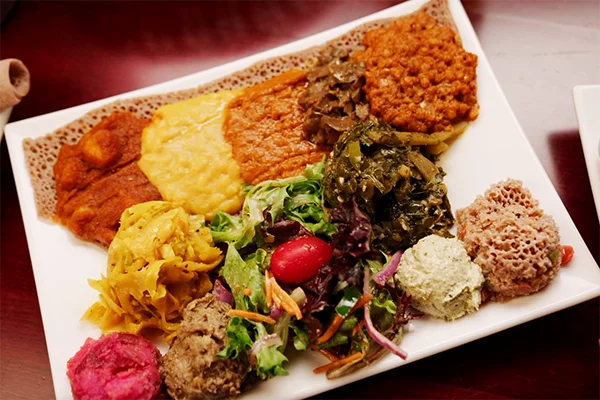 Vegan Platter
Shiro, Miser, Ater, Dinech Wot, Gomen, Cabbage, Salad, Azifa, Beets, and Potato salad and Tomato Fit Fit.
Essentials
3086 Briarcliff Road Northeast
Atlanta, GA 30329
1520 Avenue Place, B1-140
Atlanta, GA 30329
2250 Marietta Blvd, NE, Suite 206
Atlanta, GA 30318
Hours
BRIARCLIFF ROAD
Sun - Thu: 11a - 9p
Fri - Sat: 11a - 10p

EMORY POINT
Mon - Sat: 11a - 7p
Sun: CLOSED

WESTSIDE VILLAGE
Sun - Thu: 11a - 9p
Fri - Sat: 11a - 10p
| | |
| --- | --- |
| Price Range | $$ |
| Credit? | Yes |
| Outdoor Seating? | Yes |
| Parking? | Street |
| Family-Friendly? | Yes |
| Delivery? | Yes |
| Alcohol? | Yes |