Archives
The Original J.R. Crickets
You've seen it featured on FX's Atlanta, but the legend of J.R. Crickets goes deeper than lemon pepper wings (Although the lemon pepper wings ARE excellent). We learned about how J.R. Crickets isn't just feeding the community and providing a friendly place to watch the game – they're changing people's lives in their community as well.
Highlights
Chicken Wings
People around the country know that J.R. Cricket's is the home for Lemon. Pepper. Wet. Wings.  And there's a reason for it.  But they're great dry, buffalo style, buffalo teriyaki, dirty bird style – whatever you're into.    
BBQ Pork Ribs
Every good place to watch a game needs ribs on the menu, and J.R. Cricket's is no exception.  They have plenty of napkins to clean up this delicious BBQ sauce.
Waffle and Wings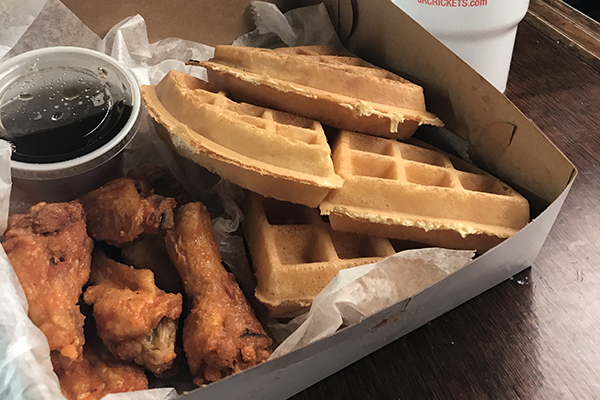 The south is famous for its chicken and waffles, so why not chicken wings and waffles.  It's the perfect, easy way to eat chicken and waffles on the go.
Essentials
129 North Avenue NE, Atlanta, GA 30308
3529 Main ST
College Park, GA 30337
4479 South Cobb Drive
Smyrna GA 30080 US
810 Hawthorne AVE
Athens GA 30606
1095 Georgia Highway 155
McDonough, GA 30253
2348 Cascade Rd SW
Atlanta GA 30303 US
886 Martin Luther King Junior Dr.
Atlanta GA 30314
1850 Lawrenceville Hwy
Decatur GA 30033
Summit Point Shopping Center
840 Glynn ST
Fayetteville, GA 30215
Hours
11am - 2am, Sun - Thurs
11am - 3am, Friday & Saturday
| | |
| --- | --- |
| Price Range | $$ |
| Credit? | Yes |
| Outdoor Seating? | No |
| Parking? | Lot |
| Family-Friendly? | Yes |
| Delivery? | No |
| Alcohol? | Yes |