15 of Atlanta's Best Ice Cream Shops
There's no better sweet reward for a long day than a heaping, scoop-filled ice cream cone with whatever toppings warm your heart. Since you've earned that reward, we listed some of Atlanta's best ice cream shops – everything from loaded milkshakes to matcha soft serve to small batch wonders to the hippest ice cream chain in the country.
341 Marietta St NW | Atlanta, GA 30313
(404) 565-2462
Their milkshake is bringing all the boys, girls and everyone else in ATL to Marietta Street. With lines down the block, they are one of ATL's hottest places to get a sweet, frozen dessert. They make insane, gargantuan milkshakes with delicious desserts crowning their increasingly iconic glass jar.
Multiple Locations
Jeni's has been one of the biggest risers when it comes to Ice Cream in the A. They've opened dozens of stores in the area over the last decade, with their latest one at the Plaza on Ponce next to the Majestic Diner. Famous for their Brambleberry Crisp Ice Cream, this Ohio-based chain is always churning out new flavors.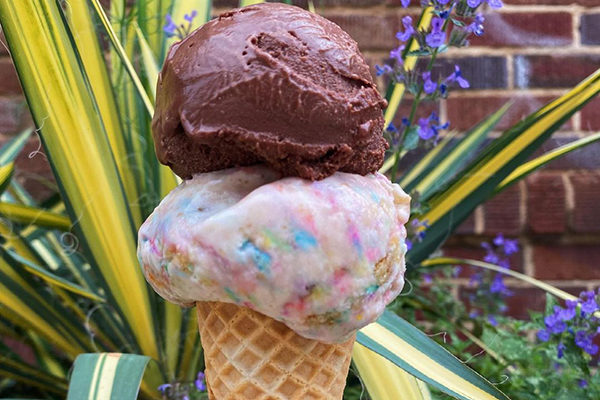 337 Elizabeth St NE | Atlanta, GA 30307
Started in 2013 by Atlantans Cora Cotrim and Davis Shandling, Queen of Cream has been making incredible, from-scratch flavors from their Inman Park location, but recently moved nearby to the Inman Park window off the Beltline. You can always order some sprinkle cookie flavor, black pearl, lavender honeycomb and more on their website.
25 Piedmont Ave NE | Atlanta, GA 30303
(404) 205-5002
This black owned, downtown Atlanta shop makes incredible Ice Cream Sandwiches made with donuts, Sundaes and milkshakes. And with everything from Basic Bish Vanilla, to Black Panther, to OG – their names are as creative as the flavors themselves.
Multiple Locations
Nearly 13 years ago Morelli's opened in Atlanta's Virginia Highlands, and after perfecting flavors like Salted Caramel and Butter Pecan, they've expanded their flavors to include everything from Lemon Gingersnap to Guava Cheesecake, to Flan Caramello and more.
5950 Northpoint Parkway Suite 129 | Alpharetta, Georgia, GA 30022
(404) 474-4766
This Alpharetta donut and ice cream shop feels like a candy colored dream store, with the bluest blue flavor of Cookie Monster ice cream in the A. If you visit, you have to try the Scream'n Nut – their donut ice cream sandwich!
Multiple Locations
There's nothing better than a fun night walking around Decatur with an ice cream cone, and it's thanks to Butter and Cream that it's not run of the mill. They've been making mouthwatering house made, small batch ice cream since 2014, including flavors like classic Strawberry, Honeycomb Forest and Butterscotch Brownie.
Multiple Locations
Four fat cows has 6 locations around Atlanta and Athens, so if you're a UGA alum or football fan, you're likely very familiar with this shop. They have incredible flavors like Chocolate Bourbon Pecan Pie, Huckleberry Cobbler and Nutella Cookie Dough. But what really sets them apart are their ice cream cakes – order one for your next party!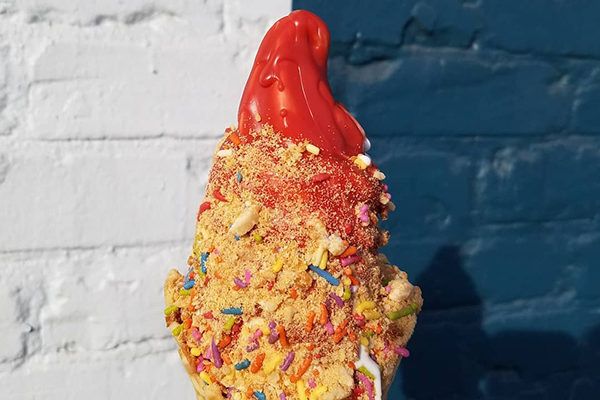 66 Georgia Ave SE | Atlanta, GA 30312
Sometimes, artisanal small batch ice cream just isn't what you're looking for. That's where Big Softie comes in. The specialists in soft serve, these guys really focus on the toppings, with everything from Cornflake Streusel to Pink Praline to Milk Chocolate Crunch Pearls. They also have a handful of interesting vegan soft serve options like Matcha, Vegan Oat Vanilla and Peach Sorbet.
Multiple Locations
Another interesting approach to traditional ice cream, Where's the Scoop makes rolled ice cream. If you're unfamiliar, it's a process where melted ice cream is poured onto a cold surface, then rolled into pinwheels and topped with yummy goodness. Nobody in Atlanta does it better than Where's The Scoop in Alpharetta!
Multiple Locations
Another unique approach to soft serve can be found in Duluth and Buford Highway's Matcha Cafe Maiko. They have two delicious base options of Vanilla and Matcha soft serve, and have recently created a new Instagram friendly treat – the Golden Shogun matcha soft serve – soft serve topped with the finest 23.75k gold!
Multiple Locations
Frozen custard fanatics are buzzing about Andy's. Being a quick service frozen desert service, you can find items on the menu such as Sundaes, Custard Scoops, and even Specialty Pints! Open all year and operating under Sun, rain, sleet, and even snow! You can never go wrong with Andy's fresh custard.
Multiple Locations
Science never tasted so good with Subzero Nitrogen's amazing Ice Cream. Being an ice cream store that would excite the imagination of a generation, Subzero takes a liquid state and turns them into a tasty frozen dessert! Come experience ice cream with a purpose, featuring flavors such as Chocolate Conduction, Mass Mocha Madness, and even Key Lime Voltage.
50 Upper Alabama St Suite 74 | Atlanta, GA 30303
(404) 228-5180
Not only do you get creative ice cream variations to choose from, you also get the coolest ice cream experience while you're at it! Scream Ice Cream Rolls is a black-owned ice cream shop located in Underground Atlanta providing hand-rolled ice cream delights. Are you going for Vanilla, Espresso, or Lavender? Luckily, IScream has them all!
Lenox Mall, 3393 Peachtree Rd K111 | Atlanta, GA 30326
(313) 888-5378
Making organic gelato with high expectations, Amorino strives for nothing less than freshness. Taking a creative twist with rose shaped gelato scoops, the experience is not only tasty, but beautiful as well. Always launching new flavors, don't miss their seasonal based menus, just go during every season!
Where's your sweet tooth taking you?