29 Romantic Restaurants for Date Night in Atlanta
Editor's Note: This article was originally published January 21, 2021 and last updated January 26, 2023.
Call us biased, but we think ATL is one of the most romantic (and delicious) cities in the U.S.A.! And we can prove it with these restaurants that truly deliver both gourmet cuisine and romance. Here are our top picks for the top 29 romantic restaurants and places in Atlanta, perfect for you and your boo's next night out on the town. Restaurants listed below in no particular order.
490 East Paces Ferry Rd NE, Atlanta, GA 30305
Buckhead mainstay Aria is consistently named of the top restaurants in Atlanta, and we invite you to come see why for yourself! To start off your meal, enjoy their lobster appetizer consisting of soft, buttery lobster and smooth, creamy truffle potatoes. For a main course, their scallops are always perfectly seared. Linger over dessert and enjoy their gorgeous interiors; they're truly a sight to behold.
3005 Peachtree Rd NE Suite 300, Atlanta, GA 30305
The intimate, elegant atmosphere at this new Buckhead gem with a French inspired menu is perfect for date night. It can be a little pricey here, but it's a splurge that's worth it! Unlike other places where it's all style and no substance, you really feel that each dish is exquisitely crafted here. You can taste the care and attention to detail they put into everything. Try the omelette topped with caviar, and get an order of their truffle fries as well as the portions can be a little small.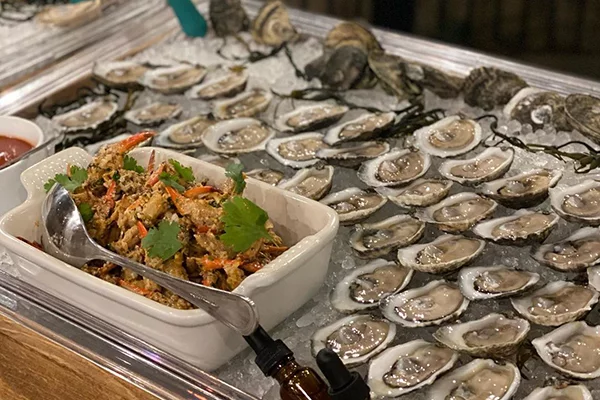 303 E Howard Ave, Decatur, GA 30030
The ambiance is very special at this New American Decatur stalwart. Known for their fabulously fresh oysters, every dish is like a work of art–they pay special attention to plating here. The menu changes from time to time, and they always have something delicious on the dessert menu if you have a sweet tooth. Is it expensive? Yes, but is it delicious and worth it and will have you coming back and back again for every special occasion? Absolutely.
6125 Roswell Rd STE 200, Atlanta, GA 30328
Is it just us or is the dining scene in Sandy Springs like, really heating up? Casi Cielo is one of the the newest additions to the neighborhood serving upscale Oaxacan fare. The octopus is to die for, their blue corn tortillas are handmade and cooked the traditional way, and all of their mezcal drinks are super tasty. We're obsessed! Also not to be missed: their underrated brunch service. Order the pastry basket for an array of Mexican breads and sweets, and dig into a their savory avocado dishes while you sip on a mezcal mimosa! It's A+ stuff.
4199 Paces Ferry Rd SE, Atlanta, GA 30339
Enjoy delicious Southern and New American food with a view with your boo at classic Canoe. Nestled along the Chattahoochee River, Canoe has been delighting Atlanta diners for decades and truly is one of the most romantic restaurants in Atlanta. Plan ahead and book your reservation in advance as they get filled up, and be sure to come back to try their brunch!
753 Edgewood Ave NE, Atlanta, GA 30307
Enjoy handmade pasta right in the heart of Inman Park at Boccalupo! Their risotto is perfectly savory, and their bruschetta is a great way to start your meal. Black spaghetti is also their specialty if you want a dish that's truly authentic Italian.
3027 Bolling Way NE, Atlanta, GA 30305
Le Bilboquet is a total experience. Enjoy top tier French cuisine in their light and airy dining room, or on their gorgeous patio on a summer day. Whatever you do, don't skip dessert! Their pastries are to die for. You can even make a whole evening out of it with a meander around the shops of Buckhead!
907 Marietta St NW, Atlanta, GA 30318
This West Midtown/Georgia Tech spot is a must for date night! Jerk chicken sliders, oxtail pappardelle, brown stew lamb shank… are you salivating yet? The interiors are gorgeous, with an eclectic mix of modern and island touches that lend to its modern Caribbean fare. The service is fantastic, and there's a selection of drinks with Caribbean flavors too, like their "Mr. Killa" with Appleton 12 rum, Habanero Tamarind Curry, Lemon, and Pineapple or their guava lemonade. Be aware the music does give it a club feel, so if you prefer a more lively date night then this would be your place but if you prefer something more quiet and intimate, it'd be best to choose somewhere else. There's some valet parking as well as street parking.
88 W Paces Ferry Rd NW, Atlanta, GA 30305
You can catch us and the rest of Atlanta snapping pics for IG at the Garden Room. 😉 The Garden Room is new to the Atlanta dining scene and has breathtaking interiors full of rich greenery and artfully arranged florals that you have to see to believe. Some items on the menu include and wagyu coulotte and lemon lobster rolls, but it's their cocktail and drink menu that really shines.
3035 Peachtree Rd NE, Atlanta, GA 30305
The Buckhead crowd knows Le Colonial is the real deal. This French-Vietnamese place is always packed and has the best of both of those worlds: Parisian-Style leather banquettes and seating, Vietnamese staples like pho and bo luc lac (shaking beef), and a French tarte au citron (lemon tart) that will have you saying, "Je l'adore!"
3050 Peachtree Rd NW Suite 8, Atlanta, GA 30305
Chai Yo Modern Thai is an Atlanta Eats staff favorite and with one just one date night visit, you'll understand why. This sexy, upscale Buckhead spot is serving Thai cuisine that truly impresses! The lobster tom kha is silky smooth, and the saku sai kai is a ridiculously tasty and unusual starter. You'll love the authentic Thai decor and touches throughout the space, as well as the creative cocktail menu. It's Buckhead at its best!
3344 Peachtree Rd NE, Atlanta, GA 30326
Take your sweetie to enjoy classic French fare at this Buckhead staple. You'll love the classic red French bistro booths, the open kitchen letting you peak into your meal being made, and classic French fare like escargot, perfectly cooked scallops, and profiteroles.
5070 Peachtree Blvd Suite B-140, Chamblee, GA 30341
For a meal you and your sweetheart will always remember, you really have to check out the Alden. It's truly a gem right in the heart of Chamblee. The interiors are simple but clean and elegant–the chef's desire was for the restaurant to be somewhat of a blank slate and for the focus to be on the food and service. Go all out with a tasting menu or order a la carte. You'll love the seasonally changing menu, and how the cuisine pulls from the chef's travels all over the world. It's totally underrated!
789 Ponce De Leon Ave NE, Atlanta, GA 30306
Enjoy classic French fare with a visit to Tiny Lou's in the newly renovated Hotel Clermont. We love their intimate and sexy atmosphere with vintage inspired decor that nods to the past. The pastries are also quite the experience!
1460 Ellsworth Industrial Blvd. Atlanta, GA
Bacchanalia continues to serve up excellence year after year. Their seasonally changing four-course, prix fixe meal runs a little over $100 these days, but note that you'll probably get to enjoy tons of little chef's treats all night long. The ingredients are mostly sourced from the owner's farm so freshness is guaranteed, and the flavors they are creating night after night are sensational.
675 Ponce De Leon Ave NE, Atlanta, GA 30308
Gorgeous location/view + outstanding menu is sometimes a hard combo to come by, but honestly, 9 Mile Station on top of Ponce City Market delivers on both fronts. We love their brunch offerings, like the toad in the hole. After your dinner, you can enjoy some more rooftop fun with all the other rooftop happenings that always are going on at PCM.
2637 Peachtree Rd NE, Atlanta, GA 30305
It's safe to say there's been exponential growth in the restaurant scene in Atlanta. But before the medley of new restaurants that currently exist, there were just a few stalwarts in the community, one of them being LaGrotta. It's a bit of a journey to get there–enter in through the Peachtree Condominums then take the elevator to the basement and navigate the tunnel-like corridor to the host stand and check in. You could say it's a testament to the cuisine that its unusual location has not deterred diners one bit in the decades it's been open. You'll enjoy the coziness of this place and the white tablecloth restaurant type of service and attention to detail. Many an anniversary and engagement has been celebrated and had here. It's simply an icon in Atlanta!
870 Inman Vlg Pkwy NE Suite 1, Atlanta, GA 30307
The drinks. The flavors. The tahdig! Delbar is continuing the thread of Persian excellence in Atlanta with its amazing blend of Middle Eastern cuisine. Definitely make reservations, as this new spot is booked and busy, and if you're in search of a quieter, more intimate meal, this isn't the place as it has a much livelier atmosphere. But the food! Start your meal with the labneh and kashk bademjoon, but whatever you do, don't miss out on ordering tahdig, a crispy and flavorful take on rice that's out-of-this-world.
Multiple Locations
With new restaurants in Atlanta popping up every day, we still find ourselves coming back again and again to Barcelona… for brunch, for birthdays, and for date night. It really is one of the most romantic restaurants in Atlanta. It also seems like the rest of Atlanta is just as impressed, as both their West Midtown and Inman Park locations are always bustling. Always! Split a carafe of sangria with your date, share some patatas bravas and albondigas, and have a fabulous time with this Spanish spot.
3455 Peachtree Rd NE, Atlanta, GA 30326
Another Chef Ford Fry spot, St. Cecilia is a great date night spot for freshly made pasta. High ceilings, excellent service, and fresh crudo that'll delight your senses. It's totally worth it for the complimentary focaccia bread alone. You and your date will love this elegant, airy Italian option!
510 Piedmont Ave NE, Atlanta, GA 30308
Something to love about the South is you'll find restaurants like these with an amazing mash-up of Southern and Asian flavors. It shouldn't work, but it does!! Dig into spectacular creations like lobster crawfish wontons and fried frog legs served alongside Thai curry. Every visit is a flavor explosion, and they always have excellent service.
620 Glen Iris Dr NE Unit C-1, Atlanta, GA 30308
New to ATL, Ruby Chow's, from the chef behind Le Fat in West Midtown, has opened up by Ponce City Market and it's perfect for date night. The interiors are luxe and there is some heated outdoor seating as well if you prefer to dine outside. Their menu is an eclectic mix of pan-Asian tapas, with baos and pork belly and very interesting soy sauce egg dish called Shoyu Tomago. Take a short walk over to Ponce City Market for some gelato from Honeysuckle Gelato post date!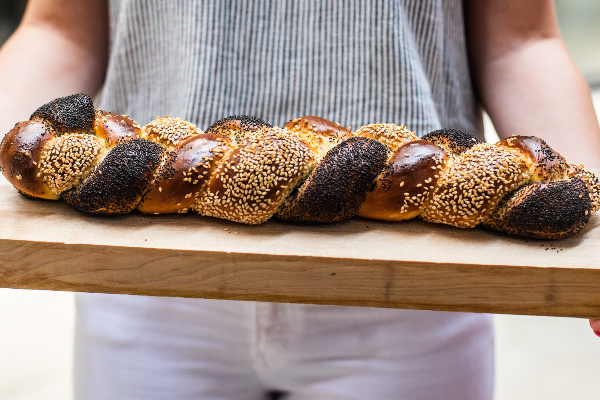 1170 Howell Mill Road Suite P10b, Atlanta, GA 30318
West Midtown has all the good spots. Case in point: Aziza. The menu features a modern take on Israeli cuisine with influences from Morocco, Lebanon, and Iran as well, and the kitchen is helmed by Executive Chef Luis Guevara Salgado. You're going to go crazy for their kubaneh and hummus, and no, the hummus is not like the mostly underwhelming ones you find at the grocery store. The menu changes seasonally but some things you can expect are items like tajin, lamb, and halloumi. The desserts are also creative and delicious–their pastry chef knows what they are doing. And the interiors are cozy and intimate, a totally romantic place to take a date. While it's not an everyday sort of place, we think the value is also there–you'll likely leave very full!
2948 Clairmont Rd, Atlanta, GA 30329
This Brookhaven spot has been serving up some of the best, if not the best, classic French and European fare in the Metro area for decades. Almost 50 years, in fact! The stucco walls, white tablecloths, ambient candles and table lamps throughout the space make this beautiful but unpretentious restaurant feel so homey and intimate. Despite being quite large, the way they section off the restaurant into separate rooms also makes it feel very cozy. Now, let's talk about the food. It's truly French cuisine at its best, with portions that are a little more American meaning you aren't going to leave hungry. The beef wellington is a spectacular achievement, and the extra silky creme brulee is the perfect ending to your meal. Make a trip, stat!
587 Ralph McGill Blvd NE, Atlanta, GA 30312
A mano has us coming back and back again for their classic pasta dishes. Their carbonara always hits the spot, and their cacio e pepe has just the right amount of creaminess and pepper to satisfy. The patio is cute-as-a-button, and you're going to love the Italian skillet bread, drenched in olive oil and balsamic vinaigrette. Gluten-free options are also available.
6700 Powers Ferry Rd NW, Sandy Springs, GA 30339
Ray's on the River in Sandy Springs is one of those rare places where the food is matched by the beautiful view. Set against the Chattahoochee just west of Northside Drive, Rays brings a fine-dining touch to a tranquil corner of the city. Ray's menu includes reasonably priced lunches and a couple of steaks that top $30, so whatever your reason for stopping by, your wallet will feel less stretched than your belly. If you're looking for a table with a river view, be sure to get there early.
1198 Howell Mill Rd #020, Atlanta, GA 30318
Forza Storico, from the team behind Storico Fresco, has easily become the most happening spot in West Midtown, in the same complex as JCT Kitchen. Their patio is a wonderful place to share a smooch with your loved one, with plenty of heaters to keep you both cozy in the fall and winter time. The energy somehow simultaneously both lively and cozy, leading to a date that will earn you tons of brownie points. And did we also mention that the pasta is fantastic? Honorable Mention: Storico Vino in Buckhead, another similar place owned by the same restaurant group and an even more intimate and cozy atmopshere.
5575 Windward Pkwy, Alpharetta, GA 30004
Cabernet Steakhouse is a date night spot that the guys will love just as much as the ladies. There are some serious Mad Men vibes inside at their cigar bar, where you can enjoy a smoke with your meal. A true gem that's stood the test of time, and worth the trip to Alpharetta.
6405 Blue Stone Rd Suite 200, Sandy Springs, GA 30328
With its sweeping, luxe interiors and chic cocktails, The Select is one of those restaurants where it's equally about the ambiance as it is about the food. A part of the new Sandy Springs City Springs development, The Select has been making a name for itself in the community with rave reviews from diners and food critics alike. You're going to love the miso sea bass and ever-changing pastry menu, as well as their patio with plentiful seating. The Select is also now open for brunch!