West Midtown's Hottest Restaurants to Add To Your Bucket List
Editor's Note: This article was originally pubslihed December 19, 2019 and last updated March 25, 2022.
Revitalized and revamped West Midtown is now home to some of the best restaurants in Atlanta, all within a few square miles. Make your way through this buzzing neighborhood with our West Midtown restaurant bucket list.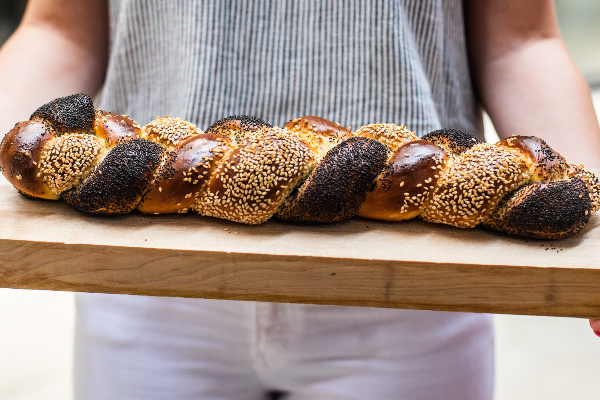 Aziza brings modern Israeli fare to the West Midtown crowd. Have a taste of the Middle East with flavorful options like their braised lamb shank and octopus dish. Their pastry chef also works wonders every night for dessert!
Healthy, tasty, and always fresh Upbeet is bringing customizable grain bowls to Atlanta when we need to eat clean. Bonus: they also have tasty toasts, smoothies, and açai bowls!
Savory rice bowls, great priced sushi, and a ramen plus two roll deal you'll swear by. This cozy little spot serves all the comfort Japanese food that always hits the spot.
This chic spot in West Midtown is just perfect for date night! Menu highlights include their langoustine roll with baby lobster and tuna crisp with truffle aioli.
What would we do without Taqueria Del Sol? This is the place to get your Mexican fix at a ballin' on a budget price. Regulars swear by the shrimp corn chowder and fried chicken tacos, but you can't go wrong with whatever daily special they cook-up.
This brunch spot is a welcome addition to the West Midtown food scene and is already serving up truly delicious Southern delicacies. Their eggs benedict with sriracha candied bacon and fried hash browns is just *chefs kiss.* Get a matcha latte for a touch of sweet as well!
In the mood for seafood? The Optimist by Chef Ford Fry has the dish for you. Try their lobster roll or their seafood gumbo that's all the rage!
Featured on Diners and Drive-ins, this little dive is serving up some ridiculously tasty Asian street food combining all the flavors you love. Their Korean rotisserie chicken, is what they're known for but everything on the menu is super tasty. Try the Kung Pao ramen, ramen noodles stir fried in a garlic sauce if you're in the mood for noods or the Pijiu Super Nachos with fried wonton skins and Korean bulgogi for the ultimate cheat meal. You're going to love it!
An authentic taste of Asia with only the most premium sushi. The upstairs patio is perfect in the summer or spring time. Bonus: they've got a great happy hour too on Mondays and Wednesdays from 5-7pm with half-off rolls!
Barcelona and their perfect little tapas are always on TAPA our minds! Also located in Inman Park, Barcelona is the perfect spot for a date night or girl's night. Order a pitcher of sangrias and some charcuterie and cheese to share before digging into what will sure to be a memorable meal.
It's not West Midtown without Antico. Their spicy diavola pizza won our 2018 "Champion Eats" contest, and this little pizza shop is a stop for every celebrity when they're in town. One bite into their thin, perfectly blistered Neapolitan pie and you'll be forever hooked.
Right next to Antico, you'll find chicken and pasta GREATNESS at Gio's. With great portions and a lemon-y chicken that's out-of-this-world, Gio's is another corner of "Little Italy" and a big part of what makes West Midtown so delicious. Go for classics like chicken parm or put your tastebuds to the test with the spicy diavola.
The banana bread french toast at this West Midtown mainstay will knock your socks off! Choose from their many specialty coffees as well for something sweet. Pro tip: slide right in there as they open around 9am on the weekends to skip the wait.
The place to go if you're feeling really fancy. Enjoy delectable escargots, caviar, and steak in every cut you can dream of. Finish your night with the truly impressive baked alaska!
For small plates perfect for sharing and a menu that's got a little bit of everything, check out Red Bird. The dining room is elegant, light and airy, and their laminated Birdy biscuits in particular are a staff favorite.
Grown and sexy date night or girl's night vibes! Get Caribbean food and flavor with a twist here. Oxtails anything is irresistible, but their take with fiore pasta is just genius!
This may very well be the best patio in all of metro Atlanta! For handmade pastas and an exceptional wine and cocktail list, check out Forza Storico.
This popular Buford Highway spot opened up a popular and spacious second location in West Midtown so you can get your ramen, BBQ pork, and mango lassi fix here as well. Their menu, true to Malaysian cuisine, has a smattering of pan-Asian offerings. We think you'll love it all.
Every neighborhood needs a homey neighborhood spot, with great wings and burgers and fries. And true to West Midtown's stylish new vibes, Nick's Westside aims to be just that but more elevated. Thoughtful and unique flavors all over the world blend together for an exciting menu that's both new and familiar. Dig into Chef Leahy's smoked onion dip, cheddar biscuits, and pork belly bao buns for an awesome, awesome meal.
Aziza
Upbeet
Wagaya
Eight Sushi
Taqueria Del Sol
Le Fat
Cultivate Food & Coffee
The Optimist
Slim & Husky's
Pijiu Belly
O-ku
Barcelona
Antico
Gio's
West Egg
JCT Kitchen
Marcel