17 of West Midtown's Hottest Restaurants to Add To Your Bucket List
Revitalized and revamped West Midtown is now home to some of the best restaurants in Atlanta, all within a few square miles. Make your way through this buzzing neighborhood with our West Midtown restaurant bucket list.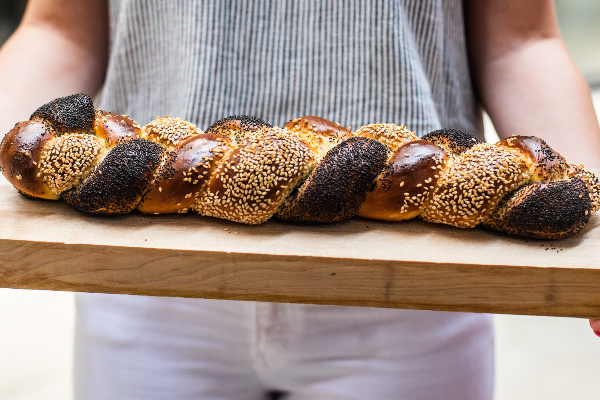 New to West Midtown but already making a big splash on the culinary scene, Aziza brings modern Israeli fare to the West Midtown crowd. Have a taste of the Middle East with flavorful options like their braised lamb shank and octopus dish.
Healthy, tasty, and always fresh Upbeet is bringing customizable grain bowls to Atlanta when we need to eat clean. Bonus: they also have tasty toasts, smoothies, and açai bowls!
Savory rice bowls, great priced sushi, and a ramen plus two roll deal you'll swear by. This cozy little spot serves all the comfort Japanese food that always hits the spot.
This chic spot in West Midtown is just perfect for date night! Menu highlights include their langoustine roll with baby lobster and tuna crisp with truffle aioli.
What would we do without Taqueria Del Sol? This is the place to get your Mexican fix at a ballin' on a budget price. Regulars swear by the shrimp corn chowder and fried chicken tacos, but you can't go wrong with whatever daily special they cook-up.
An elegant and romantic date night spot, Le Fat is serving up French/Vietnamese/Cantonese delicacies like banh mi toast and simmering clay pots to the West Midtown crowd. Also equally wonderful? Sitting at the bar and ordering any of their fabulous cocktails. Cheers to that!
This new brunch spot is a new addition to the West Midtown food scene and is already serving up truly delicious Southern delicacies. Their eggs benedict with sriracha candied bacon and fried hash browns is just *chefs kiss.* Get a matcha latte for a touch of sweet as well!
In the mood for seafood? The Optimist by Chef Ford Fry has the dish for you. Try their lobster roll or their seafood gumbo that's all the rage!
"Pizza rules everything around me" is the mantra at this originally from Nashville, fast-casual spot that's been featured on USA Today. Also not to be missed? Their made-from-scratch cinnamon rolls.
Featured on Diners and Drive-ins, this little dive is serving up some ridiculously tasty Asian street food combining all the flavors you love. Their Korean rotisserie chicken, is what they're known for but everything on the menu is super tasty. Try the Kung Pao ramen, ramen noodles stir fried in a garlic sauce if you're in the mood for noods or the Pijiu Super Nachos with fried wonton skins and Korean bulgogi for the ultimate cheat meal. You're going to love it!
An authentic taste of Asia with only the most premium sushi. The upstairs patio is perfect in the summer or spring time. Bonus: they've got a great happy hour too on Mondays and Wednesdays from 5-7pm with half-off rolls!
Barcelona and their perfect little tapas are always on TAPA our minds! Also located in Inman Park, Barcelona is the perfect spot for a date night or girl's night. Order a pitcher of sangrias and some charcuterie and cheese to share before digging into what will sure to be a memorable meal.
It's not West Midtown without Antico. Their spicy diavola pizza won our 2018 "Champion Eats" contest, and this little pizza shop is a stop for every celebrity when they're in town. One bite into their thin, perfectly blistered Neapolitan pie and you'll be forever hooked.
Right next to Antico, you'll find chicken and pasta GREATNESS at Gio's. With great portions and a lemon-y chicken that's out-of-this-world, Gio's is another corner of "Little Italy" and a big part of what makes West Midtown so delicious. Go for classics like chicken parm or put your tastebuds to the test with the spicy diavola.
The banana bread french toast at this West Midtown mainstay will knock your socks off! Choose from their many specialty coffees as well for something sweet. Pro tip: slide right in there as they open around 9am on the weekends to skip the wait.
Another one of Chef Ford Fry's joints, JCT is serving up the southern favorites you love and crave. You'll be delighted by their fried chicken special, truffle fries, and all the creative cocktails that they cook up. JCT boasts the best patio in all of West Midtown, with live music most nights and a beautiful view of the train tracks and iconic West Midtown bridge. Now open for brunch!
The place to go if you're feeling really fancy. Enjoy delectable escargots, caviar, and steak in every cut you can dream of. Finish your night with the truly impressive baked alaska!
Pin it!
Aziza
Upbeet
Wagaya
Eight Sushi
Taqueria Del Sol
Le Fat
Cultivate Food & Coffee
The Optimist
Slim & Husky's
Pijiu Belly
O-ku
Barcelona
Antico
Gio's
West Egg
JCT Kitchen
Marcel