Truly Perfect Patios Around Atlanta
Last Updated: April 21, 2021. Written by Jessica Pierson and Trisha Pintavorn
When the weather is as good as it's been in Atlanta, you better believe we're all eating outside! Enjoying a drink and a meal on a patio at a great restaurant just makes everything a little better. Check out one of these spots that offer the perfect patio atmosphere and even better food!
We love the small but mighty patio at this cozy and intimate spot in Old Fourth Ward, perfect for date night. Their pastas are rich and authentic, and it just feels like a great neighborhood spot even if you trekked on over here from the other side of town.
When someone asks you to meet up and have a beer somewhere, Barleygarden should be the first spot to come to mind. While beer is Kraig Torres' one true passion in life–and you can get over 50 drafts on tap at Barleygarden–every item on their menu is great as well. It's gastropub grub at its best and the open-air patio at their Alpharetta location is patio perfection.
We love the casual, indoor/outdoor vibes and live music at Blue Top in happening Chamblee. The food is unpretentious, delicious finger food It's also family-friendly. Leon Bridges even played a secret concert there over the summer.
Canoe is a peaceful oasis located on the banks of the Chattahoochee River. If you want a little getaway without having to leave Atlanta, this is the place to be! Open for brunch, lunch, dinner, Canoe has all day views you don't want to miss! If you're there for brunch, get the smoked salmon eggs benedict and allow all your problems to go away!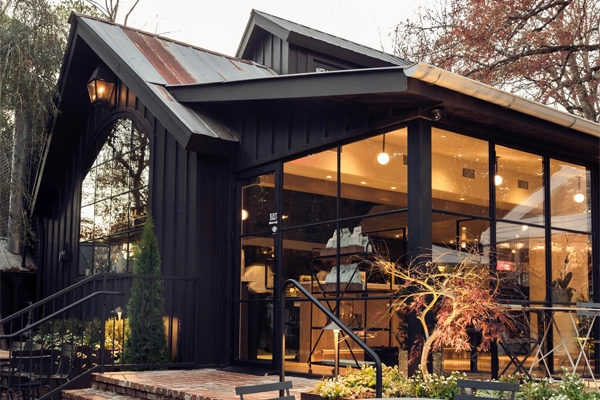 The old Horseradish Grill has been revitalized and revamped into something more modern and absolutely stunning in terms of the patio. It's pooch friendly, great for date night, and there are firepits as well when it gets chilly out.
For a fun little patio, check out Chiringa, located in Alpharetta. Grab some baja tacos and a couple cocktails for a fun dining experience. All of the cocktails are under $10, which will make Chiringa one of your new favorite places!
Light bites and an earthy shaded patio with the cutest little bistro tables and chairs make this Roswell spot a favorite for brunch, coffee, and breakfast bites.
Hawker's is Beltline fun! The decor is sexy and cool, underground Asian nightclub inspired with a smattering of pan-Asian cuisine. Their open-air bar is fabulous and they've now added ample patio seating. Their Korean fried chicken wings are excellent as is everything on the menu. Order the "That's My Bag, Baby" cocktail, too–it's like an adult capri sun.
Located on the Beltline, Ladybird is the perfect pit stop for some tasty food! Their large patio is covered in string lights, so you know it's gonna be a good time! Split some pimento cheese fritters with all of your friends and take in the nice scenery. Ladybird is open for brunch, lunch, and dinner, so there's no excuse to miss out on this one!
King + Duke is a prime spot here in Atlanta! With a special patio menu full of bites and drinks, you'll be feeling like a king! Order the Thomasville Tomme or the Out of the Ashes cheese plates to try cheeses made right here in Georgia! Pair it with one of their fabulous wines, and you've got the makings of a great night!
There's always a hot, new restaurant to try in Atlanta–but don't forget about the classics, either. Kyma has been serving up the absolutely best modern Greek food in Atlanta for over a decade now. And it's not just a special occasion spot anymore, either. They've created a more casual bar and seating area and the most unique and special patio in Atlanta that'll make you feel like you're right in Greece.
It's carbs + the Beltline, what more could you ask for? They serve a mean Detroit-style pie, perfect for all your carb cravings. You'll love the sauciness and the thick and crispy yet chewy crust. Order their meatball appetizer, too and an aperol spritz for the perfect meal!
Barbeque, beer, and a patio?! This place might be too good to be true. But good thing you can indulge in this experience today, located in Alpharetta. The Nest's beer list is one that everyone will enjoy and the barbeque is mouth watering. Come stop by to fulfill all your patio needs.
Located in Piedmont Park, Park Tavern is the perfect place to enjoy a nice day outside. From chipotle beef tacos to the samurai sushi roll, this menu is full of variety and has something for everyone! So when you're done playing frisbee in the park, walk over to Park Tavern for a great meal in a fun place!
Thai food and a skyline view is the perfect combination for a great time! Tuk Tuk Thai Food Loft has a rooftop that will make you want to stay all night long, or at least until they close! Order the Kao Moo Dang, a dish with bbq pork and thai sausage that is DANG good! Grab your friends and head on up to the Tuk Tuk Thai Food Loft for some drinks tasty food!
It's a restaurant that's as much about the atmosphere as it is about the cuisine. This gorgeous Sandy Springs gem has impossibly chic interiors as well as a fantastic patio with bistro style chairs throughout.
Local favorite Uncle Jack's Meathouse has just opened up a gorgeous location in Roswell called Uncle Jack's on Canton. There are plenty of patio heaters, patio umbrellas, and bistro lights to make an al fresco meal comfortable and special.
View this post on Instagram
Decatur Italian spot The White Bull now boasts an expansive patio that's perfect for enjoying great pasta in great weather. If you're dining with a big group, be sure to look into their family-style polenta parties!
Use our map below to find a patio near you!
A Mano
Barleygarden
Blue Top
Canoe
The Chastain
Chiringa
Fellows
Hawker's
Ladybird Grove and Mess Hall
King + Duke
Kyma
Nina & Rafi
The Nest Cafe
Park Tavern
Tuk Tuk Thai Food Loft
The Select
Uncle Jack's on Canton
The White Bull