10 Alpharetta Restaurants On Our Bucket List
Alpharetta has become a veritable food oasis with such a tremendous amount of delicious restaurants it's totally impossible to list them all–but here are some you absolutely have to add to your bucket list.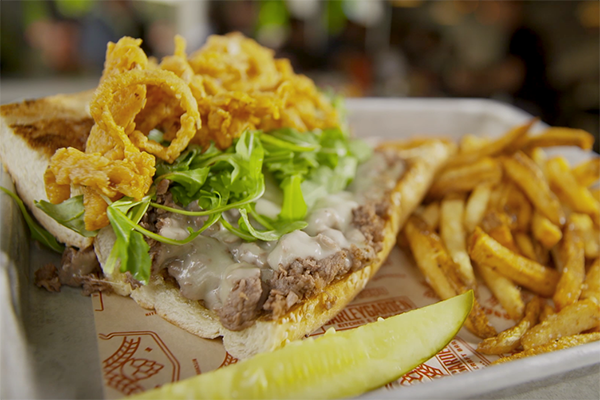 900 Avalon Blvd | Alpharetta, GA 30009
(678) 266-6218
One look at the 80+ beers on tap at Barleygarden, and you'll know you've truly entered beervana. But the food is nothing to scoff at either, and every single dish pairs perfectly with a brew. A salty soft baked pretzel, meaty Spotted Trotter hot dog, and addicting "Butcher's Bun" with shaved ribeye, garlic aioli, gruyere, arugula, and fried onion on a sesame bun. They've got an expansive outdoor space, with a perfect upstairs patio to grab a brew on on a hot day.
4100 Avalon Blvd | Alpharetta, GA 30009
(678) 436-5655
Branch and Barrel at Alpharetta's the Avalon has one of metro Atlanta's best combinations of a chef-forward menu and incredible bourbon. Whether it's the braised beef brisket, braised baby back ribs, or buttermilk fried chicken sandwich, each dish has incredibly fresh ingredients and the whole menu is filled with the comfort-food classics just like grandma used to make them. Dig in to the deep bourbon selection where they make their own bitters, shrubs and fixings – if it goes in the cocktail, they're making it themselves.
29 S Main St | Alpharetta, GA 30009
(770) 410-7611
Smokejack BBQ is Alpharetta's go to spot for phenomenal barbecue, time and time again. Everything is delicious with great smokey flavor–no sauce needed. You'll feel right at home with their unpretentious, rustic interiors as you chow down with their finger-lickin' good mac and cheese and burnt ends. Try the Brunswick Stew–the perfect dish on a cold fall or winter day, with heaping amounts of brisket and delicious flavors to warm you up inside.
770 McFarland Pkwy | Alpharetta, GA 30004
(770) 475-1818
For that perfect hefty, New York style bagel with just the right amount of chew, BB's Bagels is unmatched–a total cult favorite that has folks driving from all over and waiting in line to get their fix. The interior is definitely nothing fancy, but Tthey've got tons of different flavors, a pork roll bagel sandwich, and a fun rainbow bagel the kids will love.
5575 Windward Pkwy | Alpharetta, GA 30004
770) 777-5955
With grand, domed ceilings, plush seating, and mouthwatering steak and seafood, everything about Cabernet Steakhouse just screams "Treat yo self!" You can even sit at the cigar bar and soak in all the Mad Men vibes if you really want to feel like a baller. Try the fried lobster tail appetizer, served with honey mustard dipping sauce. It's absurdly delicious.
5950 North Point Pkwy #129 | Alpharetta, GA 30022
(404) 474-4766
For over-the-top everything, head to Scream 'N Nuts. It's an ice cream and donut shop started by an Australian husband and wife duo with constantly rotating crazy, crazy flavors from Lucky Charms Marshmallow ice cream to Rocky Road donuts. There's always a fun way to treat yourself at Scream 'N Nuts!
5310 Windward Pkwy W | Alpharetta, GA 30004
(678) 762-1818
For fine Thai dining, Nahm Thai Cuisine is the place to be. Local fresh fish, organic ingredients, the perfect balance of flavors and beautiful presentation time after time. The curries have just the right amount of heat and the attention to detail that owner / Chef Nahm Thongyoung pays comes through in every aspect of your dining experience. You can get 10% off menu prices as this time when you order takeout, and they also have delivery available within a certain delivery radius.
34 S Main St Unit 2b | Alpharetta, GA 30009
(770) 802-8940
Coastal vibes + a good time are always in store when you visit Chiringa in Alpharetta. Settle in and relax for a spell for the elevated beach cuisine at this laidback spot. Their margaritas pack a punch, the seafood's always fresh, and the produce is always local. Their margaritas pack a punch and their lobster rolls is phenomenal!
11877 Douglas Rd #113 | Alpharetta, GA 30005
(770) 754-9442
El Trompo is an Alpharetta staple and total cult favorite for locals in the area! Their carne asada fries are a sight to behold, topped with pico de gallo, sour cream, guacamole, and expertly seasoned carne asada, or order up some street style corn tacos that will never disappoint.
50 S Main St, Alpharetta, GA 30009
(678) 691-8320
Trade in your on-the-go meal and scrolling away on your phone for a mid-day glass of wine and a good read at an open-air bar/restaurant. Carrie's Conservatory is a place to reconnect with yourself and slow down for a change. When you're there, you'll never feel guilty for indulging in life's most elegant pleasures. Treat yourself with a relaxing yet delicious meal, your body will think you later.