10 Atlanta Restaurants With The Most Stylish and Chic Interiors
Article in Partnership With Georgia Furniture Mart
It's the vibe for me. ✨ It's not only the food, but the stunning decor and interiors that truly set these Atlanta restaurants apart from the rest. Here's a list of ATL's most stylish restaurants! And if you want to add some extra style to your home, Georgia Furniture Mart is the place to shop! With prices to fit any budget and a massive selection of decor, it's got some unexpectedly amazing finds to help you make life more beautiful.
490 East Paces Ferry Rd NE, Atlanta, GA 30305
If you're looking for a place to have a great night and even better food, Aria should be at the top of your list. The beef short rib, which has been on the menu since day one, is a must try along with the lobster. If you are going for a more intimate setting for a special night, reserve dinner for two at their table in the wine cellar. Atlanta is the city of dining out, so dine out in the best way possible at Aria!
3050 Peachtree Rd NW Suite 8, Atlanta, GA 30305
Chai Yo Modern Thai is an Atlanta Eats staff favorite and with one just one date night visit, you'll understand why. This sexy, upscale Buckhead spot is serving Thai cuisine that truly impresses, and the natural wood, mood lighting, and special touches that make this place truly stunning.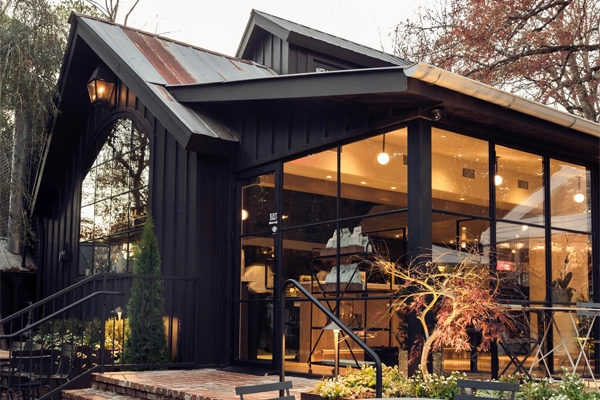 4320 Powers Ferry Rd NW, Atlanta, GA 30342
It's old Atlanta, revamped. The Chastain has recently opened up in the old Horseradish Grill Space, and the decor is truly impressive. The bistro seating and firepits make the patio extra cozy, and the natural lighting pours in from the restaurant's many floor to ceiling windows. Their menu consists of delicious New American eats, and we also love their pastry and bread offerings in the morning!
88 West Paces Ferry Rd NW At, Plaza, Atlanta, GA 30305
The Garden Room was perhaps the most hyped restaurant opening in the past 5 years. It's truly stunning, with flora and fauna everywhere, glam touches, and natural light that pours in from the glass ceiling. Make a reservation online!
1170 Howell Mill Rd, Atlanta, GA 30318
One of the city's finest steakhouse, Marcel also has one of the city's finest decor and interiors. The leather and wood makes for a plush and cozy atmosphere that complements the fine food and dining. Pro Tip: Pop into neighboring Little Trouble afterwards for even more chic fun.
Northwest, 1820 Peachtree Rd #1, Atlanta, GA 30309
We're thrilled that there are so many fabulous Thai places and spectacular sushi places in town, but Osha Thai might stand out above the rest for their truly spectacular decor. The owners are all artists–many are SCAD grads–and it's reflected in the hand-painted murals and extra touches. Each plate is also gorgeously presented. Find OSHA in the old Saltyards location in South Buckhead.
789 Ponce De Leon Ave NE, Atlanta, GA 30306
The revamped and revitalized Hotel Clermont has taken extra touches to make the dining experience and ambiance as special as the rest. Walking into Tiny Lou's is like taking a step back into a more glamorous place in time, and we love the tiny nods to that famous establishment in the basement that can be found in things like their "Ode To Blondie" dessert. Tiny Lou's recently welcomed Executive Chef Jon Novak and Pastry Chef Charmain Ware to their roster, so we're excited to see what this powerhouse duo does to the menu as well.
820 Ralph McGill Blvd NE, Atlanta, GA 30306
We love the modern decor and eclectic decorations at Two Urban Licks almost as much as we love the FOOD! The salmon chips are a must order, and their patio is tons of fun!
6405 Blue Stone Rd Suite 200, Sandy Springs, GA 30328
With its sweeping, luxe interiors and chic cocktails, The Select is one of those restaurants where it's equally about the ambiance as it is about the food. A part of the new Sandy Springs City Springs development, The Select has been making a name for itself in the community with rave reviews from diners and food critics alike. You're going to love the miso sea bass and ever-changing pastry menu, as well as their patio with plentiful seating. The Select is also now open for brunch!
56 E Andrews Dr NW Unit 7, Atlanta, GA 30305
Yebo is a restaurant that puts as much care into their menu as they do into their ambiance and decor. In the summer, they transform into Yebo Beach Haus, with coastal fun all around, in the wintertime, they become Yebo Ski Haus, with the best ski chateau vibes. They've recently moved into a more expansive space in Andrews Square.
Aria
Chai Yo Modern Thai
The Chastain
The Garden Room
Marcel
OSHA Thai Sushi
Tiny Lou's
TWO Urban Licks
The Select
Yebo Beach/Ski Haus