The Best Meals We Ate All Year
At Atlanta Eats, we get to sample so many incredible dishes from the best of the best restaurants all around Atlanta–but there are a select few that stood out against the rest. Here are the best meals we ate all year, listed in no particular order.
An omakase tasting meal at Buford Highway spot Sushi Hayakawa was the most memorable meal of 2019 for our Marketing Mixologist and Happy Hour host, Hannah: "The toro melts in your mouth and [it] paired perfectly with sake."
The red wine braised short rib is the best thing on the menu at Kitchen Six according to our Chef Tournant, Jason: "Kitchen Six is our neighborhood go-to. Run by chef Jason Jimenez, they offer a tidy menu of thoughtfully prepared, locally sourced fare. Everything there is fantastic but the short rib as well as the ribeye are definite highlights."
This pick-up only wing spot was the favorite of not one, not two, but THREE Atlanta Eats staffers. "As a wing aficionado, these changed my life for the better," said our Director of Buffalo Wing Development, Megan. B&L Wings was also the favorite of Matt, local beet enthusiast and 1/2 of our Lunch Wars duo for their "unique and incredible wing flavors, LOADED buffalo fries, A+ Cauliflower wings, and the delicious ranch okra." "Genius flavor!" said our editor OJ of the Hot Honey Lemon Pepper and Spicy Pineapple wings.

a mano – Carbonara | Photo: amanoatl.com
A Mano scored the highest of marks from our Executive Chef, Kyle: "Fun neighborhood, cozy dining room. Service is always on point, [and the] dishes are so fresh." Bonus tip: go for the Italian skillet bread drenched in olive oil and balsamic for carbs that will totally change your life!
For our Snackables and Happy Hour host, Jorge, the unicorn wings at Firepit Pizza Tavern were the best meal this year: "It's a one of a kind rub – I think it's got some lemon pepper mixed with some other mystery ingredients. An umami bomb in the best way.  "
Cue BBQ in Alpharetta is the only place our Head of Produce Anni will eat BBQ! "The homemade sauces are delicious!! Best Potato salad I've ever had (and I'm GERMAN), with eggs and big chunks of red potatoes and just a pinch of sugar! Top the meal off with an unsweet Arnold Palmer and it's perfect! In fact, that's what I had for my birthday the last couple of years!!" Sounds like just the spot.
The San Genarro pizza at Atlanta pizza favorite Antico stole the heart of our Pastry Chef, Jon: "I know it's cliche, but this is the best pizza on the planet"
The Coquilles St. Jacques at AIX was the favorite of our Executive Producer, Scott. "The restaurant and dish transport you to the corners of Provence, France and the simplicity of such a traditional dish is on full display."
Chai Yo Modern Thai scored two votes from Atlanta Eats staffers for being the best of Thai food in Atlanta: "DeeDee and her crew are amazing! The flavors she incorporated with the dish while modernizing traditional Thai is incredible," wrote our sales rep Stan and "Chef DeeDee takes her families traditional Thai recipes to the next level. The restaurant is sexy and spacious and the food is original and yet retains tradition. She is a gem in our city and everyone should make this a regular spot in their rotation," wrote our Executive Producer Scott.
Houston's delighted the lone healthy person at our company, Alex (Director of Kale) with their rotisserie chicken kale salad: "They had me at kale, but the peanut dressing is everything, and the chicken is cooked to perfection!"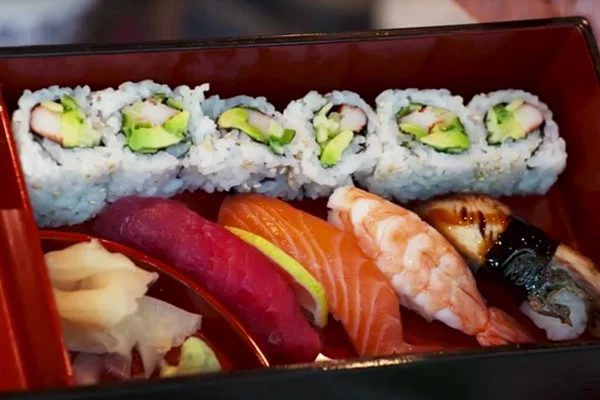 Tomo was another memorable meal from Executive Producer Scott, who couldn't pick just one! "For sushi lovers, you MUST experience the famous 'Tuna Tuesday' happening only once a month. Chef Tomo breaks down an entire Bluefin Tuna ordered the night before from the famous Tsujiki market right before your eyes and serves you some some of the most unique and rare tuna dishes you've ever had. Get there early for pics with the Tuna and Chef and be SURE to make reservations."
Trisha, Atlanta Eats' High-Calorie Content Creator, followed the Real Mexican Vittles food truck wherever it popped up around town to eat their chorizo taco: "A little flavor explosion on a corn tortilla! Their salsas make everything pop off." The team is scheduled to open a brick and mortar location called "D Boca N Boca" some time soon, but for now you can follow them on social media to see wherever they pop up near you!
Pastry chef Jon, who also couldn't pick just one best meal, says of Desta Ethiopian Kitchen: "I'm a HUGE meat eater, but at Desta the most flavorful, hearty, dish is the vegan platter!!!!"