The Buckhead Neighborhood Restaurant Dining Guide
The Buckhead neighborhood has long held the title as the dining destination in Atlanta, even before there was the explosion of great cuisine that resulted in what we see today in a fantastic restaurant on every corner. Taste test for yourself if they still deserve the crown with our guide to some of the classic and new, can't miss, bucket list eats in Buckhead.
Editor's Note: This article was originally published on January 16, 2021 and last updated on January 3, 2023. Please refer to restaurant websites and social media pages for the most up-to-date information.
490 East Paces Ferry Rd NE, Atlanta, GA 30305
If you're looking for a place to have a great night and even better food, Aria should be at the top of your list. Chef Gerry Klaskala has perfected the art of delicious cuisine. The menu has a variety of dishes that are all raved about by new and returning guests. The beef short rib, which has been on the menu since day one, is a must try along with the lobster. If you are going for a more intimate setting for a special night, reserve dinner for two at their table in the wine cellar.
88 W Paces Ferry Rd NW, Atlanta, GA 30305
Nestled in the St. Regis is fabulous Atlas, which celebrates the best of seasonal American cuisine with additional European touches. The decor is breathtakingly elegant, the plating of each dish is immaculate, and their sommelier will help you find the perfect pairing. Atlas' new culinary director has redesigned their 7 course chef's tasting menu that features mouthwatering items like hand dived scallops, seabass, and lobster–so there's something new and interesting to discover even if you've been before!
3027 Bolling Way NE, Atlanta, GA 30305
Le Bilboquet personifies both the heart of French cuisine and the heart of Buckhead. We love the sexy feel of their glass interiors as well as their breezy patio in the middle of the luxury of the shops of Buckhead. Expect French classics like duck leg confit, escargot, and at brunch, flaming Crêpes Suzette with Grand Marnier.
2140 Peachtree Rd NW, Atlanta, GA 30309
Cafe Sunflower did an amazing job of providing flavorful and oftentimes healthful vegan food to the Atlanta community long before the explosion of vegan eats we've seen in recent years on the Westside. Their extra peanut-y Pad Thai is some of the best in town, and every meal has to end with their vegan raspberry chocolate mousse.
3050 Peachtree Rd NW Suite 8, Atlanta, GA 30305
A twist on traditional Thai cuisine in a modern, sexy setting is what you'll find at Chai Yo. Tucked away in Buckhead, it's the perfect spot for a work date or a date date. They've got a wonderful cocktail program with Southeast Asian flavors like their lychee drink. And the food is just *chefs kiss.* The Saku Sai Kai, or tapioca pearls filled with minced shrimp, chicken, and veggies, is unlike anything you've tasted and the Neau Panang is wonderfully flavorful.
70 W Paces Ferry Rd NW, Atlanta, GA 3030
Chops has been one of the highlights of Atlanta dining for years! It consistently ranked as one of the top ten steakhouses in the country, bringing food pride back to the ATL. Seafood is flown in fresh daily, and the meat is only the best aged USDA beef. At Chops, each outing is more than just your average meal. Each Chops classic creation speaks about its rich Atlanta tradition. Visit the Lobster Bar when you're in the mood for seafood, or sit in the main dining room for a tender, juicy piece of steak, Chops has it all!
Phipps Plaza, 3500 Peachtree Rd NE, Atlanta, GA 30326
A mall is no place for a steakhouse. Or so you might think. Buckhead has an exception to this rule with Davio's Northern Italian Steakhouse. Davio's has the kind of timeless decor and ambiance you'd expect to find at a high-end steakhouse in any of America's great dining cities. Dimmed lighting, but not too dim; friendly servers, but not overly-friendly. You're not likely to be surprised by anything on the menu at Davio's — it's high quality pasta and surf and turf — but surprises aren't why people dine at steakhouses. The food is good, consistent, and exactly what you're hungry for when you step through the door.
3586 Peachtree Rd NE, Atlanta, GA 30326
Ecco has long been a favorite in Midtown, and now they're bringing their hearth fired eats to Buckhead in a super loungey- sexy atmosphere. Whether you're there for a quick happy hour drink on the way home, digging in to Fried Goat Cheese Balls and Pappardelle, or relaxing on date night with the one you love, Ecco brings high end dishes and service to every occasion.
3035 Peachtree Rd NE, Atlanta, GA 30305
Gypsy Kitchen is patio heaven. They've got great sangria and wine selections and often have live music that'll transport you to the streets of Barcelona. They also have heaters and blankets available this winter if you'd like to enjoy their tapas and cocktails on their gorgeous rooftop. Make a reservation online for a hassle-free experience.
3060 Peachtree Rd NW, Atlanta, GA 30305
When you first walk into King and Duke, you feel like you have stepped into an editorial spread for Garden & Gun. Everything screams 'this is how man was supposed to eat.'. After lingering at the bar, you'll immediately be drawn to the roaring fire in the kitchen. And this is truly where the magic happens at King and Duke. With perfectly roasted game and bubbling bone marrow, you'll want everything you see.
3085 Piedmont Rd NE, Atlanta, GA 30305
Kyma isn't a modern Mediterranean seafood tavern. No, Kyma is more than that. It is a modern Mediterranean seafood experience; a celebration of Greek culture and cuisine. Start with a few small appetizers – what the Greek call meze. Ahi Tuna, Dolmades, Grilled Octopus, Spicy Lamb Pie. The menu features plenty of meze, and it's all delicious. Main dishes are equally delightful. From Whole Fish to Skate Wing to Lamb Chops and more, Kyma's menu is filled with mouthwatering Mediterranean options. Kyma is a rarity, a one-of-a-kind cultural wonderland where authenticity is as important as ambiance. Where freshness and flavor come first. Sit down under the stars, take a sip of wine, and soak up every second of your Kyma experience.
3150 Roswell Rd NW Suite A3, Atlanta, GA 30305
Cured meats, a Spanish tradition, are what make this spot worthy of your time. Prosciutto is so passé. Here, Serrano Ham, smoked chorizo, and acorn fed Iberian pig are served thinly sliced on rustic wooden boards. The fatty marbling of the meat alone is enough to mesmerize the eyes, but surely not enough to keep away from a hungry mouth. A vast array of imported artisanal cheeses complements the charcuteria and an expertly selected list of wines help to complete any afternoon or evening at this Spanish hideaway. The restaurant's mixologists are also happy to serve up some classic cocktails or some more creative compositions. However, our top pick: the traditional sangria with delicately muddled fruit, wine and spirits.
1820 Peachtree Rd #1, Atlanta, GA 30309
For trendy cocktails and Thai/sushi fusion food in an artistic, eclectic atmosphere, Osha Thai Sushi Galleria is your spot. The decor sourced from Thailand, hand painted wall art, and attention to detail all lead to an experience that's as "Wow!" worthy as the food. Menu highlights include a seafood hot pot, crispy whole red snapper, and Nashville chicken sliders.
View this post on Instagram
3400 Around Lenox Rd NE #217, Atlanta, GA 30326
"Elegant comfort food" is the vibe at Seven Lamps, tucked away in the Shops Around Lenox that's perfectly for a leisurely lunch while you're on a shopping trip. Their menu is seasonal and ever-changing, and they also have a covered, heated patio for your comfort this winter.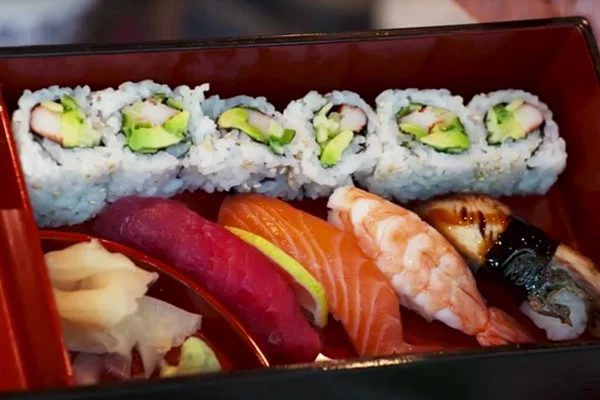 3630 Peachtree Rd NE, Atlanta, GA 30326
Welcome to sushi heaven! Tomo is a highly esteemed Buckhead restaurant that was also an Atlanta Eats staff favorite in 2019. Go for the full experience with their omakase tasting menu, or if you're dining at home more so these days, the lunch bento box tastes fabulous and is a great steal.
Two Buckhead Plaza, 3050 Peachtree Rd NW Suite #1, Atlanta, GA 30305
It's a special night if it begins at Umi, a favorite in Atlanta for their sexy atmosphere and fresh sushi. The cocktails are also impeccable, and for dessert you absolutely have to order the ultra fluffy green tea souffle, served piping hot and with a perfectly matcha-y hot sauce. They've got social distancing measures in place as well as a new, elegant covered patio.
View this post on Instagram
3330 Piedmont Rd NE #22B, Atlanta, GA 30305
No trip to Buford Highway needed–Urban Wu is Sichaun gold right in the heart of Buckhead. While we do also love other Szechuan Atlanta mainstays like Gu's Kitchen and Tasty China, Urban Wu is the best when it comes to their braised fish and Dan Dan noodles.
56 E Andrews Dr NW Unit 7, Atlanta, GA 30305
In South Africa, the country is so geographically vast, that you can spend a morning in the snow capped mountains and an afternoon at the beach. At South African restaurateur Justin Anthony's Yebo, you get both experiences in one restaurant. In the summer, it's Yebo Beach Haus. In the winter, it's Yebo Ski Haus. At every time of the year, the menu is fantastic with fabulous cocktails, peri-peri popcorn, and filet mignon. They've got a brand new location as well, right by Henri's Bakery and SAMA Food For Balance, with a courtyard patio.
View this post on Instagram
No establishment has better camaraderie than an Irish pub, and when you're at Fado, you're part of the family! Whether you're catching a game, meeting your coworkers for Happy Hour, or just enjoying a perfectly-poured pint of Guinness, Fado is your spot. And while pubs are rightfully associated with the drinks, they also have a killer food scene, with dishes like Smoked Salmon Bites, Slow-Cooked Lamb Dip, and world-class Fish and Chips.
Agency Socialtheque
Aria
Atlas
Le Bilboquet
Cafe Sunflower
Chai Yo Modern Thai
Chops Lobster Bar
Davio's Northern Italian Steakhouse
Ecco
Gypsy Kitchen
King & Duke
Kyma
The Iberian Pig
Osha Thai Sushi Galleria
Seven Lamps
Tomo
Umi
Urban Wu
Yebo Beach/Ski Haus