Olde Blind Dog Opens Free Soup Kitchen for Furloughed Employees
Amidst all the chaos, there is still a lot of good happening in Atlanta, and much of it is spearheaded by restaurants and food service industry workers.
Geoff Kokoszka, owner of Olde Blind Dog, a locally owned Irish Pub with locations in Brookhaven and Milton, is one of those leaders. He and his team are doing everything they can to stay afloat and take care of their 90 furloughed employees.
The COVID-19 crisis is devastating to all restaurants, but was especially ill-timed for Irish pubs like Olde Blind Dog due to St. Patrick's Day generally being one of their biggest revenue days. However, the team at Olde Blind Dog are working tirelessly to pivot and stay afloat.
"We adjust our business everyday, we get up everyday in the morning,we follow what everyone else is doing, we thought [all the] GoFundMes are a phenomenal idea but we've got 85, 90 employees who are furloughed right now. That's a lot of money to ask from our guests. So what we decided is that any tip generated from our guests who order from us—not tips from UberEats, that goes to the driver—but tips from takeout orders and in-house delivery orders, would go to help our furloughed Olde Blind Dog staff," said Kokoskza.
Kokoszka and the Olde Blind Dog team are now running a soup kitchen/free market for their furloughed employees, to keep them fed. "We developed a twice-weekly market to buy as much food as we can, sensibly bought food, fresh vegetables, fresh fruits, dried beans, things like that from our distributors, we put those out Tuesdays and Fridays so our people can shop for free. [Many of] our guests are tipping extraordinary amounts, so we realized well, this is the best way to help our employees."
When asked if delivery will keep these restaurants afloat, Kokoszka said it's not quite enough: "It's so expensive to stay up and running for delivery, you still have to have staff, you still have to have food, you still have to have utilities going, there's some grace being given with utilities but the underlying issue is the community, our guests, are hurting too, they're getting laid off too [and] they can't afford to eat out."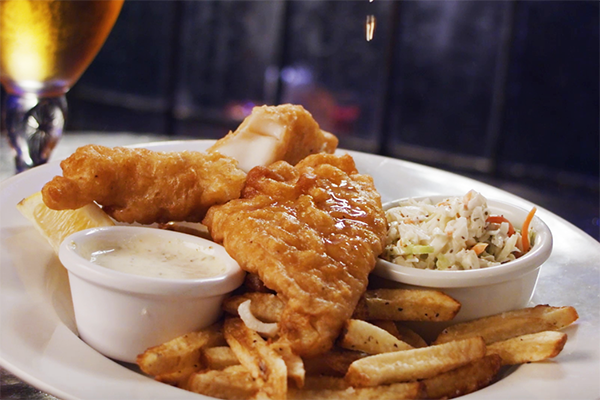 However dire it is, Kokoszka stressed that all the restaurants are in this situation together: "The support has been amazing on all sides. Restaurateurs have come together, sharing support on all sides and they know the best option is if we can all stay open. We're all in this together, nobody is wishing anyone any ill-will."
If you'd like to learn more about Olde Blind Dog's soup kitchen, visit their website and social media pages for the most up-to-date information. Order some curbside pick up at www.oldeblinddog.com or call in to the restaurants and tip extra to contribute to this effort, and be sure to visit them and enjoy a huge pint of Guinness when they're back open for dine-in.
If you'd like to donate to help other food service industry workers in crisis, please contribute to our Giving Kitchen fundraiser, which helps food service industry workers experiencing hardship due to calamities such as illness including COVID-19, mandatory quarantine, accident or injury, family death, or disaster like a house flood or fire with financial assistance.