7 Spots for a Quick, Healthy Lunch in Atlanta
If you're like me, your hot girl summer turned into more of a "eating out a lot and indulging in a lot of cocktails" summer. And while there are #NoRagrets about that, it's time for me to swap out french fries for a salad. Here's a list of places around town that are always perfect when you need a meal that's 🎵 so fresh and so green green. 🎵
Multiple Locations
The bowl game is strong at gusto! Pick your base and protein, then go for any one of their winning combinations of flavors. Two go to bowls that are always delicious are their Chipotle Mango Avocado bowls (get the spicy chicken) and their Tzatziki Lemon Artichoke bowls. There are also vegan/gluten-free/vegetarian options, making it easy to find something delicious to eat, no matter your diet.
Multiple Locations
For fresh salads, yummy nutrient dense smoothies, and veggie packed juices, Kale Me Crazy is your spot. And it might sound crazy, but they've got one of the best poke bowls in the city. The spicy mayo is just a step above the rest, and the veggies are fresh and perfect every time.
19 Joseph E. Lowery Blvd NW, Atlanta, GA 30314
The West End is a food desert no more thanks in part to Local Green Atlanta. The owner, Zak Wallace, opened up this spot in a part of town where affordable, healthy eats were in short supply. This Black-owned gem now has tons of vegan and vegetarian goodies in the West End, with yummy bites like air fryer fries and
Multiple Locations
There's nothing quite as thirst-quenching or perfect for a hangover as an açai bowl. And Playa Bowl has plenty to choose from. Eat at their Beltline or Peachtree Corners location for a fruity, plant-based delight. They've got poke bowls, too!
99 Krog St NE, Atlanta, GA 30307
This cute, Krog Street Market spot is ultra popular for a delicious and fresh salad or grain bowl. The coconut-tahini dressing in the SuperBowl is killer, and the charrbroccoliili is so darn good. And there are cocktails served as well, if you want to splurge (calorically wise) on a glass of rose with your healthy meal!
Multiple Locations
The California headquartered and wildly popular fast casual chain opened up its first Atlanta location in Ponce City Market, with more locations forthcoming in Midtown and Buckhead. Create your own grain or salad bowl or choose from some of their menu staples, like hot honey chicken or their rustic tomato harvest bowl.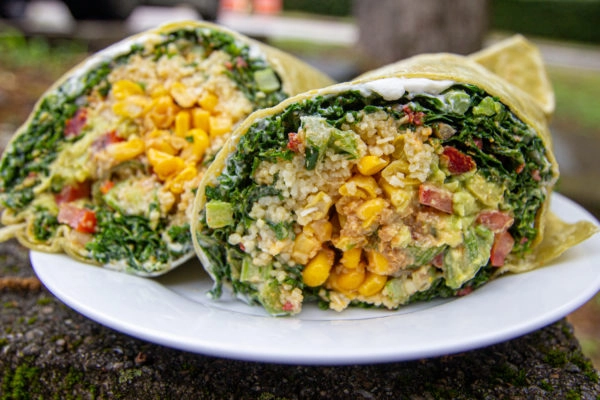 1059 Ralph David Abernathy Blvd, Atlanta, GA 30310
The sauces used at this raw vegan spot make everything taste over the top delicious, and the portions are HUGE. The Punany Wrap is one of the most popular items on the menu, and it's the couscous and vegan mayo that really set it off. To ensure lunch is quick, order online first for pick-up.