The Best Places to Get Takeout for Your Next Tailgate
Football in the South just feels different. It just matters more here – especially in Atlanta, home of the College Football Hall of Fame and just an hour away from the multi-championship winning Georgia Bulldogs. Between college football, high school games and your Atlanta Falcons, there will be plenty of football to enjoy this fall and tailgates to pregame before the big game. We've highlighted a few great places to get tailgate takeout – from delicious sub sandwiches to bbq, burgers and more, here's where to get great eats before the next big game.
Multiple Locations – See Website for Details
Sandwiches are a great way to get a little something for everyone, and the catering menu at Knuckies Hoagies is perfect for your tailgate party. They have classics like Turkey and Swiss, Ham and Provolone, and an Original Italian, along with Box Lunches that include a bag of chips and cookie. Plus, their bread might be the best of any sandwich shop in Atlanta! If you've got a group of 6 or more planned for your party, give Knuckies a call. They have multiple locations around Atlanta, so there's one near you. For more great sandwich restaurants around Atlanta, click here.
Multiple Locations – See Website for Details
Known for some time as one of, if not the best, Atlanta BBQ restaurant, Fox Bros' footprint has been growing steadily over the years. That means you can get their fantastic Frito pie, delicious brisket, mouthwatering ribs and sensational sides for your big tailgating group in a location that's convenient to you. Pick some up before heading to Turner Field for a GA State game this season.
Multiple Locations – See Website for Details
Before you watch your favorite players smash into each other on the field, consider a smash burger from Grindhouse. Catering orders start at $100 and will include customized burger boxes with salads, chips and cookies. If you're in charge of an alumni committee or other group that may want to up the ante at a tailgate, Grindhouse has a food truck that can serve 50+ guests. Either way, the burgers are delicious, and you don't have to do any grilling.
Multiple Locations – See Website for Details
With locations scattered throughout the Southern Metro Atlanta area, there's a Karvelas close by you. They always present a fun atmosphere, so it'll be hard to leave when you pick up your pie, but the tailgate awaits. Order mouthwatering specialty pizzas like The Georgia Pie, a grandma style pie with mozzarella and mushrooms, or the Buffalo Pie with chunky, hand breaded, fried chicken tossed in buffalo sauce and mozzarella.
Mexican – Gezzo's West Coast Burritos
Multiple Locations – See Website for Details
For years folks in Locust Grove and McDonough have known about the mouthwatering Tacos and Burritos you can get at Gezzo's. Now, with a relatively new location in West Midtown, folks ITP can experience Gezzo's goodness, too. Their catering menu has great Bowl Bar, Fajita Bar, Nacho Bar and Taco Bar options (minimum 15 people required), along with a Full Service Burrito Bar for parties of 50 or more. For those groups putting together big tailgate parties, Gezzo's also has a food truck with different menu packages available for review.
71 Georgia Ave SE, Unit B, Atlanta, GA 30312
Eat some "Atlanta Type" chicken before watching the Atlanta Falcons this season at How Crispy Express. Made with all dark meat chicken, they have 60 piece nugg trays (available in classic and buffalo), crispy sliders (using 3 oz cutlets) and Fried chicken Sammies, like their Honey Boi and Lemon Pepper Wet. If you're celebrating something special (hopefully a Falcons playoff berth, or your high school students last game), consider their cakes. The Coca-Cola Cake, in particular, is a sweet taste of the South – Chocolate sheet cake made with bubbly Coke, chocolate cream cheese icing and a salted peanut crumble.
Multiple Locations – See Website for Details
When it comes to college and pro football, some tailgates have to happen on the earlier side. That's why donuts always deliver. When it comes to ATL's best donuts, there's lots of incredible options – Sublime, Doughnut Dollies, and Hero Donuts, to name a few – put Revolution has been the standard bearer in ATL for over a decade, and continues to have lines out the door on weekends. They also have their savory donut sandwich, the Crunchy Mister, so you have options for folks who don't want something sweet in your tailgate.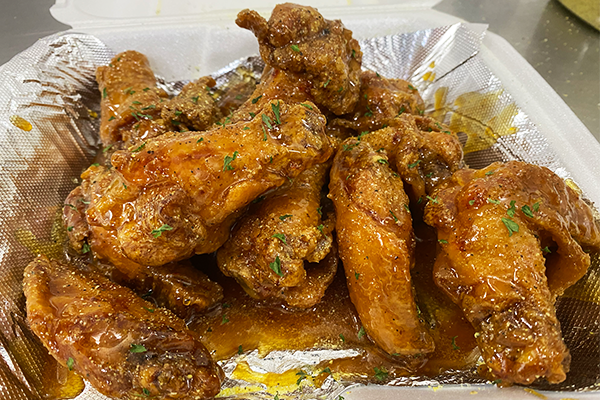 800 Forrest St NW, Atlanta, GA 30318
B&L Wings started as a Ghost Kitchen (and they have a pick-up only set-up), so they're well accustomed to helping you enjoy their wings wherever you are. Order 15, 30, 60 or 100 piece wing pans full of their Hot Honey Lemon Pepper, Teriyaki, Spicy Sriracha, Ranch and more. Just remember to bring as many wet naps as possible – those hot honeys in particular can get deliciously sticky.