The Ultimate Duluth Dining Guide
Think outside of the perimeter! There are plenty of hot spots around the Metro area that are dining destinations in and of itself. Case in point: the city of Duluth. This has become a place over-the-years to find fantastic cuisine from around the world. Dive into our Duluth restaurant bucket list and discover something delicious today.
Get ready for more than a meal at this Duluth spot…you're in for an experience! With a highly trained waitstaff that cooks your meal right in front of you, you'll be able to sit back, relax & take in the entire experience, and most likely learn a thing or two. And the charcoal grills lend great flavor to their high-quality cuts of meat. Save room for a complimentary Melona bar, a popular honeydew popsicle from Korea, for dessert. It's so creamy and delicious!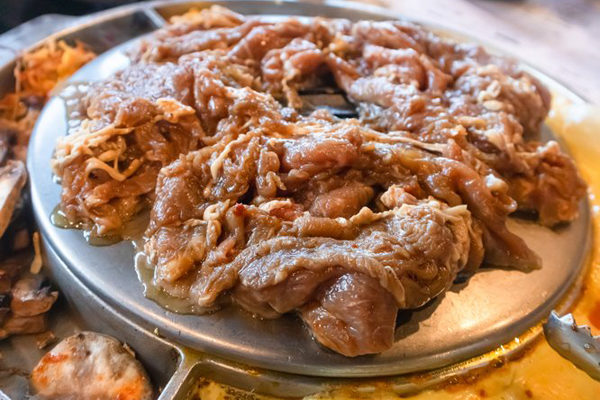 9292 Korean BBQ
This Duluth spot's smoky charcoal grills puts their meats above the rest! It does get busy during dinner time, so be prepared for a wait. All-you-can-eat costs around $30, though in general at Korean BBQ places, all-you-can-eat consists of lower quality meats so you might prefer to choose your favorites a la carte–folks love the beef brisket and short ribs. . The egg and cheese dish and the banchan that come with your meals are all delish as well.
Alebrije Mexican Cuisine
In need of a Mexican fix? You'll love the killer food at cozy spot Alebrije Mexican Cuisine. It's an unpretentious spot with a casual atmosphere and colorful decorations, and the espresso flan is something to remember.
If you've never had Korean BBQ, Breakers is the perfect place to go for your first visit. Service is paramount here. Their staff is always knowledgeable, friendly, and happy to answer any questions you have. If you prefer to cook it yourself, you're welcome to do so, but the servers are also happy to man the grill for you.
Dan Moo Ji
You're not going to find better deals in Duluth than at Dan Moo Ji, a simple, casual Korean spot that features tasty and modern Korean food that won't break the bank. There's plenty of kimbob, the Korean version of sushi for under 7 bucks. Or you can tuck into their savory omelette fried rice dishes and donkatsu (deep fried pork cutlets). The place can get pretty packed, but the food usually comes out quickly.
Duluth Diner
ATLANTA👏NEEDS👏MORE👏DINERS! There's nothing quite like nestling into a booth at a family-owned diner, thumbing through a gigantic menu, and having your whole family–and your wallet–leave happy. Duluth has gotten the memo with Duluth Diner, a staple of the city for over 10 years. Pancakes, gyros, French toast, or the best grits you've ever had–it's all on the menu at Duluth Diner.
Flying Roll
Duluth is jam-packed with hole-in-the-wall, family-owned restaurants, and each one is delightful in its own way. The ambiance and interiors of this long-running place are cute and a little quirky, inviting you to stay a while and get comfy for a casual meal. They do an especially great job with presentation, the menu is large so there's plenty to try, and the prices are reasonable to boot!
Frankie's The Steakhouse
Frankie's is a favorite among Atlanta Eats staff for a real, New York style experience — but it's in Duluth! It's perfect for every celebration–graduations, birthdays, anniversaries, or just a Thursday night. Be sure to save room for their mile high chocolate cake!
Frontera
Frontera is the epitome of OTP Mexican foodness. They've been doing what they do for 35 years, and you'll never leave hungry. Bring the family to enjoy a queso or go for a girl's night and indulge in a massive margarita. It's great portions, an unfussy atmosphere, and always delicious food. What's not to love?
Hello hibachi! Fumi is a restaurant that truly has it all: a gorgeous ambiance, outdoor seating, an extensive bar with an impressive sake selection, private dining, an all-out sushi bar and hibachi that sizzles!
There are lots of fantastic breweries around Metro Atlanta, but few do it as well as Good Word Brewing & Public House. The food is phenomenal, and they've got a fabulous brunch as well. From their cinnamon roll to their biscuits to their burger, this brewpub is all about the grub. It's great for groups, too!
🎵 When Luciano's make your eyes gleam with their tomato basil fettucine, that's amore. 🎵 Date night, weeknight family dinner, graduation–Luciano's is the perfect place for it all. Dig into their lasagna and sample their beef tartar if you're feeling more adventurous. They've got an extensive wine selection for perfect pairings, and pasta that's outstandingly good!
Some people say this biscuit chain originally from Jacksonville has the best biscuits in ATL. It's a tall order, but there's no doubt they're doing a lot of things right at Maple Street Biscuit Company. The atmosphere in casual and rustic with a coffee shop feel, and their menu is jam-packed with all sorts of interesting flavors. Try the squawking goat with fried goat cheese and crispy fried chicken on a crumbly Southern biscuit. It's delicious!
With keto and low-carb diets all the rage, bread has become less and less a part of our daily diets, and that is a shame! Because there is something so comforting about a great sub. Italian meatball, buffalo chicken, or RW's signature Ryan's sweet honey club… this place, owned by brother-and-brother duo Ryan and Will, knows sandwiches and it's a must-go if you're in the mood for exactly that.
Snowflake Tea House
Want to try something new? Give Snowflake Tea House a go for fabulous desserts from the East. They specialize in serving honey toast, a beautiful and over-the-top dessert found commonly in Singapore and Japan. The shaved ice desserts are also incredible.
The Metro Atlanta area has plenty of delicious Thai spots, but Sri Thai is one you'll keep coming back to again and again for their fabulous service and outstanding flavors. If you're in more of a sushi mood, they have that as well with always fresh fish. They've also got a fantastic Atlantic Station location if you're in town!
Sweet Hut really helped make Asian bakeries mainstream in Atlanta. At Sweet Hut, there's sweet, there's savory, and it's all with their Malaysian twist. Don't feel intimidated by the selection here–there's detailed signs at each pastry detailing what's in each treat so you can know what you're sampling. The spring onion hot dog roll is a personal favorite, and you also shouldn't leave without a boba filled milk tea!
View this post on Instagram
Korean Fried Chicken, a style of fried chicken that's typically double-fried and extra crispy, is a godly creation, and Thank U Chicken has got a pretty delicious take on it. Try their soy sauce chicken for a richly flavored bird or their take on chicken & waffles. Their prices are more affordable than average, too!
Who else loves a great food truck? Here, you can count on fabulous brews from their rotating tap list and an ever-changing culinary experience thanks to different food trucks providing the grub everyday. Order a flight of beers if you're having trouble deciding, and enjoy the one-of-a-kind delicious & refreshing experience every single time.
The dry aged steaks, the brussel sprouts, and a burger that's Ooey, Gooey, And Mooey! Uncle Jack's Meat House is 100% one of those places you'll keep wanting to go back to time and time again, even if it's just for the Applewood smoked bacon alone. Try the five cheese mac and cheese, too!
678 Korean BBQ
9292 Korean BBQ
Alebrije Mexican Cuisine
Breakers Korean BBQ
Dan Moo Ji
Duluth Diner
Flying Roll
Frankie's The Steakhouse
Frontera
Fumi
Good Word Brewing and Public House
Luciano's
Maple Street Biscuit Company
RW's Subs
Snowflake Tea House
Sri Thai
Sweet Hut Bakery
Thank U Chicken
Truck and Tap
Uncle Jack's Meat House