What Ford Fry Eats at His Restaurants: A Conversation with Atlanta's Top Restaurateur
Your favorite restaurant is probably one of Ford Fry's.
So many of his concepts are in the conversation of Atlanta's most popular eateries.
"I love the Optimist."
"Let's get brunch at Superica this weekend."
"King and Duke makes my favorite burger in town."
You get the idea.
He's a peerless restaurateur with many beloved brands. Although each one has its own unique cuisine and style, they share that same Ford Fry seal of quality as well as an element of fun.
It's easy to hypothesize why Ford Fry has achieved unprecedented levels of success in the Atlanta culinary world. (One theory: that name…alliterative, two punchy syllables, and his last name is literally "fry," the best way to cook food.) But it's a futile exercise to guess when we can find out straight from the man himself.
I paid a visit to the West Midtown offices of Ford's restaurant group, Rocket Farm Restaurants. His demeanor was cool as a cucumber as he reclined in his trademark vest and hat while sipping a heaping cup of iced coffee. His schedule is understandably tight, but he made time for us to chat for 30 minutes. I had plenty to learn, so we moved a mile a minute as we uncovered the path to a restaurant empire.
(Note: some questions and answers have been edited for clarity and length.)
Opening Questions
Joey: Tell me about your culinary background.
FF: I started off having never cooked before, other than at home, before I went to culinary school. I went to college… didn't really go to class too much. I joined a fraternity and lived in the [fraternity] house. My cooking started when we would come into the house late at night and go to the kitchen and fire up the fryer and fry cheese and stuff like that (laughs). About a year and a half in, my dad suggested, "Hey, you like to cook, you've always liked restaurants, you've always liked food….why don't you go to culinary school?" So I went to the New England Culinary Institute in Vermont and everything just clicked there. I discovered that I was a learner by doing and just really enjoyed it. And that was that. I worked mostly in fine dining from Naples, Florida to Aspen, Colorado to the Santa Barbara area, and a little in Texas.
Joey: What brought you to Atlanta?
FF: I was at the Ritz-Carlton in Aspen and got recruited by Eatzi's, which I'd never heard of before. And at this time, my first son was a year old, so I preferred any job that was more family-friendly, like a corporate chef type of position. And if anyone in Atlanta remembers, Eatzi's was like a home meal replacement, but it was a big operation. So I took the job and it was a little bit of a shell shock because it was cooking food and then chilling it down, putting it in packages, and selling it that way. So it's basically like selling leftovers. But I learned so much about running a business because it was so busy. We were one of the busiest stores in the whole company. I got to play around a lot at night because we were away from the corporate office, so I pretty much did whatever I wanted to do. And during the last two years of my nine years of that, I had the itch to start my own thing. So I started looking for locations and then the JCT [Kitchen] location became available. I jumped on that and then it all blew up from there.
Joey: I'm sure 15 years ago you never expected JCT to take off the way it did.
FF: It's worked out really well. That was in 2007, but JCT just kept skyrocketing even during the recession. So obviously investors were happy with that, which basically opened the door for whatever we wanted to do. So opportunities just kept coming and we kept doing them because I don't like to say no. (laughs) I just like to do things.
Joey: How would you describe your brand?
FF: I would say the brand is places that I want to go to and that I'm passionate about.
I start with the location. What does it need to be? What do I feel like the neighborhood wants? What do I feel like the city wants and what place would I want to go to and eat at and experience?
The brand is all over the place. Anything from Little Rey, fast-casual, to Marcel, which is one of the most expensive steakhouses in Atlanta…but it's just places that we want to go to. If anything, our brand is that we don't take ourselves too seriously. There's always a little bit of humor added into each restaurant.
I try to fight the restaurant group mentality. I'd rather we be looked at as more of a collection of individual restaurants in which the corporate office just assists in training and teaching chefs, managers, or beverage people how to run restaurants so they're equipped to go off and start their own restaurant if they want to. That's the biggest form of flattery for us…if someone can work for us and learn what they learn then can go off and do their own restaurant.
I guess the other side of our company is that it's a two-way street. Yes, someone is going to work for us and we're gonna provide an experience for our guests, but we also look at it that we work for our staff. It's our job to teach our staff, to train our staff, and to listen to them about where they want to be in their career, and it's our job to get them there. And we're proud of that. We don't get angry if someone leaves. I mean, it's not nice when someone leaves but if it's best for them to go and get their own thing, then that's fantastic in my mind.
Joey: Just out of curiosity, where'd the name Rocket Farm Restaurants come from?
FF: Rocket Farm Restaurants started off as more of an internal name. We didn't want to be a corporate group, so I didn't want a corporate name. I wanted each restaurant to stand on its own. I didn't want it to be where you typed in JCT or whatever and then it took you to a Rocket Farm website. It was really only meant to be an internal name that would show up on your paychecks. The name basically means that we want to farm people so they can take off. It was like I was saying how we want to farm restaurateurs or chefs to help them grow and take off. And then people started putting it in their email signature, which made its way to media, which in turn made us into Rocket Farm Restaurants. So I lost that battle. (laughs)
Joey: How do you prioritize so many different restaurants? Obviously, you empower the right people to run those, but I can't imagine it's easy to sit here and just assume that everything's going okay.
FF: I learned by watching what other chefs and restaurants do. The first four years when I was basically operating JCT, I was watching what other people did. I watched what happened when chefs opened their second restaurants. And then if they got into their third restaurant, I watched what happened. Or even if they were consulting on a restaurant and then they left, what happened? And I just learned that when you go from one restaurant to two, then you're only as good as the people who are running that restaurant.
So I learned that I had to partner with like-minded people. Putting the teams together is like a puzzle. If an executive chef has skills in creativity and food, but lacks the skill in the administrative and business side, it's important to make sure that his number two complements those skills. So it's very much a talent-based puzzle. Once 246 [Ford's second restaurant] opened, that was the day that I didn't really have that much control. So I had to trust and empower them to do what they felt was right and what we hopefully taught them. I set the parameters at the beginning. I set the concept, the price points, what the menu looks like… that kind of stuff. And then I pick the chef with the natural talents to fit into that model and let them go.
And what I've learned is, once they're empowered, once I've let them run with it, then they are passionate about it and they own it. But if it were all me going, this is what you're going to cook, and this is how you're going to cook it, and this, this, this…chefs are creative people. They don't want someone telling them what to cook. So I may write a sample menu with certain items on it, but then I sit down with the chef and say, "Hey, this is kind of where I see it," and then that chef riffs off of what I have. He or she may like one item or two items or fifteen items, but he or she may put a different spin on it and then we all taste it. It's a big collaborative effort, but for the most part, it's all about empowerment and teaching. Toby Franklin, our COO, says that we like to educate versus dictate. And it's worked for us. We educate as opposed to sitting there and telling people what they have to do, which has been great because it enables me to do the stuff that I want to do, which is basically developing restaurants and focusing on the creative side. Food is first in my mind, but I love all elements of it and I love the whole process. So it allows me to do what I like to do.
Joey: So by empowering others, you empower yourself.
FF: Exactly.
Joey: What has surprised you the most about your restaurants?
FF: The cool thing is they all…all but one…took on the identity that I was expecting. Early on when we were opening JCT, I told our designer Smith Hanes that I want it to be a restaurant that's nice enough for someone to go on a date or a special occasion, but also casual enough for someone to just go on a weeknight. And I was walking around outside the building one day and heard some guy saying to someone on the phone, "Hey, you need to try this place, JCT Kitchen. It's so cool because it's nice enough for a date, but also casual." I mean, he just rattled off exactly what I had asked! It was the biggest form of flattery. So the intent of what it's supposed to be typically lands correctly.
But you never know how busy it's going to be. For instance, with Little Rey, we had an initial budget of what it was gonna cost us. So if it costs us X amount, then it must do Y amount in sales to make sense. Well, it ended up costing us double of X to get going so I was thinking, "Okay, here we go. Here's my big failure about to happen." But then, all of a sudden, the sales were double what we expected. So it worked out great.
It's just weird, but I think that plays into what I feel the community needs or wants. I think the most important thing is, don't try to put a round peg into a square hole. It really needs to be a round peg in a round hole, and I guess our ability to pick what that is per neighborhood and per location is pretty good. But so far, nothing has been surprising other than how busy a place gets. There are some that have been a little bit slower than we thought, but I don't know if it's because of the pandemic. So we'll see how they all turn out.
As alluded to earlier, this was Ford's first restaurant in Atlanta. The refined Southern food was simple yet completely original and incredibly delicious. Its popularity never waned since it opened in 2007, so many were surprised when the restaurant announced that it'd be closing at the end of 2021.
Joey: What went into your decision to close JCT Kitchen after 15 years?
FF: We had a 10-year lease with a five-year option, so we were coming up on that 15 year lease and JCT was still going strong. It got 15 years of such high volume that it took a beating on the facility. I would say two years before our lease was out, we knew: the banquettes needed work, the bathrooms needed work…just everything needed work. But we didn't have a new lease signed and we didn't feel it was right to put a ton of money into it.
So our two options were to either close JCT and just refurbish the whole thing and then reopen it back again as JCT, or we could close it and then reopen it as something brand new. My opinion was that I think the neighborhood's ready. What I've learned over the last 15 years is that people like new things. Now, people definitely like old things, but maybe it's for me because I love change. I love something new. Everyone asks if I'm sad that JCT is gone? I say, not at all. I think it did great and it has continued to do great, but I just think it's time for something fresh. And I think we'll get more bang out of bringing something fresh to the neighborhood as opposed to when I've watched restaurants do refreshes and people come check it out but then it just fizzles out. I think the whole Southern thing just ran its course in Atlanta. I want it to be a place that I really want to go to. It's more fun for me to do something fresh.
Joey: I wouldn't be doing my journalistic duty if I didn't ask…any idea what's going to replace it?
FF: I have an idea. We definitely know what it is, but we're not putting it out yet.
Joey: Not ready for Atlanta Eats to break the news?
FF: No, actually we're going to break it ourselves. So nobody even gets an exclusive.
Joey: When do you think you might announce it?
FF: Ooh, I don't know, maybe a couple of months from now because it probably isn't gonna get done until later in the summer. So who knows, maybe then?
No. 246 is Ford's second restaurant, an Italian spot in the heart of downtown Decatur.
Joey: No. 246 seems quite unique compared to your other restaurants. Most of your concepts have almost like a "sister restaurant" [i.e. Superica and Little Rey, The Optimist and Beetlecat], but this style of red-sauce Italian, in Decatur, stands like an island of sorts.
FF: That was our second restaurant. It was an opportunity that came to me to get with Drew Belline, who was at Floataway Cafe at the time. And he was ready to open his own restaurant so he's actually a partner in that restaurant. That was one of my thoughts, that I'd love to see chefs get into their own places. So I think what makes 246 different is the size. It's a neighborhood, it's small, it's a quaint restaurant. The hoods are old and don't work very well, which I like because when you walk in there, it smells like someone's grandmom's cooking. With all our new restaurants, the hoods are too expensive and too good. They suck all the food smells out so you don't get that homey feel. So I think that's what 246 is: it's a neighborhood joint with that homey feel. And that's why it feels different than all our other restaurants.
This might be Ford Fry's flagship restaurant. It has won an impressive trophy case of accolades: Esquire's Best New Restaurant of the Year, one of Conde Nast Traveler's 50 best new restaurants in the world, and Bon Appetit's #7 best new restaurant in America. Additionally, Ford was visited in the restaurant by Robert Downey Jr., Tom Holland, and several other Marvel legends on the Netflix original series The Chef Show. Tom Holland's first-ever oyster was served by Ford!
Joey: What's your go-to order when you go into The Optimist?
FF: Oh gosh. I would get the lobster roll as a share item to split with someone else. My go-to has always been gumbo to start just because I grew up in south Texas near Louisiana. Gumbo is always a good start or even the kale salad is really good. I don't typically order oysters, but I definitely suggest others try them. And then whatever fish you want, but it really just depends on the fish.
Joey: How was that experience when the restaurant was featured on The Chef Show and you had two of the biggest actors in the world [Downey Jr. and Holland] just casually eating in the middle of the dining room? I'm always amazed by the restraint of everybody else eating in the restaurant.
FF: It was cool. It was funny because we filmed that so long before it aired. It was actually filmed to be the pilot or to be a teaser, so it was the first show they ever did. But it was super easy and super fun. It was funny when it came out because everyone was sending me pictures. They were all amazed. And I was a good 50 pounds heavier in that video.
King + Duke, named after two characters from The Adventures of Huckleberry Finn, was named by Esquire as one of the best new restaurants in America when it first opened in 2013. In keeping with the Twain-esque American tradition, the food is locally-sourced and simply prepared over a wood-fire hearth, letting the food speak for itself.
Joey: What's your go-to order at King + Duke?
FF: The first thing is the Yorkshire pudding, the popovers. It's just one of my favorite things. Anything bread-ish with butter and maybe a little salt is one of my favorite things in the world. And King and Duke is the one restaurant that people have the hardest time understanding what it is, but it's so simple.
King and Duke is: a 24-foot wood hearth, and food comes and it gets cooked on that hearth. That's really all it is. It's meant to be super simple but technique-driven. It's probably our hardest restaurant to cook in too. So, anything that's touched the hearth, that's sitting up on the hearth collecting smoke, even like a pot of beans or something that's just sitting there. That's what I order, anything that's sitting above the hearth, capturing smoke. And that's my go-to, for the most part. Most of the items have something to do with the hearth, but I want to grab whatever has spent the most time on it.
The food at St. Cecilia is inspired by the cuisine stemming from the European coastlines of Italy, Spain, and France. Its wide open and sleek design is the perfect setting for a working power lunch or a more special occasion.
Joey: Same question, but for St. Cecilia.
FF: The pastas are amazing. I start off with the crudos, the raw fish, which are great as I'm trying to counterbalance the carbs that I'm about to eat. One thing that is super good, and I don't know if people notice it, is our bread. It comes out super hot with a lot of olive oil and salt on it, but there's different accompaniment that you can order, whether burrata or one that's a red sauce, like a sofrito with a little anchovy in it. So it's like a warm tomato anchovy thing with a lot of toasted garlic. Breaking bread and dipping it in that is like heaven.
And then typically we do pasta courses for the table. So if it's five of us, we'll get three pastas. If it's four of us, we may get two or three pastas. We'll definitely try those. I typically get the fish because that stuff changes more often, so it's different and new, but my favorite is the pasta for sure.
This one seems to be a passion project of sorts for Ford. He grew up in Texas and even wrote a Tex-Mex cookbook, largely influenced by the Superica menu. There are now eight locations, half of which are outside the state of Georgia.
Joey: To continue the Rocket Farms metaphor, would you say Superica has been the biggest "rocket' of the group, that took off the most?
FF: I'd say The Optimist was the biggest rocket. But my idea for Superica was that I grew up in Texas and ate Tex-Mex food maybe three times a week. It was just normal for me. And when I came to Atlanta there just wasn't the whole big package. There were definitely places where I could get glimpses of what I grew up eating, but they didn't have the whole vibe. So since I lived here and didn't want to move back to Texas, I decided Atlanta needed some Tex-Mex.
For the longest time, I knew I wanted to do a Tex-Mex restaurant, but locations were really hard. It really had to make sense. It had to have a patio. It had to speak to the neighborhood that was around there. So then Krog Street Market came up and it was exactly the neighborhood that would love it. It's close to the Beltline. It had a back loading dock, which we turned into a patio. It was perfect for Superica.
It was very difficult for us at first because it's a lower check average menu. It was me and Kevin Maxey, who was more involved in running it day-to-day. Kevin Maxey came from Craft in New York, which is super fine dining and he's a super talented guy. And I remember after the first day, we had like a $20,000 day. A $20,000 day at Marcel is one thing, you maybe have to go through two hundred people to get that, but at Superica we had to go through a thousand to get that same amount. So it was a really hard $20,000 (laughs). It was a learning curve to figure out how to learn to cook that way, but we got used to it.
Joey: And what do you get when you eat there?
FF: Oh gosh… we're going to say no diet here. Queso fundido with shrimp, but really any of the queso fundidos. You probably need to order a few for the table, because every time I go with people, they don't know how to do it. They just get a little bit and they tear off a piece of flour tortilla. No, you've got to take like half of it, put it in a whole tortilla, roll it up, and eat it, and it's just so good.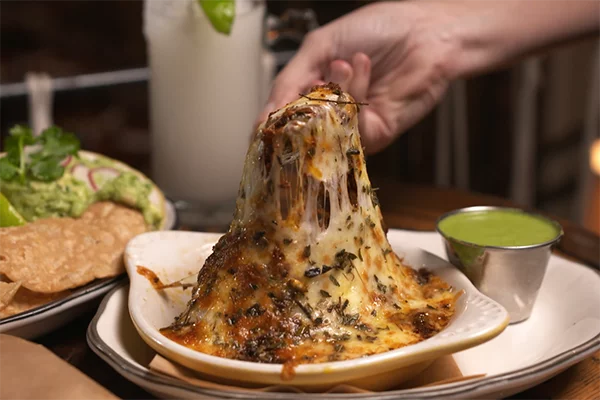 So I start with that. A cheese enchilada and crispy beef taco is kind of the classic Tex-Mex thing. So I may do The El Lopez, which has cheese enchiladas and a crispy beef taco. And then who knows? Maybe I'll order a steak taco al carbon or something like that.
And people don't know about Rico Style, because it's written on the menu in small ink, but it's a taco al carbon covered in queso. Rico Style is something that came from some of the Dallas Tex-Mex restaurants. I grew up in Houston so ours didn't have that, but how can you go wrong with dousing something in queso?
Joey: It's scientifically impossible.
This is Ford's take on an old-school American steakhouse, with an unrelenting appreciation and infatuation with the act of relishing every aspect of a meal.
Joey: What do you get at Marcel?
FF: My go-to at Marcel…and they just know now, I don't even have to order it, but the burger. I don't typically eat lunch, normally just dinner, so if I'm going to Marcel, it's the first thing I put in my mouth. So we get a burger, medium rare, to share for the table. That's the appetizer… the first appetizer. And having that be the first thing you eat in a day is one of the most amazing things ever. So that's what I suggest everybody do.
Then, I typically get the Marcel Salad. Then for entrees, if I've had enough steak… okay, so this is something in-the-know, and I'm sure the chef is going to kill me, but we have veal parmigiana, which is a big, pounded veal chop covered in red sauce and fresh mozzarella, so I ask the chef to make me a veal milanese. So basically, it's the same crispy veal chop pan-fried in brown butter, but it comes with lemons and capers and this parsley salad. And that way, I really get all the crispy bits. So what you do is order that and then have someone else order a steak and then you share it all. And that way you get something that's not on the menu. That's an off-the-menu, in-the-know item that only me and the few people I've told know, so now you can take it and write about it.
(Enjoy the Ford Fry insider tip!)
Inman Park's Beetlecat is a love letter to seaside dining. There's an emphasis on raw oysters, though there's plenty to the restaurant beyond mere mollusks.
Joey: What do you get at Beetlecat?
FF: The salt and pepper calamari, or we call it the salt and pepper squid, is great. I always get that. The fry bread, everyone loves. I love it, it's pretty good…actually it's fantastic. Also the lobster roll, and all of this is to share. I always get the spicy shrimp noodles and I'll typically get a burger to share. I get a lot of stuff there. Those are the main ones and then I just fill in the gaps with other stuff.
Little Rey is Ford's most recent restaurant, situated right where Buckhead meets Midtown. It shares the Tex-Mex cuisine with Superica, but it's more casual, inviting customers to order at the counter off a more taco-heavy menu.
Joey: What should somebody get at Little Rey?
FF: Definitely queso. I get queso primo, which is basically queso with the chicken al carbon in it and some guacamole and pico de gallo. So I get that and then order a side of flour tortillas to dip in it. You'll get chips too. And then I'm typically getting the suadero tacos, which are the braised brisket tacos, which are great. And then the shrimp tacos are fantastic. And I love the wings. Oh, and when it's cold, I love the pozole [chicken soup]. And then soft serve for sure, to leave with.
Closing Questions
Joey: What's a restaurant you would never try to open?
FF: I would never do a sushi restaurant because I'm not Japanese and I'm not trained in sushi.
Joey: And what's a restaurant you're dying to try to open?
FF: There are a lot of burger places out there, but I'm dying to do a burger place. Smashburger-style, probably. And the reason, really, is that my father-in-law had a burger place in the late 1950s in Oklahoma. And you know how father-in-laws are, they tend to tell you the same story about their past over and over and over again. So I thought it'd be fun to do a burger place with the same name.
It was him and, I think, his cousin. His last name was Moore, and it was called Moore Burger. So I always thought it'd be a nice tribute to do a burger place, but I'd call it "More Burger." And back then, he said the menu had a "More Burger" and there was a "Less Burger." And I thought, that's current! How would someone come up with something that cool back then? That's cool right now! That's what I'd be dying to do.
Another thing, if I had someone working with us who was from Southeast Asia or Thailand, and was ready for their own restaurant, I would love to do a Thai street food restaurant, but super casual. Though I would focus on that chef, you know what I mean? It wouldn't be me doing it, it would be them doing it. Just because that's my favorite type of food.
Joey: Like that Little Rey format where you order at the counter?
FF: Yeah, yeah! And then it comes to the table and you just share everything. That could be fantastic. And a little flowered vinyl tablecloth or something like that.
Up to this point, Ford's day had only just begun. He had restaurants to visit, chefs to consult, and a city to rule.