13 Perfect Pancakes Around ATL
Editor's Note: This article was originally published February 18, 2020 and last updated June 27, 2022.
If you weren't craving pancakes beforehand, you will be once you read this post. And we'll bet that these pancake spots are BATTER than whatever you can cook up. Don't believe us? Meet us at the GRIDDLE and we'll prove it to ya! Some of our favorite pancake spots in Atlanta are listed below, in no particular order. Get your brunch on today!
2321 Cheshire Bridge Rd NE | Atlanta, GA 30324
This no frills, low-key, family-friendly spot has a diner feel with the diner-sized heaping portions that we love. But it's not just value for your money you'll get here–they make a mean pancake people rave about, in every flavor imaginable! Dutch baby, keto-friendly, Georgia pecan, apple pie. It's all amazing! But if you're looking for a fun twist on a traditional pancake, order their dutch baby puffed pancake!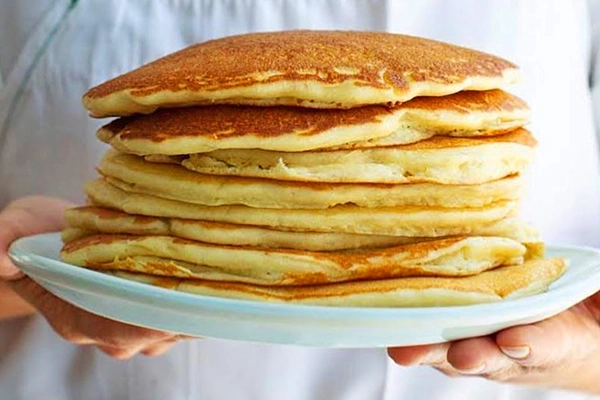 4225 Roswell Rd NE | Atlanta, GA 30342
This Buckhead spot is always packed to the brim and one taste of their fried chicken and one bite of their buttermilk pancakes and you'll understand why! Rich, fluffy, yet also light, these XXL pancakes fill up the size of your plate. Top yours with a caramelized banana and spring for the American Spirit Works whiskey-infused maple syrup!
1984 Hosea L Williams Dr NE Ste. A | Atlanta, GA 30317
We just can't get enough of Le Petit Marche. This Kirkwood spot serves up pancake perfection every time we go! The griddle cakes, topped with powdered sugar, are a total delight. They're worth the wait!
1088 Green St | Roswell, GA 30075
This. Pancake. Is. FABULOUS. These little lemon blueberry pancakes are moist, sweet, simultaneously dense and fluffy and gone in one second every time that we go! This all-day Roswell breakfast cafe/coffeeshop is cute as a button with a dreamy patio when the weather is warm. They also have chocolate hot cakes if your sweet tooth is craving for more!
SEVERAL LOCATIONS
J. Christopher's is an old Atlanta mainstay that has been serving up consistently solid breakfast for years! Their blueberry crunch cake is a diner favorite, made with crunchy granola for a twist on the usual all-fluff pancake.
1100 Howell Mill Rd | Atlanta, GA 30318
West Egg's sour cream pancakes–with just a dash of cinnamon–are always a more than solid option when you're brunching in West Midtown! Pair yours with their over-to-top lattes for the perfect meal. But they also frequently will ramp up their offerings with pancake specials, like this apple pancake from the fall time. Mmmm!
421 Memorial Dr SE | Atlanta, GA 30312
The pancake king! Ria's Bluebird in Grant Park is known for their syrupy-sweet pancake perfection. We love the quirky fun vibe here. A perfect Sunday includes a trip to Grant Park farmer's market and a stack of these unbelievably good pancakes!
11705 Jones Bridge Rd | Johns Creek, GA 30005
This John's Creek / Alpharetta spot is brunch perfection. And add this place to your list of places for baked pancakes that are super THICK and buttery. One order comes with two pancakes but trust us–you'll need to share!
SEVERAL LOCATIONS
If you're in the mood for brunch, please don't overlook Highland Bakery. Everything on the menu is so, so good, but especially their sweet potato pancakes! Head to their original haunt in Old Fourth Ward or head to a location near you as they're all over Atlanta these days!
SEVERAL LOCATIONS
We're always raving about First Watch's Lemon Ricotta pancakes in particular, but every one of their stacks is the perfect mix of dense and fluff. Get their candied, million dollar bacon as well, and you've got the perfect pairing!
675 Ponce De Leon Ave NE | Atlanta, GA 30308
Beginning your day with a great Breakfast meal or even ending it with one is essential to live a good lifestyle, and Pancake Social has it under wraps. Offering the best pancakes along with other breakfast foods, your day is off to a good start or end, you decide!
SEVERAL LOCATIONS
Classic American diners are the go to spots when it comes to delicious breakfast foods, and Thumbs Up is a perfect example of this! Whether you want to try their fluffy pancakes or go for a savory meal, all of the options are available.
SEVERAL LOCATIONS
Known as the place to do creative twists on breakfast foods, an experience at Snooze will be one to remember not only because of the food, but the thought put into the experience as well. Which one-of-a-kind pancake will you be devouring?