Atlanta's Iconic Dive Bars
Who else is ready to take their Pfizer shots out for a spin at ATL's various down and dirty dive bars? There's a lot of change happening in ATL, but one thing that stays the same is our city's iconic dive bars. Hop on over and visit one of these joints this holiday weekend.
828 North Highland Avenue Northeast, Atlanta, GA 30306
This is a dive that's all about the music. Blues and jazz or just music aficionados will find a great time here at this Virginia Highlands establishment that keeps the music cranking and serves up some some pretty fire cajun food, to boot. It makes just about every "best of" Blue's clubs list in America as well.
2783 Main St, East Point, GA 30344
No matter who you are, you'll feel like you belong at hole-in-the-wall spot in East Point Chairs. That's the beauty of it. It's what we wish every neighborhood bar would be like. There's darts, arcade games, pool tables, and drag bingo on Tuesdays. The food is also pretty bomb–burgers, brisket, corndogs, and more. For smokers, you can light up on their patio outside.
488 Flat Shoals Ave SE, Atlanta, GA 30316
It's an East Atlanta staple for live music, but also great at anytime for cheap drinks with a decent patio, as well. Their burgers are some of the best in Atlanta–not just best for a dive bar, but best, straight up! A great place to just be and hang or maybe even meet up for a casual date.
1041 W Peachtree St NW, Atlanta, GA 30309
Your new favorite local spot! This cozy little Midtown staple has great London pub vibes and some awesome tavern/pub food, a great place to get away the craziness of Midtown. Charles Barkley has also often been spotted here!
676 Highland Ave NE, Atlanta, GA 30312
Where else can you get a slice of pizza and 40 oz beer for $5? Jack's Pizza and Wings has also lovingly been description as having "chaotic but one-of-a-kind interiors." An Inman Park staple and great cheap eat.
6. The Local
758 Ponce De Leon Ave NE, Atlanta, GA 30306
Ask 10 people where the best wings are in Atlanta, and we'll guarantee you at least 3 of them say The Local. Ponce de Leon is rapidly changing, but the Local continues to serve up comfy dive bar realness. And don't even get us started on karaoke Mondays–absolutely legendary stuff.
7. North River Tavern
8879 Roswell Rd Sandy Springs, GA 30350
North River Tavern is everything you could want in a local watering hole. Great food, great vibes, and great value all in an unpretentious dive bar atmosphere. Plus, a kitchen that stays open late! We're in heaven.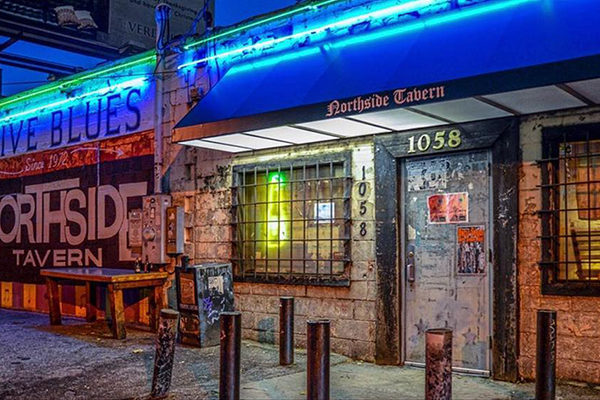 1058 Howell Mill Rd NW, Atlanta, GA 30318
West Midtown has undeniably become a pretty bougie side of town, but Northside Tavern is still kicking and adding some dirt and grime to the area. There's live blues music most nights (check out the house band, Mucat), pool tables, and a fun jukebox so you can play your favorites too.
1033 North Highland Avenue Northeast, Atlanta, GA 30306
Fun fact about this little dive is that they are the #1 seller of PBR in the entire country (and proud of it!) so you can unashamedly indulge in a few cans of these. They've got fresh popcorn on deck for a great snack and a fantastic patio, right in the heart of Virginia Highlands.
2142 Johnson Ferry Rd NE, Atlanta, GA 30319
Cheap food, cheap beer, cheap drinks. What more could you want in a dive? Head to a show at the Plaza Theatre then for a drink after. They've also got a second location in Brookhaven.
313 E College Ave, Decatur, GA 30030
The food is where it's at! it will have you coming back. Their house smoked wings and pulled pork are their speciality. The vibes are immaculate with darts, pool and bingo. Get ready to get weird and grimey at this delightfully divey Decatur mainstay.
1578 Piedmont Ave NE, Atlanta, GA 30324
One of the oldest building in Atlanta and a totally iconic live music venue! They've hosted some legendary musicians like David Bowie, Janelle Monae and John Mayer. Smith's Olde Bar also has an underrated food scene with amazing wings. A great place to just sit at a booth and split some food and beer with friends or play some pool and catch a show.
Blind Willie's
Chairs
The Earl
Eleventh Street Pub
Jack's Pizza and Wings
The Local
Northside Tavern
Moe's and Joes
The Righteous Room
Smith's Olde Bar
Trackside Tavern