Atlanta Restaurants That Make Big Group Dinners A Breeze
There's nothing quite as stressful as trying to find a space to host a big group dinner. It's a delicate dance coordinating different schedules, contrasting budgets, picky palettes, and most importantly, finding a restaurant that will accommodate ALL of your guests! We're here to take away all your group dining woes with our guide featuring private event spaces, private dining rooms, and smaller groups. Check it out!
Restaurants Perfect For Smaller Groups (~6-12 People)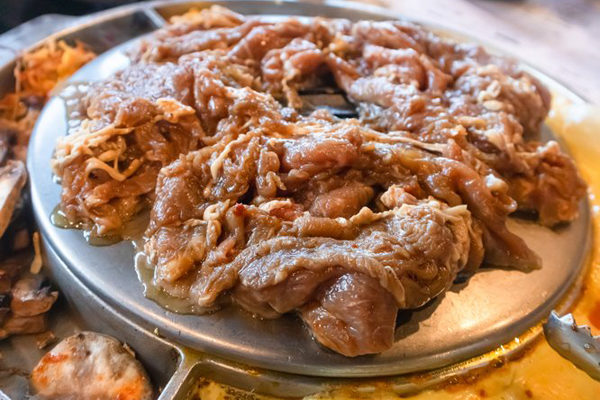 1. 9292 Korean BBQ
3360 Satellite Blvd. Ste 8. Duluth, GA 3009
All Korean BBQ spots will be relatively easy for group dining, but we are especially big fans of 9292 for taste, value, and their cozy atmosphere. You can call ahead to make a reservation if you have a large group or just show up, though be warned there sometimes is a wait.
128 E Andrews Dr NW, Atlanta, GA 30305
We love this bright and fresh Buckhead spot and their spin on Mexican cuisine. They have a particularly cute table inside with large peacock chairs at the end that make group dinners a breeze. Be sure to try their oysters divorciado–it's insanely good!
3. Good Harvest
5150 Buford Hwy NE Doraville, GA 30340
Chinese Hot Pot is another one of those cuisines that are inherently easy for groups, and Good Harvest offers a particularly delicious version. It can be a bit pricey but the quality of ingredients and flavors are worth it!
3011 Buford Hwy NE, Atlanta, GA 30329
Lips is made for groups! Every time you visit this drag dining spot, you'll see hoards of and hoards of bachelorette groups and birthday parties. The show and entertainment is more of the pull than the cuisine, but their brunch is actually quite good! Make a reservation ahead of time for a more seamless experience.
1776 Cheshire Bridge Rd NE, Atlanta, GA 30324
You don't cut it 50 years in ATL without being one of the best. And Nakato has been serving up authentic Japanese cuisine by being one of the best. They have a lot of dining options from sushi to hibachi to omakase. For a group dinner, you can easily make a hibachi reservation online for up to 6 people, or ball out with their private Tatami room.
1820 Peachtree Rd #1, Atlanta, GA 30309
OSHA is a Thai owned restaurant that's all about the art of dining. Their menu errs more on the fusion side, but the flavors are still fabulous and the presentation is next level. It's lovely for a group dinner, though you will have to call ahead!
1221 Peachtree St NE Suite 130, Atlanta, GA 30361
Spacious yet somehow simultaneously cozy Midtown spot Saints & Council is a breeze for group dining. It's a stylish spot, with a menu full of the typical stylish items you can expect at these types of establishments like pork belly, burrata, and lamb chops. They also have a solid brunch! You can make a reservation for 8 people directly through OpenTable or contact the restaurant if your party is larger.
1745 Peachtree Rd NW, Atlanta, GA 30309
Every time we visit Tuk Tuk, we see a big group of happy patrons enjoying delicious Thai street food and refreshing cocktails. You will have to contact the restaurant rather than reserve through OpenTable for parties larger than 4, however they are class acts and will easily accommodate.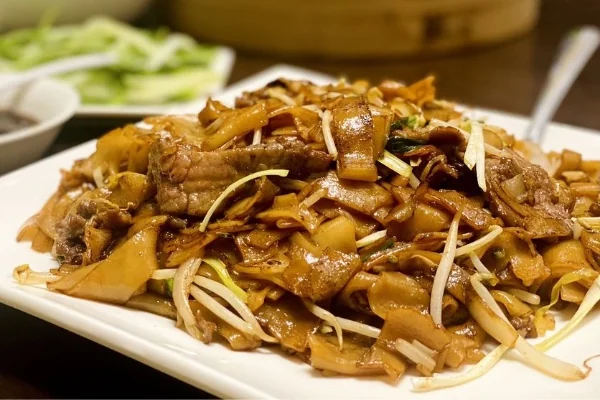 9. Royal China Eatery
3960 Venture Dr Duluth, GA 30096
Royal China Eatery has a variety of options for the whole family to share. Royal China tends to be full but the wait is worth it and their staff is always welcoming. Great place for Dim Sum and large dishes to be shared with everyone. Beautiful interior for memorable moments!
Various locations
If your craving tex-mex, Taqueria Del Sol is the place to eat. With their reasonable prices and amazing food, Taqueria Del Sol makes a perfect spot for a small group. Try any of their tacos with flour tortilla and their wide variety of drinks at the bar.
415 East Paces Ferry Road, Atlanta, GA 30305
Craving Italian food for breakfast, lunch, and dinner? Dirty Rascal has you covered for all three meals, serving large portions, great for sharing with your family. Try their delicious Ricotta Tortellini & Lamb Bolognese and Lasagna for dinner that serves 2-3 people.
Excellent Restaurants For Private Dining Group Dinners
88 W Paces Ferry Rd NW, Atlanta, GA 30305
The St. Regis in Buckhead is a destination of its own. With out-of-towners and staycationers enjoying both the hotel's amenities and its famous bar, perhaps the hotel's most notable feature is Atlas, one of Atlanta's best restaurants. So it's no surprise that Atlas also has an excellent group dining options. Perhaps the best option is the Chef's Table – overlooking the kitchen, you can see exactly how your meal is being prepared in a semi-private space for up to 12 people.
5575 Windward Pkwy, Alpharetta, GA 30004
Looking for some privacy while discussing big plans for your business? The Cabernet Wine Cellar is a perfect place to hold an event, with big boardroom energy. The room accommodates 20 guests for your next big business pitch, and has a projected screen to make your .ppt go perfect. With excellent steaks, world class wine and isolation from other diners, you'll give a boss presentation at Cabernet.
4199 Paces Ferry Rd SE, Atlanta, GA 30339
Folks in Atlanta know that Canoe is one of the most beautiful places to dine in the metro. Adjacent to a bucolic bend of the Chattahoochee River, they've been serving world class dishes for nearly 30 years. Famous for their River Garden, an outdoor garden space that can accommodate anywhere from 40 to 140 guests, we wanted to highlight their "Paces Room". It's a smaller, indoor space adjacent to the garden that can hold between 16 and 35 guests for lunch, but has screens for event presentations and gives garden access in warmer weather – the best of both worlds!
6125 Roswell Rd Suite 700, Sandy Springs, GA 30328
C&S Seafood and Oyster Bar is one of Atlanta's best seafood restaurants, hands down. On top of that, their service is five star with a big focus on front of house. That's why a dinner on the mezzanine (Sandy Springs location) is an excellent place to hold a business event, rehearsal dinner, or other event. They can accommodate up to 28 seated guests and have a 60" screen for presentations, slideshows, etc.
Phipps Plaza, 3500 Peachtree Rd NE, Atlanta, GA 30326
Davio's Newbury Room is the perfect place for a small business or team to hold a company outing, with easy access at Phipps Plaza and a menu everyone will love. Their Newbury Room holds 20 seated, but they have other rooms of varying sizes that can accommodate more guests. Also, don't forget – Davio's has a great wine and cocktail list for any event that involves a Happy Hour!
View this post on Instagram
17. Falling Rabbit
3580 W Lawrenceville St, Duluth, GA 30096
When it comes to a fine dining private room experience, you can't do much better than Falling Rabbit. With every dish on the menu artfully composed, stunning decor throughout the space and white glove front of house service, a group dinner or event at Falling Rabbit is a one of a kind experience. The private dining room holds up to 16 guests, and they can accommodate any event at that space – whether it's an engagement party, bridal shower, holiday event or corporate gathering.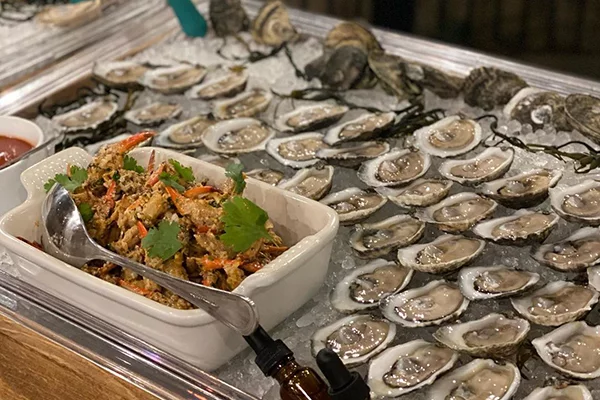 303 E Howard Ave, Decatur, GA 30030
When it comes to a get together with family and friends – whatever the occasion – you can't do much better than Bonanza! At Kimball House. Located at the rear entrance to the restaurant, the space is completely private but still features the same Beard nominated cocktail menu you can get as a regular diner. There's an open window to an outdoor balcony space, where you can let in a cool breeze on a spring, summer or fall night, all in beautiful Decatur.
349 Peachtree Hills Ave NE, Atlanta, GA 30305
Did you know there's a speakeasy hiding in plain sight in Peachtree Hills? At KR Steakbar, The Bureau acts as Chef Kevin Rathbun's speakeasy/event space. Accommodating up to 50 seated guests, the space has stylish lighting and music that can be set up for multimedia presentations or just great vibes at a rehearsal dinner. With an incredible cocktail menu and food coming out of Chef Rathbun's incomparable kitchen, your next event at The Bureau will be brilliant.
31645 McLendon Ave NE, Atlanta, GA 30307
This may or may not be your cup of tea but Dr. Bombay's Underwater Tea Party is a wonderful place to go for a private memorable tea party alongside homemade assortments. High tea private event is only done through
reservation
and can accommodate up to 20 people. A portion of Dr.Bombay's sales goes to young scholar women in India.
Restaurant Event Spaces That Can Host Large Groups (30+ People)
Multiple Locations
You don't need to be Irish to feel lucky when you're at Fado. This pub is already a fantastic gathering spot for soccer games and other group hangouts, so you already know they're ready to host a larger group. Both Atlanta locations have numerous rooms you can rent specifically, like the Patio (fits up to 40) or the Velvet Room (30 – 35), or go for the full shebang and host up to 250 people (Irish wedding, anyone?) Each room offers enhancements such as an Irish coffee bar, live trivia, and a cigar rolling station and your choice of Irish delicacies like Guinness BBQ Wings, Fish and Chips, or Shepherd's Pie.
10930 Crabapple Road Suite B120 Roswell, GA 30075
Houck's is a Roswell institution, and is easily one of the best OTP spots to host an event. The Houck's Event Room, which seats up to 100 guests, is completely separated from the main dining room and is stocked with a bar, bathrooms, and A/V equipment. The Houck's Patio seats up to 50 but is still a charming vibe for events both formal and casual.
602 North Highland Ave NE, Atlanta, GA 30307
There's no better way to wow your friends, family, or coworkers than hosting an event at one of Atlanta's most iconic establishments. Manuel's has an absolutely massive space and they sure do know how to use it. You can rent the Eagle's Nest, which fits 40, and is sectioned off by large theatrical curtains so you and your crew will feel like the stars you are! There's also the First Level or, as they call it, "That Side Of The Building You Didn't Know Existed Until Last Week," which can hold up to 80 people.
249 Ponce De Leon Ave NE, Atlanta, GA 30308
It's always a party when you're at Torched Hop…so why not have one there? You have two options to host huge gatherings: the bocce room or the full restaurant. The bocce room of course has a bocce court for you and your group to play, but also plenty of board games and TVs. This area can accommodate groups up to 40 or even 65. If you decide to rent out the full 9,000 square foot restaurant, you can host up to 225 people! Don't worry, they'll make sure there's enough Wu-Fries for everyone.