These Atlanta Restaurants Are Serving Up Amazing Salads
Yes, as the unofficial capital of the South, Atlanta does amazing fried chicken, delectable biscuits, incredible soul food, and all the other fun stuff that Southern cuisine is known for. But it's also become just as easy to embrace a greener diet in this city if that's your thing. There are a huge amount of healthy salad/grain bowl spots, local farmers markets, and incredible full-service restaurants where salad is far from an afterthought. Dive into our guide to find a satisfying salad near you!
Multiple Locations
Trying to prep your own salad creation at home can often be a disappointing experience. Your spinach wilts before you get around to it, the toppings you want to add end up more expensive than you want them to be, and for some reason, it just doesn't taste as good as you'd hope. For the days you don't want to DIY it, Flower Child is there for you. They can accommodate a variety of dietary restrictions, whether you are looking for vegetarian, gluten-free, paleo, or vegan meal choices. Pick up one of their bowls at their location in Sandy Springs or at the Shops Around Lenox.
Multiple Locations
Salads are far from the first thing that comes to mind when you say BBQ, but don't be fooled. Fox Brother's is serving up a fresh salad. Order up the farm salad with assorted mixed greens, honey mustard dressing, and always scrumptious pulled chicken. The best way to get in your greens and your protein!
1099 Hemphill Ave NW, Atlanta, GA 30318
It's a true sign of restaurateur Giovanni Di Palma's genius when his humble Italian chicken shop is actually also kickin ass in the salad game. They are serving up a simple side salad with an oil based salad dressing that's freakin' delicious and totally addicting, topped with huge freshly shaved flakes of parmigiano-reggiano that's not your Kroger variety. Simple, high quality ingredients make for a mean meal.
Multiple Locations
There's a lot of salad and grain bowl spots, but locally owned Recess is forever one of our faves. They are simply doing what others are not–unique flavors that makes good-for-you, fresh food taste delicious, too. The turmeric pepper vinaigrette that comes on their spring mix salad adds the perfect little somethin' somethin'.
Multiple Locations
Superica's "ensalada de la casa" received two enthusiastic yes votes from Atlanta Eats staff. Even their half portion is still huge, and the chicken al carbon it comes with is truly fantastic.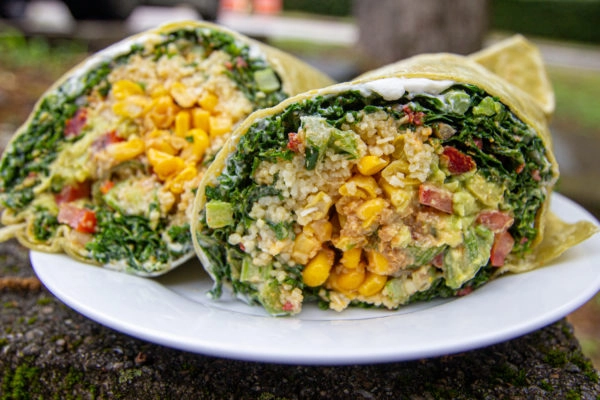 1059 Ralph David Abernathy Blvd, Atlanta, GA 30310
We'd be remiss if we did not include the insane combination of flavors that is the spicy kale salad at Tassili's Raw Reality Cafe. Enjoy fresh kale with sun-dried tomatoes and a whole slew of spices that packs the heat in the most delicious way ever! The best way to enjoy this spot is by getting one of their wraps which includes their salad mix plus a whole lot more.
3393 Peachtree Rd NE Ste 3058B, Atlanta, GA 30326
True Food Kitchen is a longstanding chain that has been serving up fresh, healthy, and delicious food to Lenox Mall shoppers for years. They are especially great for vegan, gluten-free, and other dietary restrictions. The kale salad is always delicious, especially when topped with their grass-fed steak or fair trade arctic salmon!
5000 Buford Hwy NE, Chamblee, GA 30341
Think outside the sad, supermarket prepackaged salad kit, and try a papaya salad from a local Thai joint on Atlanta's famous Buford Highway. It's totally refreshing and unexpected mix of flavors, with sour, sweet, and sometimes, even a bit of a spicy kick. And only at Tum Pok Pok can you find such a variety of flavors of this papaya salad. Have it plain with crushed roasted peanuts, or with a fermented fish sauce and vermicelli, or topped with salted crab.
3393 Peachtree Rd NE Ste 3058B, Atlanta, GA 30326
Why is there only one location of Upbeet? I am forever lamenting my move from West Midtown since Upbeet is no longer a two-minute drive away from me. The ingredients here are so fresh, and aside from a variety of delicious salads, they also have grain bowls, superfood lattes, and açai bowls for you to choose from. The coconut kale salad is perfection: organic curly kale, cabbage, omango, avocado, and pumpkin seeds, all dressed with a fabulous ginger-miso dressing and served with pasture-raised chicken, but you can always customize your options!