The Cheesiest Eats Around Atlanta
All hail cheesus! Pay an homage to fromage with a cheesy, decadent meal at one of these Atlanta restaurants for your next cheat day!
Deep fried and stuffed to the brim with allll the good stuff, Big Dave's Cheesesteak's Philly Cheesesteak Eggrolls are a must try for any cheese lover. They're crispy, meaty, cheesy perfection.
For the most epic of cheese pulls, New Realm's cheddar crusted mac & cheese is a must. There's a hint of sweetness that pulls everything together and keeps pulling you back in for forkful after forkful. New Realm Brewery is on the Beltline, so it's easy to hop right on and get your steps in afterwards!
View this post on Instagram
Nina & Rafi's cheesy bread is the perfect, simple mix of cheese and carbs that always hits the spot. Made on a homemade garlic loaf with mozzarella and pecorino romano. Dip it in their marinara sauce for a taste of heaven. Find it on the Beltline!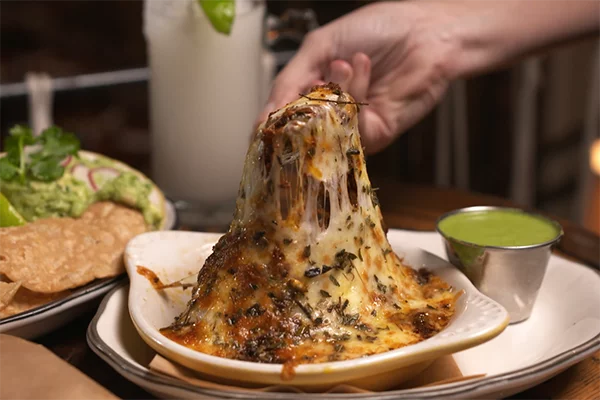 We're never not thinking about Superica's queso fundido. It's made up of a mix of broiled Monterey Jack and Chihuahua cheeses and served with the perfect warm tortillas. Spring the extra few bucks to add chorizo then fall into a food coma–it's all worth it. Locations in Krog Street Market, Buckhead, and Alpharetta.
Greater Good BBQ, a hole-in-the-wall type of spot in Buckhead for phenomenal BBQ, has concocted a jalapeño cheese and brisket sandwich that's the stuff of your cheesiest dreams. With a brisket that's cooked low and slow and a melty cheese that adds the perfect amount of spice, this sandwich is truly something to behold. Available for curbside pickup!
Don't mess with a classic! Buckhead Diner's famous blue cheese chips are crunchy, cheesy deliciousness and one of their signature dishes. Buckhead Diner is a real Atlanta staple. It's been a go to diners wanting everything from the perfect cheeseburger to a perfectly cooked steak. If you want to go full cheesus, order their "Salute to the South" burger too, topped with fried pimento cheese. Drooling just thinking about it!
A new addition to Roswell, Big Oak Tavern excels in everything they do. Their tavern eats have some soul food flair, their patio seating is superb, and their service is always impeccable. For cheese lovers, Big Oak Tavern's lobster mac and cheese is a can't miss. Pull apart the fried lobster tail with your fork and enjoy every cheesy mouthful of this decadent dish!
View this post on Instagram
You can't ever go wrong with an excellent French Onion Soup. The Select's is perfectly broiled with a delicious cheese crust that bubbles over the dish. Find this spot in Sandy Springs!
This plate comes to your dish sizzling hot, so be careful! It's fried, tomato-braised rice with egg, cheddar cheese, mozzarella cheese, smoked bacon, grilled spam, fresh corn, red onion, fried shallots, spring onions, and bell peppers.
For deep dish pizza novices, don't be fooled by the look of the pizza. Since deep dish pizzas are baked in the oven for longer times than your regular 'za, sauces are put on top, with the cheese layered in, so that the cheese doesn't burn. But the pizza at this Chicago-based chain is perfectly layered with the prime cheese to sauce to topping ratio. Locations in Campcreek, Midtown, Buckhead, Dunwoody, Roswell, and John's Creek.