The Ultimate Decatur Dining Guide
Decatur is a city of contrasts. It has a small-town feel but is full of big city restaurants. It's a quiet and unassuming community yet attracts some of the most prominent names in the food scene. Whether you're craving a perfectly-poured pint of beer on tap or authentic French fare, you don't need to look far in Decatur to find something that will hit the spot.
Here's where you should start.
1341 Clairmont Rd, Decatur, GA 30033
Greek immigrants started this pizza diner several decades ago. It specializes in both Greek and Italian staples as well as unique combinations of the two cuisines. Nowhere else in town can you score tasty spanakopita as well as the perfect pizza. Can't decide? We recommend the Athens Special, a traditional Greek fluffy crust topped with feta, white cheddar, ground beef, Italian sausage, peppers, onions, and mushrooms.
1355 Clairmont Rd, Decatur, GA 30033
This unassuming spot is committed to serving the tastiest chicken in town. Whether you're chowing down on the Korean spicy BBQ wings or the surprisingly scrumptious pork dumplings, make sure you wash it down with one of their 50 craft beers!
125 E Court Square, Decatur, GA 30030
Come for the beer, stay for the grub! This timeless beer tavern has a friendly atmosphere and knowledgeable staff, serving up classic pub food with a Southern influence. We can't stop drooling over their Meatloaf Sammie, pictured below.
1365 Clairmont Rd, Decatur, GA 30033
Take in the sights and smells of this authentic Cuban bakery and you'll know you're in good hands. Buena Gente celebrates the rich culture with sweet and savory pastries, lovingly-crafted staples, and perfectly-crafted Cuban coffee. If you're craving a quick snack, grab a pastelito (puff pastry danish filled with guava preserves) and a fresh cortadito. If you're looking for a full lunch, they've got one of the tastiest Cuban sandwiches you'll ever eat.
121 E Ponce de Leon Ave, Decatur, GA 30030
Step into this quaint downtown Decatur bistro and you will be swept away to the beautiful French countryside. Whether you order the beef wellington or the crepe du jour, you'll fall in love with this petit cafe magnifique!
406 W Ponce de Leon Ave, Decatur, GA 30030
Bombay street food has made its way to Decatur! Chef Meherwan Irani has married authentic Indian flavors with common Southern ingredients to create a uniquely exotic cuisine. Our go-tos are the kale pakoras (deep fried kale fritters) and the okra fries, but you can't go wrong no matter what you get.
1361 Clairmont Rd, Decatur, GA 30033
This BBQ joint leaves nothing to be desired besides another visit! From melt-in-your-mouth meats to simply divine sides, Community Q is BBQ done right. If you get the pulled pork sandwich with their three-cheese mac and cheese, you're going to walk away a happy (and full) camper.
2761 Lavista Rd, Decatur, GA 30033
Come to this neighborhood spot where everybody knows your name! The Grove has over 100 beers on tap and unpretentious yet delicious bar grub. All taste buds will find something delightful, from the Grove Burger smothered with grilled onions, mushrooms, and bacon to the southwestern chicken egg rolls.
121 Sycamore St, Decatur, GA 30030
Walk into The Iberian Pig and you'll find yourself teleported to the markets of Spain, bursting with cured meats, artisanal cheeses, and expertly-selected wines. If you're looking beyond the charcuterie, you'll go loco for the braised pork cheek tacos.
308 E Howard Ave, Decatur, GA 30030
This cozy bodega-esque store has you covered with groceries, fresh baked treats, and simple yet succulent sandwiches. The Mulligan is a divine double-stack with turkey, cheddar, avocado, bacon, tomato, cucumber, and plenty of Duke's mayo on multigrain bread. We've also been craving the spicy-in-all-the-right-ways Rah's Inferno, with Cajun turkey, pepper-jack, LTO, pepperoncinis, and spicy ranch on a toasted baguette!
131 E Ponce de Leon Ave, Decatur, GA 30030
This mix of old and new serves up innovative yet comforting American cuisine. Built out of an old gas station, Leon's Full Service emulates the full service stations of a past era of hospitality. Gather a group and split the hand-cut pommes frites served with any two sauces, from garlic aioli to smoked jalapeño mayo. You'll be fighting over who gets the last fry!
1496 Church St, Decatur, GA 30030
If you've ever been to New Orleans, you know it's a city with its own flavor and spice. If you can't make the trip to the Big Easy, you can get all the flavor and spice you need from Louisiana Bistreaux. From the jambalaya to the hurricanes to the live bands playing inside, it's one of the few Atlanta locations where you can 'laissez les bon temps rouler'!
129 E Ponce de Leon Ave, Decatur, GA 30030
One of Decatur's premier Italian restaurants is sustainably and locally sourced with jaw-droppingly fresh seafood, house-made pasta, and devastatingly delicious pizza. The veal, pork, and beef meatballs are a perfect reminder that less is often more.
2757 Lavista Rd, Decatur, GA 30033
This local favorite is part butcher shop, part grocery, and part local deli where generations can get together and share a delicious bite to eat. The prime rib Cuban will scratch anybody's sandwich itch; if you're going bread-free, look no further than the Three Salad Plate, consisting of a medley of chicken, beet, and apple-broccoli-walnut salad.
1369 Clairmont Rd, Decatur, GA 30033
Step into the French Quarter with this Cajun spot just right for any rendezvous. You can't go wrong with any Po'Boy or drinks fit for any Bourbon Street enthusiast. Our current favorite is the Surf & Turf Po'Boy, topped with shrimp and debris (roast beef drippings) with spicy remoulade and horseradish. You'll need to pinch yourself to remember you're not in the Big Easy.
141 Sycamore St Back Patio Entrance:, 320 Church St, Decatur, GA 30030
Despite what the name implies, this is a laid-back burrito joint offering the classic Tex-Mex cuisine as well as 50+ tequilas which you can enjoy in a margarita or straight up (ideally with salt and lime). You can't miss with any of the burritos, but the pineapple jerk is their most popular, with good reason!
129 Church St, Decatur, GA 30030
Kevin Gillespie brings his Midas touch to yet another Atlanta restaurant with this nod to his formative years. He brings Southern cuisine to life with a proper version of the traditional Sunday dinner with a focus on farm-fresh ingredients. We can't get enough of the Maryland Baked Crab Au Gratin and the Bacon-Wrapped Meatloaf, so make sure you don't fill up on the mouthwatering cornbread!
127 E Court Square, Decatur, GA 30030
This family-owned brunch hub right in the heart of Decatur Square crushes the game no matter what time of day you're stopping by. If breakfast is on your agenda, order the hearty Goose Omelet, stuffed with bacon, andouille sausage, pork sausage, mushrooms, and cheddar. In more of a lunch mood? Redefine comfort food with the pimento grilled cheese on sourdough.
2860 Lavista Rd, Decatur, GA 30033
This community-first restaurant serves up Southern comfort food made with local ingredients cravable for the entire family. Take a trip on the wild side with their duck succotash! If you're feeling less adventurous but equally hungry, you can't go wrong with the garlic chicken fried chicken or the fried green tomatoes.
211 E Trinity Pl, Decatur, GA 30030
You and your crew need to arrange your next hang at this hit local gastropub. Twain's has house-brewed beers on tap and a variety of group games as far as the eye can see. Once you've worked up an appetite shooting pool, settle down with a tall glass of beer and an order of smoked sweet garlic wings!
906 Oakview Rd, Decatur, GA 30030
This full-service neighborhood hangout has great food, friendly service, and the most dog-friendly patio in town. Whether you have two legs or four, you're going to go wild for the Steinbeck Burger, loaded with pimento cheese, smoked bacon, and pickled jalapeños or the Universal Fries, jam-packed with cheddar, bacon, jalapeños, scallions, and served with a side of (what else?) ranch.
3818 Covington Hwy, Decatur, GA 30032
Who's got soul? This place sure does! This Black-owned soul food restaurant offers a modern take on traditional Southern food with homemade sauces, seasonings, and desserts to satisfy anybody with or without a Southern bone in their body. Look no further than the oxtails and gravy! If you've never had oxtails before, you'll thank us later.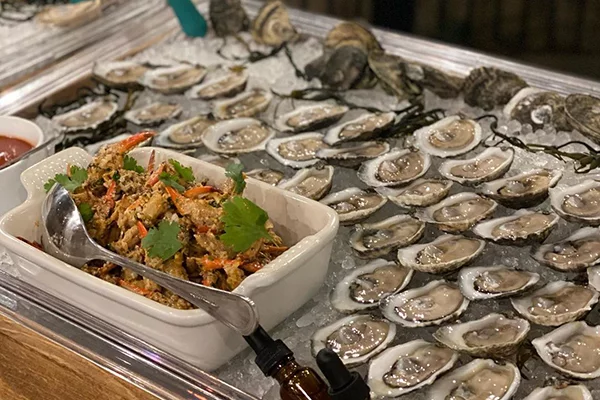 303 E Howard Ave, Decatur, GA 30030
This cute little spot once was a railroad station. Today, it's known for their oysters and cocktails. If you are down for a challenge, order the Oyster Tower! Their entrees like the duck breast are so tender and perfectly cooked. Their whole menu has top notch flavors you have to try!
View this post on Instagram
1371 Clairmont Rd, Atlanta, GA 30033
Brunch at Ms. Icey's IS the moment and the vibes are amazing. The skillet cornbread is bomb and the mac n cheese is simply the best thing you will sink your teeth into. This place is booked out for weeks so make sure to get a reservation ASAP.
Athens Pizza
Brick Store Pub
Brew and Bird
Buena Gente
Cafe Alsace
Chai Pani
Community Q
The Grove
Iberian Pig
Kelly's Market
Leon's Full Service
No. 246
Oak Grove Market
The Po'Boy Shop
Raging Burrito
Revival
Sweet Melissa's
Sprig
Twain's Brewpub & Billiards
Universal Joint
Who's Got Soul
Louisiana Bistreaux
Kimball House
Ms. Icey's Kitchen