Where to Find Mouthwatering Korean BBQ Around Atlanta
Put a little sizzle in your next meal out when you gather around the grill with your friends, and experience the art of Korean BBQ at one of these top Atlanta restaurants. Korean barbecue is an interactive type of cuisine that involves grilling cuts of meat onto grills that are built into your dining table. It's a wonderful way to spend the evening with friends, and thanks to a huge Korean diaspora community in the Atlanta area, there are *tons* of great places to enjoy this dining experience. Here's a list of a few with the most mouthwatering cuts of meat and flavors! Listed below in alphabetical order.
3880 Satellite Blvd
Duluth, GA 30096
Get ready for more than a meal at this Duluth spot…you're in for an experience! With a highly trained waitstaff that cooks your meal right in front of you, you'll be able to sit back, relax & take in the entire experience, and most likely learn a thing or two. And the charcoal grills lend great flavor to their high-quality cuts of meat. Save room for a complimentary Melona bar, a popular honeydew popsicle from Korea, for dessert. It's so creamy and delicious!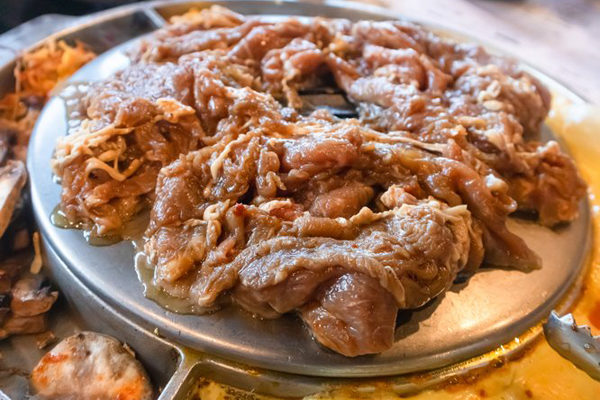 2. 9292 Korean BBQ
3360 Satellite Blvd #8
Duluth, GA 30096
This Duluth spot features charcoal grills, resulting in a smokier flavor, and a modern and industrial atmosphere. It does get busy during dinner time, so be prepared for a wait. All-you-can-eat costs around $30, though in general at Korean BBQ places, all-you-can-eat consists of lower quality meats. The egg and cheese dish and the banchan that come with your meals are all delish. Or choose your favorites a la carte–folks love the beef brisket and short ribs.
2850 Lawrenceville-Suwanee Rd
Suwanee, GA 30024
Suwanee folks, rejoice! Enjoy their dinner all-you-can-eat special at $29.99 or dine in for lunch, all-you-can-eat at $19.99. This KBBQ spot has the servers doing the work for you so you can just relax and get ready to eat!
9700 Medlock Bridge Rd Suite 112
Johns Creek, GA 30097
This Johns Creek Korean BBQ spot has put a spin on your usual Korean BBQ restaurant with an interior that's absolutely beautiful. Think of a mash-up between a glamorous modern steakhouse and your favorite Korean BBQ joint, though you can expect, also, to pay more premium prices for the experience. Order a round of craft cocktails with your meal, and enjoy the experience.
4400 Ashford Dunwoody Rd
Dunwoody, GA 30346
We love Breakers! If you've never had Korean BBQ, we definitely recommend this place for your first visit. Their staff is always knowledgeable, friendly, and happy to answer any questions you have. If you prefer to cook it yourself, you're welcome to do so, but the servers are also happy to man the grill for you.
299 North Highland Avenue Northeast
Atlanta, GA 30307
For Korean BBQ with an upscale and Asian fusion twist, head to Inman Park to try Char! You'll love the hip, trendy, and lively atmosphere right in the heart of intown Atlanta. It's perfect as a first-stop for a cocktail filled night out on the town. Try their Korean BBQ or order some dishes a la carte, like the Korean fried chicken, Korean street corn, or kimchi mac and cheese.
225 E Trinity Pl
Decatur, GA 30030
Go to Decatur where it's greater for great food, always. And true to form, they've got a killer KBBQ spot. The cocktails are strong and delicious, the meat is beautifully marbled, and the interiors are super cool and industrial.
Multiple Locations
Iron Age has been in the Korean BBQ game for over 10 years, and they're beloved by many. There are locations now in Duluth, Sandy Springs, and Kennesaw. It's been a favorite of the college crowd especially, offering a lot of bang-for-your-buck as well as an always hoppin' selection of Kpop tunes to jam out to while you're there.
3885 Venture Dr
Duluth, GA 30096
Nestled in Duluth, K BBQ Factory is both delicious & entertaining. A highly knowledgeable waitstaff cooks your meal at your table, allowing you to be a part of the fun! Don't be discouraged if you don't know much about Korean BBQ, because the waiters are beyond friendly and helpful. The selection of yummy sides is vast, and deciding which favorite flavor combinations are your favorite make for an interactive and adventurous meal.
Multiple Locations
If KPop is your thing, then this is where you'll want to indulge in Korean BBQ. Locations in Woodstock and McDonough. The interiors are super cool, bright and modern, with LED lights and a Zenon: Girl of the 21st Century vibes.
6035 Peachtree Rd Ste C115
Doraville, GA 30360
Miss Gogi is a favorite among Atlanta Eats staff for its higher quality cuts of meat and fun, bright, and clean atmosphere. At Miss Gogi, your meals are prepared in front of you atop a huge griddle. And you'll love the kimchi, bean sprouts, and corn and cheese that come with your meal.
5958 Roswell Rd
Sandy Springs, GA 30328
Thrill is a KBBQ spot to the Sandy Springs dining scene. In an interview with What Now Atlanta, the owner Jae Yim Shim said that "My goal really is to bring awareness of Korean culture, Korean food to the American community. Korean food is already out there for the Asian community. I just feel like it hasn't been introduced to the American community in a way that's comfortable for them to come in and try it." Expect an accessible experience, and super fun Asian inspired cocktails!
Use our map below to find a spot near you!
678 Korean BBQ
9292 Korean BBQ 
All That Korean BBQ 
Ari Korean Barbecue
Breakers BBQ
CHAR Korean Bar & Grill
D92 Korean Barbecue
Thrill Korean Steak And Bar
Miss Gogi
KPop BBQ & Bar