29 Women-Owned Restaurants in Atlanta
Editor's Note: This article was originally published March 3, 2020 and last updated February 28, 2022
Who run the world? Girls. And who run the Atlanta restaurant scene? These inspiring women who own their own businesses. Celebrate Women's History Month with an outstanding meal at a women-owned restaurant, owned by the ladies who are currently making history in the Atlanta restaurant industry!
Looking for ethically-made fresh bread, gluten-free and vegan options, and tasty cinnamon rolls with worldly influences? Check out Just Bakery of Atlanta, a local nonprofit founded by Executive Director Leah Lonsbury that provides paid job training and employs those who resettled here as refugees with living wage work! They currently do not have a brick and mortar spot, but pop up frequently all over town and also have a subscription delivery service. Try their focaccia bread. It's heavenly!
For an authentic taste of the Caribbean, try Tassa Roti in Marietta! Owner Ria Edoo hails from Trinidad and brings her culture's cuisine, flavors, and heart to everything she makes. Tassa Roti is a buffet-style spot that specializes in rottis, made from a brown split pea dough. Try the curry chicken roti for an extra savory meal. And eat it with your hands if you want to eat the Trinidadian way!
Pinky Cole has taken Atlanta by storm, getting vegans and non-vegans alike #SLUTTIFIED with her burgers. Slutty Vegan ATL is a plant-based, black-owned restaurant with a cult following. The secret seasoning she uses in her burgers is seriously addicting, with some light Caribbean flair and Southern influence. Be prepared for a loooong wait time and a 2 burger maximum per person, but the experience is part of the fun!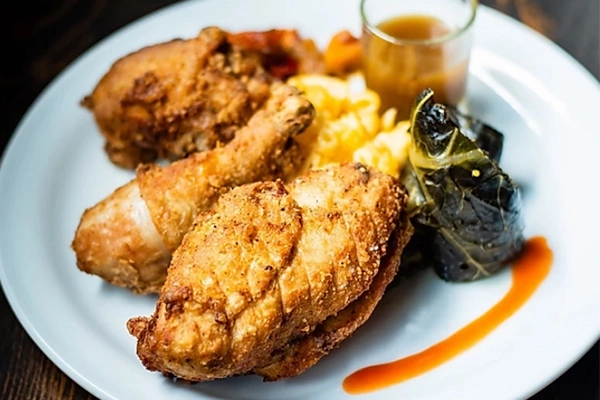 For that soul food taste and flavor in an elegant, elevated environment, head to Executive Chef Deborah VanTrece's Twisted Soul. Hoison glazed oxtails, banoffee cream pudding, and a sweet tea BBQ are some of the current menu features, and their cocktail offerings are equally creative. Find this spot in West Midtown. Yum!
Tuk Tuk Thai Food Loft chef and owner Dee Dee can do no wrong! Tuk Tuk Thai Loft has been an Atlanta staple for Thai cuisine for over a decade now. The Red Snapper and Nuah Sawan (a sort of Thai beef jerky) are some of the best things on the menu. Her newest venture, Chai Yo Modern Thai, is also a truly excellent, romantic dining experience that's perfect for date night and was even named "Best Meal of 2019" by 2 Atlanta staffers.
The REALITY of the matter is that Tassili's on the West Side outpaces most of the healthy Atlanta food spots by miles! This raw vegan spot's giant kale wraps has the vegan dining scene in Atlanta buzzing, and it's all about the sauce here. The ~interestingly~ named punany wrap with mixed kale and Karamu couscous is a crowd favorite, and the portions are generous yet the food is guilt-free. It's a win win!
If you want over-the-top, Cheesecaked is the place to be! When you step into Cheesecaked, you step in a world of owner Shawn Brown's creation that's sugary and fun and pink and a fun respite from life's chaos. Take a break and sip one of her over-the-top milkshakes. Cheesecaked currently has a location in downtown Underground Atlanta and they're opening a Norcross location as well!
Real Atlannuh folks know that Busy Bee Cafe is where you want to be for a real soul food meal. This spot has been around for decades, and is currently owned by Tracy Gates. Their years and years of excellence was recently recognized by the Jams Bard Foundation. We love their candied yams and cornbread dressing in particular, and the wait is worth it!
Before there was the explosion of brunch spots in Atlanta, there was Highland Bakery! Owner Stacey Eames started out with humble beginnings, setting up coffee carts all around Atlanta. Buoyed by her success, she began to sell mouthwatering baked goods as well, then eventually expand to her first brick and mortar location around 2006 for great coffee, great baked goods, and great southern comfort food. She's now moved into a franchise model, so you can get your Highland Bakery fix all over town, or head to the original (our favorite) on Highland Avenue.
Mom and daughter duo Deanna and Jackie Halcrow wanted to bring a classic New-York Style bagel to Atlanta and oh, have they succeeded! For the chew, the density, the freshness, and the texture of New-York style bagels, head to this spot in East Atlanta Village. There's tons of fun bagel flavors, like rosemary sea salted bagels and pretzel bagels. It's all delish!
Everyone has a snarky joke or two about how gluten-free food tastes like cardboard, but we'll bet that 2B Whole will shut them right up. This little bakery is serving delicious desserts, pastries, and savory dishes like pizza and pot pie for our celiac friends and the gluten-sensitive. Find them in awesome Alpharetta!
Firepit Pizza Tavern is a neighborhood type of joint headed by owner and chef Leslie Cohen. The unicorn wings in particular are something that we rave about, made with an in-house rub that's a lemon pepper wet kind of taste and totally unique. Find them in Grant Park!
Nakato is storied Japanese excellence in the heart of Buckhead. 50 YEARS of storied excellence, to be exact! Sachi Nakato Takahara's grandmother opened up this restaurant back in 1947 and today, Sachi leads the operations and menu that's a mix of old and new. Head to the Tatami room and enjoy a chef's tasting menu, pull up for some fresh fish flown in from Japan at the sushi bar, or head to to their hibachi room for an interactive dining experience.
For cake donuts, family-owned local joint Revolution Donuts is unmatched! Baker Maria Moore Riggs first started selling her craveworthy pastries at local farmer's markets and the donuts would always sell out, so she opened up a brick and mortar spot in Decatur. They've now expanded to Inman Park as well. Revolution also offers some low-gluten and vegan options for those with special dietary needs. Our favorites: salted caramel (cake donuts), the crunchy mister (savory, almost more like a breakfast item), and the toasted almond (cake donut). But it's all excellent!
Debbie's Delights is a true gem in Forest Park! Chicken and waffles, French toast, salmon croquettes–they have alllll the good stuff. Susan Harris is the owner of this scratch kitchen with food that reminds you of your mom's cooking. We love the cozy vibes here at this women-owned restaurant!
We're tired of people underrating NAM Kitchen in Sandy Springs. Their pho is PHOnemonal, their banh mi is top tier, and their stir fried filet mignon is the best way to consume steak. Wine bottles are 40% off on Wednesdays, the ambiance is ultra sexy, and they're now offering sushi! Find them in the happening City Springs center.
17. Jen Chan's
At Jen Chan's, Eat Supper Together isn't just a slogan for the restaurant – they live it with their Cabbagetown community and all of the guests around metro Atlanta who stop by. Owner Jen Chan started the restaurant with her wife Emily in early 2019, and after two shorts years – and one pandemic – they've become a neighborhood favorite. They take Emily's Chinese heritage and cooking experiences and combine it with Emily's all-American culinary background to create a one of a kind menu, filled with favorites from multiple cuisines. Bring your family and friends to Jen Chan's, and Eat Supper Together!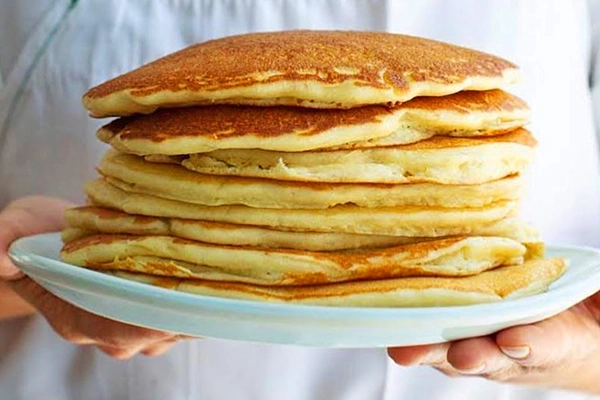 It's all about the friiiiied chicken and cover-your-plate buttermilk pancakes at Chef/Owner's Suzanne Vizethan's farm-to-table Buttermilk Kitchen. Almost everything is made from scratch, and you can taste it! Order up a stack of pancakes next time you visit, top them with a drizzle of ASW whiskey infused syrup, and you'll be in heaven!
New to the Atlanta food scene, this self-described "sassy, lady-owned and operated shop" in Inman Park has gluten-free and gluten-full folks lining up outside the door alike. Try their pop tart pastry for a fun throwback to your childhood, and their breakfast sandwiches for a savory start to your morning!
The flourishing business that Atlanta's very own Jenny Levison has built with Souper Jenny is so impressive. There are five metro locations now, each with their own comfy neighborhood vibe and a fabulous selection of cozy soups, salads, and sandwiches. Our fave? Dad's Turkey Chili!
Owner Kelly Lama has opened up metro Atlanta's only Tibetan restaurant in Smyrna, serving up a simple but comforting menu of classic family recipes from her chef Sonam Dhong Dhong's Tibetan family recipes. Dig into a wide selection of momo, their spin on dumplings, or get your noodle fix with Tibetan style chowmein. Thukpa and Thenthuk, two types of noodle soups, are also on the menu.
It started as a small brunch spot in Buckhead and has now expanded to a space in Midtown with a giant patio, plus all the same Southern goodness and dinner service, too! For a brunch spot, they've also got an impressive bar program.
First Batch's Dymetra Pernell really knows how to bake! It doesn't matter whether you're living that plant-based lifestyle or not—you're going to *love* First Batch's vegan treats! Their ice cream is dairy-free yet phenomenal, and everything they do is fresh and made from scratch.
Get your fruit-and-veggie on properly at Myrna Perez's Lottafrutta! Located in the heart of the Old Fourth Ward, LottaFrutta serves up (you guessed it) a whole lot of fruit. Of course they've got the classics, but it's the more exotic options that make this spot so hot, like the surprisingly spicy Limonatta fruit cup, which combines cantaloupe, coconut, cucumber, pineapple, watermelon, mango and papaya with fresh limejuice and the owner's signature spicy chile guajilo. Now that's-a one spicy fruit cup!
25. Gocha's Breakfast Bar
Who else thinks breakfast is the best meal of the day? The folks at Gocha's Breakfast Bar obviously do, because that's what's on the menu all day and man, do they do it well. Expect brunch Southern favorites like fish and grits, chicken and waffles, and a lump crab skillet. Pair your dish from one of their ample selection of mimosas. Find them off of Cascade Road!
Kirkwood's changed a lot over the years, but Anna Phelps—one of ATL's only female pitmasters—of Anna's BBQ keeps slinging great BBQ and Southern sides. We love the Mac and cheese, the fried catfish, the pulled pork, and pretty much everything here. It's a no frills, hole-in-the-wall kind of vibe with a good amount of outdoor picnic tables as well for you to enjoy the sunshine with your meal. It's also family-friendly!
Chef Linda Harrell has created a cozy, neighborhood type of spot with Cibo E Beve that's perfect for both family dinners and date night! Located in the heart of Sandy Springs, Cibo E Beve has a menu chock-full of fantastic Italian eats. Their bucatini carbonara is always a creamy delight, and their signature meatballs are a fan favorite combo of veal, pork, and beef.
Owner and Head Baker Marianne Simpson first started Lenox Cupcakes out of a home kitchen on Lenox Rd. Now, she's expanded and brought her sweet treats and beautifully decorated cakes to Antique Row in Chamblee! There's always a delicious seasonal treat being served up, whether it's blueberry cakes in the summertime or pumpkin spice in the fall. Lenox Cupcakes is just a step away from Southbound, so it's perfect for you to stop by for a sweet treat after! Available for pick-up at this time.
View this post on Instagram
Owner Jasmyn Reddicks has created a flourishing business selling vegan cakes that are as a delicious as they are beautiful! Each creation is totally insta-worthy, and a work of art. Place your orders in advance, then pick them up curbside!
Tassa Roti Shop
Slutty Vegan ATL
Twisted Soul Cookhouse & Pours
Tuk Tuk Thai Food Loft
Tassili's Raw Reality Cafe
Batter Cookie Dough
The Busy Bee Cafe
Le Petit Marche
Emerald City Bagels
2B Whole Gluten Free Bakery
Firepit Pizza Tavern
Nakato
Revolution Donuts
Debbie's Delights
NAM Kitchen
Drafts + Dogs
Buttermilk Kitchen
Hell Yeah Gluten Free
Souper Jenny
Bar Vegan
Joy Cafe
First Batch
LottaFrutta
SAMA Food For Balance
Anna's BBQ
Cibo E Beve
Lenox Cupcakes
V Taste Cakes