7 Healthy Restaurant Choices To Make in The New Year
Eating healthy doesn't have to be terrible. Believe it or not, chefs around Atlanta are equally as capable in creating low calorie, savory items as they are with concocting our favorite fatty comfort foods and there's tons of great restaurants with healthy options. Use this guide as a starting point to our favorite "healthy pleasures" around the city where you can substitute the cheesy and greasy for the fresh and filling. Restaurants listed below in alphabetical order.
Flower Child is here to satisfy both your stomach and your soul with clean food and good vibes. As a hybrid between fast casual and full service, you can take in the groovy 60's hippie vibes at whatever speed you'd like. By adding new flavor profiles, pulling from different cuisines, and using fresh and locally sourced produce, Flower Child makes healthy eating exciting. Plus, there's no need to worry about dietary restrictions – there are vegetarian, gluten-free, paleo, vegan, Whole 30, sugar-free and dairy-free options galore! From salads to grain bowls to toasts, Flower Child has something for everyone.
For a grain bowl that's as nutritious as it is addicting, Gusto is the move. Their tzatziki lemon artichoke and chipotle mango avocado bowls are Atlanta Eats favorites, and you can go for half grains and half salad if you're trying to limit your carb intake. Something that's a little less healthy but worth the calorie splurge is sweet potato chips that come piping hot with every order. They're salty, sweet, and delicious!
"The freshest ingredients" always sounds good but this is a goodness you can taste! Saladworks brings you your old friends like a chicken caesar and lets you make new ones, like their Bacon and Bleu salad (Bacon, Bleu cheese, roasted broccoli, onions and potatoes, tomatoes and avocados!). Not to mention the build your own option and their delicious soups, toast and grain bowls, there's a healthy fix for any time of day!
Souper Jenny is always delicious and fresh and their "My Dad's Turkey Chili" is comfort in a bowl and lighter in calories than traditional chilis. Also delicious and lighter in calories is there lemon chicken artichoke soup + spinach salad. Locations in Buckhead, Roswell, Brookhaven, and Midtown.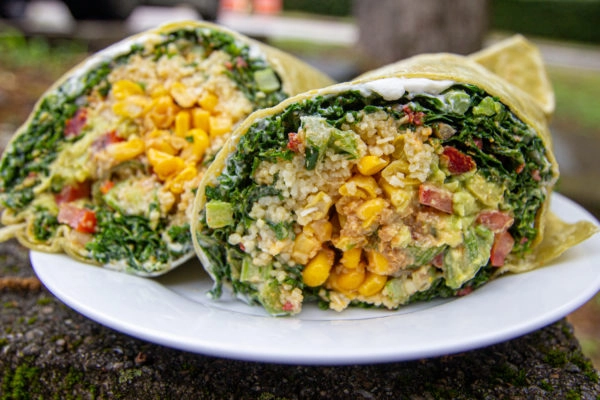 We never thought we'd get excited about a veggie wrap until Tassili's Raw Reality Cafe set up shop in the West End. Just be mindful not to load up on too many sauces and maybe skip the creamy corn, and you're golden.
Upbeet has it all. Super fresh and organic ingredients, awesome flavor combos, and a bright and clean interior that makes you feel healthier just by sitting in there. Something not to overlook: the peanut butter bliss acai bowl is filling and a great dose of Vitamin C.
If you didn't think Mediterranean food was your thing, just wait until you try Yalla. We're crazy about Yalla's falafel bowl with hummus, labne, Israeli salad & pickles, zhug, tahini and herbs. Find them in Krog Street Market.