Absolutely Delicious Dim Sum Spots Around Atlanta 🥟
Brunch can be more than just pancakes and biscuits (though we love those too!). Brunch can also be something more savory like dim sum, a Chinese delicacy consisting of small plates of typically Cantonese dishes featuring items like dumplings, buns, soups, veggies and meats and typically served alongside a hot pot of tea to wash it all down. At traditional dim sum restaurants, you'll also be able to pick out your desired items from servers pushing rolling metal carts around the room, letting you get a visual preview of everything you order. Dim Sum is typically a pretty affordable experience, as well, so if it's your first time, just pick a bit of everything that looks yummy to your eye and let yourself explore something new. It's also inherently a good option for group dining, with its large circular tables and lazy susans for family style dining.
While Atlanta isn't known for dim sum cuisine the way that many cities up and down the West coast are, we do have a few tried and true favorites if you need your fix. Additionally, there are a handful of brand new dim sum spots popping up around the metro area. Keep reading for our list of what we think are the most delicious dim sum restaurants around the Atlanta area (in alphabetical order).
5283 Buford Hwy NE, Doraville, GA 30340
This is the newest dim sum spot to open in Atlanta, and it's gotten rave reviews from happy diners so far. The dim sum menu is smaller than other spots, but you can still order your favorites of the bun/dumpling like char siu bao (a delicious pork bun) and har gow (a shrimp dumpling) and shumai (a shrimp and pork dumpling). They also have other
Chinese fare
on the menu, including American Chinese favorites if you want something more familiar to you, too. Take a minute after or before your meal to take a picture in front of the
Buford Highway
mural across the street!
4825 Buford Hwy NE, Chamblee, GA 30341
Canton House has been around for years and years, and it has staying power because it consistently delivers. It does get busy on weekends, so come early! If you want the traditional, "metal cart" dim sum dining experience, Canton House does offer that. Dig into turnip cakes, custard buns, sesame balls, and if you're feeling adventurous, chicken feet!
3. Dim Sum Heaven
5203 Buford Hwy NE, Doraville, GA 30340
This small Buford Highway hole-in-the-wall is certainly no frills, but does the job. Enjoy the savory congee served with "century egg," a very funky looking but delicious egg that has been preserved over several weeks to create a flavor that's truly something. They do not have the rolling carts if that's important to you, but they have a large and helpful picture menu on the wall if you want to see what you'll get before you order.
4. Happy Valley Dim Sum
5495 Jimmy Carter Blvd, Norcross, GA 30093
Head to Norcross for one of the greater metro area's top dim sum spots. The interiors here are spacious and clean, and you can get dim sum's greatest hits at Happy Valley Dim Sum as well as slightly more hard to find items like taro puffs. They also are on delivery apps, so it's a common lazy Sunday delivery order in my home. They serve dim sum all day, which is also a huge plus for when that craving hits outside of normal brunch hours.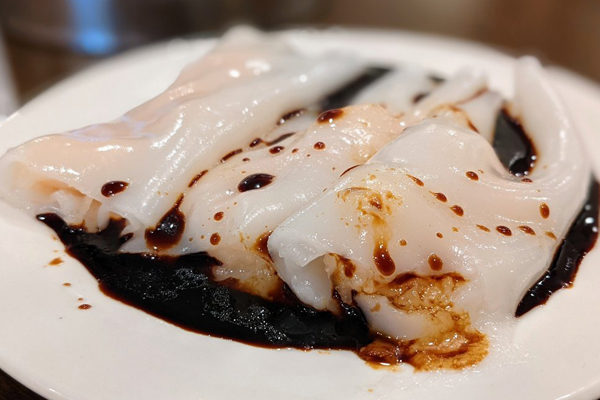 5. Oriental Pearl
5399 New Peachtree Rd, Chamblee, GA 30341
Oriental Pearl is certainly in the top three dim sum restaurants mentioned when you ask anyone their favorite dim sum spots around town. The exterior and interiors of the restaurant certainly do give it a more authentic feel, and its location in
Chamblee's Chinatown Mall
mean you can also do a bit of shopping or pick-up some delicious dinner to go afterwards. Depending on what time of day, you may have a wait, so be prepared.
6. Royal China Eatery
3960 Venture Dr, Duluth, GA 30096
Royal China Eatery has long been a favorite among Atlantans. Recently, they made the move from Buford Highway to Duluth, and loyal intown patrons do still make the trek out there. The interiors are absolutely stunning now–a huge upgrade from their Buford Highway days–with beautiful extravagant chandeliers and a spacious dining room that also makes this place great for events and weddings. There can be a wait during peak brunch hours on the weekend, but the carts come around frequently and fast. As for the dishes, I've always enjoyed their BBQ pork buns, spare ribs, Chinese broccoli, custard buns, shrimp dumplings, and peking duck. They are my personal favorite, so I truly believe you can't go wrong with anything here.