The Absolute Best Restaurants in Midtown, Atlanta
This article was originally published September 6th, 2019 and last updated January 21st, 2023.
Midtown is the heart of Atlanta, and there's few things more lovely to do in the city than to stroll along Peachtree or check out the Piedmont Park's farmers market on a beautiful Saturday morning. But when it comes to the food scene, it's important to know where to look as it can sometimes be hard to find a delicious meal in the heart of Midtown. Here's our guide on great Midtown eats! Restaurants are listed below in no particular order.
A true Atlanta staple! According to their website, Mary Mac's first opened its door in the 1940s during the days when women couldn't easily own restaurants, so many female business owners used the more genteel Southern name "Tearoom" to get around that custom. Today, Mary Mac's has been operating for over 70 years and continues to serve up seriously craveworthy Southern cookin' just like your mama used to make it. Their banana pudding has rave reviews and every meal begins with a bread basket filled to the brim with cornbread, warm cinnamon buns, and more.
Just hearing the word "Antico" seriously makes us drool. This pizza spot has won every award like, ever. Three 10,000 lb. ovens were custom built from ancient Santa Maria brick and volcanic rock from Mt. Vesuvius…and get so hot that a pizza cooks to perfection in only about 60 seconds. Yeah. A whole pizza cooks in 60 seconds. Which is great, because – trust us – the faster you can get your hands on one of Antico's nine famous pies, the better.
The South City Kitchen's original Midtown location is a must-stop whenever you're in the neighborhood! This place has been open for 20+ years serving up amazing Southern cuisine. The chicken livers are our favorite–don't knock 'em till you try them!–and you definitely can't go wrong with brunch.
4. The Consulate
This Midtown spot has over-the-top gorgeous and glam interiors, but what makes this place so special is their rotating "Visa" menu of global cuisine. Every 3 months, they revamp the menus to feature new dishes from a new country. Let your palette travel the world if your wallet can't accommodate an actual trip around the globe!
Whether you're in need of brunch, dinner, drinks, or a late-night meal, Cypress St. is the place to be. The menu rotates often, but is always delicious. The Krispy Kreme burger, the chicken wings, and the fried green tomatoes are all excellent. If you're looking for a deal, you'll love their half-off bottle wine Wednesdays, their $3 house beer, and their $3 weekend mimosas!
6. The Vortex Bar & Grill
This spot is iconic for its over-the-top menu! Tempt fate and put your arteries to the test with any of their Bypass Burgers. If you're truly the Ultimate Eater, you could win a free meal if you can finish their Quadruple Bypass Burger in 30 minutes!
If you're looking for an authentic taste of Thailand in Midtown, look no further than Tuk Tuk. From pad Thai to chicken satay, everything is so tasty. Last time we visited, if you enrolled in their email list, you could also be eligible for a free entree on your birthday! Win win!
This Midtown spot in Colony Square is truly excellent for after-work cocktails, but they've got some new amazing food now too! Chef Christy Stone has created a rotating menu of thoughtfully crafted entrees and appetizers that will make you visit again and again. The pork belly with jalapeño jam and fried okra is one of our favorites!
The Optimist is another iconic Chef Ford Fry spot in West Midtown. The lobster roll is a favorite in Atlanta, and they're known for their especially fresh oysters! The patio is also tons of fun and great for date night!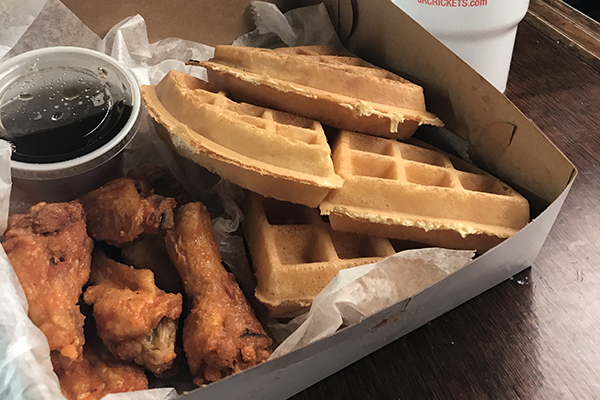 This chicken wing spot has been serving up Atlanta's favorite wings since 1982 and they've been a go-to for wings ever since. Fun fact: J.R. Cricket's was name-dropped in Donald Glover's hit TV show "Atlanta" as being the home to wet lemon pepper wings, but they served no such thing! They ended up adding it to their menu after tourists after tourists tried to order them, though we love their classic dry lemon pepper wings best.
Started by two Georgia Tech grads, Mukja Korean Fried Chicken is serving up Korean food with a southern twist. Their chicken is a little different than most KFC spots but just as delicious and extra crispy. The kimchi topped Korean loaded fries are a true feat!
Is there a better patio than Cafe Intermezzo's patio in Midtown? We're not entirely sure. Sip on one of their many espresso based drinks and sink your fork into any of their outstanding pastries and cakes. You'll feel like just you're in Europe without the pricey plane ticket.
Politan Row takes the food hall concept and makes it ✨ luxe.✨ Politan Row features a dozen food vendors, chic interiors, an excellent patio, and live music frequently. The vendors here are great for a quick bite. Unbelibubble's bubble tea is pricey, but fragrant, fresh, and delicious. Locale Caribbean serves a mean oxtail bowl, and Tandoori Pizza & Wing Co makes a delicious wing with Indian influences.
Rumi's – Bakalava | Photo Credit: Facebook/rumiskitchenatlanta
It's been a long time coming, but Rumi's Kitchen's midtown location is now open, and it's a stunner! And the food is just as amazing at this Persian spot. The lamb ribs appetizer fall right off the bone. The Kashk Badenjoon, a creamy and delicious fried eggplant dish topped with fried onions, is phenomenal. And the kabobs are all killer, too! Don't make after dinner plans, because you will leave stuffed and ready to roll into bed.
View this post on Instagram
No establishment has better camaraderie than an Irish pub, and when you're at Fado, you're part of the family! Whether you're catching a game, meeting your coworkers for Happy Hour, or just enjoying a perfectly-poured pint of Guinness, Fado is your spot. And while pubs are rightfully associated with the drinks, they also have a killer food scene, with dishes like Smoked Salmon Bites, Corned Beef Egg Rolls, and Fish and Chips.
Looking for even more great eats? Visit our restaurant finder and search by neighborhood to find your next meal!
Mary Mac's Tearoom
Antico
JCT Kitchen
South City Kitchen
The Vortex
Cypress St.
Tuk Tuk
The Establishment
JR Cricket's
The Optimist