Our Midtown, Atlanta Restaurant Bucket List
Last updated – January 29, 2020
There are so many really excellent eats in Midtown that it's impossible to list them all, but here are some of our favorites that you HAVE to try!
A true Atlanta staple! According to their website, Mary Mac's first opened its door in the 1940s during the days when women couldn't easily own restaurants, so many female business owners used the more genteel Southern name "Tearoom" to get around that custom. Today, Mary Mac's has been operating for over 70 years and continues to serve up seriously craveworthy Southern cookin' just like your mama used to make it. Their banana pudding has rave reviews and every meal begins with a bread basket filled to the brim with cornbread, warm cinnamon buns, and more.
Just hearing the word "Antico" seriously makes us drool. This pizza spot has won every award like, ever. Three 10,000 lb. ovens were custom built from ancient Santa Maria brick and volcanic rock from Mt. Vesuvius…and get so hot that a pizza cooks to perfection in only about 60 seconds. Yeah. A whole pizza cooks in 60 seconds. Which is great, because – trust us – the faster you can get your hands on one of Antico's nine famous pies, the better.
The South City Kitchen's original Midtown location is a must-stop whenever you're in the neighborhood! This place has been open for 20+ years serving up amazing Southern cuisine. The chicken livers are our favorite–don't knock 'em till you try them!–and you definitely can't go wrong with brunch.
JCT Kitchen is a great spot from Chef Ford Fry, and there are so, so many great eats here! From their stellar fried chicken to their Angry Mussels, they've got something for everyone. Their patio is perfect for date-night and whatever you do, order the truffle fries!
Whether you're in need of brunch, dinner, drinks, or a late-night meal, Cypress St. is the place to be. The menu rotates often, but is always delicious. The Krispy Kreme burger, the chicken wings, and the fried green tomatoes are all excellent. If you're looking for a deal, you'll love their half-off bottle wine Wednesdays, their $3 house beer, and their $3 weekend mimosas!
6. The Vortex Bar & Grill
This spot is iconic for its over-the-top menu! Tempt fate and put your arteries to the test with any of their Bypass Burgers. If you're truly the Ultimate Eater, you could win a free meal if you can finish their Quadruple Bypass Burger in 30 minutes!
If you're looking for an authentic taste of Thailand in Midtown, look no further than Tuk Tuk. From pad Thai to chicken satay, everything is so tasty. Last time we visited, if you enrolled in their email list, you could also be eligible for a free entree on your birthday! Win win!
This Midtown spot in Colony Square is truly excellent for after-work cocktails, but they've got some new amazing food now too! Chef Christy Stone has created a rotating menu of thoughtfully crafted entrees and appetizers that will make you visit again and again. The pork belly with jalapeño jam and fried okra is one of our favorites!
The Optimist is another iconic Chef Ford Fry spot in West Midtown. The lobster roll is a favorite in Atlanta, and they're known for their especially fresh oysters! The patio is also tons of fun and great for date night!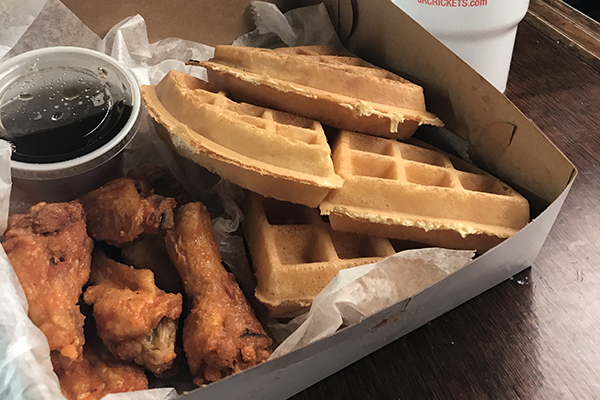 This chicken wing spot has been serving up Atlanta's favorite wings since 1982 and they've been a go-to for wings ever since. Fun fact: J.R. Cricket's was name-dropped in Donald Glover's hit TV show "Atlanta" as being the home to wet lemon pepper wings, but they served no such thing! They ended up adding it to their menu after tourists after tourists tried to order them, though we love their classic dry lemon pepper wings best.
Looking for even more great eats? Visit our restaurant finder and search by neighborhood to find your next meal!
Pin it!
Mary Mac's Tearoom
Antico
JCT Kitchen
South City Kitchen
The Vortex
Cypress St.
Tuk Tuk
The Establishment
JR Cricket's
The Optimist