The Ultimate Guide to Mexican Food in ATL
Editor's Note: This article was originally published December 11, 2020 and last updated April 8, 2022.
Is there any food as beloved in America as Mexican food? We think not, and we love all the varieties available, from cheesy Tex-mex goodness, to authentic street tacos on corn tortillas, to authentic birria. Here's a round-up on the greatest Mexican spots to be found in ATL no matter what kind of flavor you're in the mood for.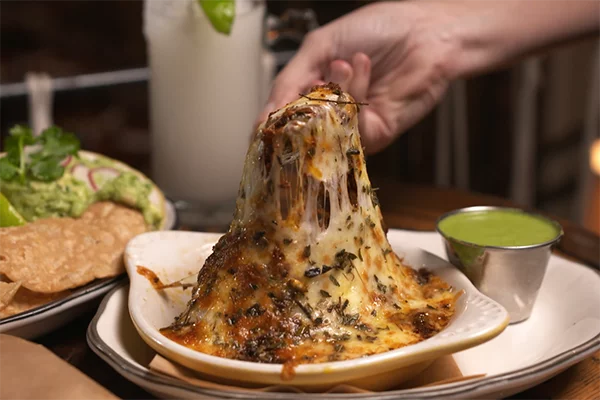 For Tex Mex and Fusion Tacos…
Little dive Nuevo Laredo has long been an Atlanta favorite on the westside of Atlanta. The owner, Chance Evans, opened up this place way back in 1992. They've got a big menu with everything you could want, from a great guacamole to cheesy enchiladas to fajitas with extra sizzle.
Mezcalito's has fun, American/Mexican fusion-y tacos like fried tofu tacos and fried shrimp tacos. The salmon flautas are a go to, and their Grant Park location has especially great vibes and service!
Velvet Taco is along the same vein as Mezcalito's. We love that they take all of our favorite foods and add that taco element to it, with amazing and flavorful fusion tacos like spicy tikka chicken, Korean pork, and shrimp & grits. You'll also love their patio!
Taqueria Del Sol is definitely a cult favorite, with the regularly long lines to prove it! But their savory, cheesy enchiladas and Southern meets Mexican takes like fried chicken tacos at budget prices more than justify the wait times. Order their creamy corn chowder for something really spectacular.
Chef Ford Fry's Superica perhaps is the only restaurant in Atlanta with a menu that's truly Tex Mex. We dream about their green chicken enchiladas and their queso fundido. Locations in Buckhead as well as in Old Fourth Ward by Krog Street Market.
For Authentic Street Tacos and Mexican Cuisine…
For authentic taco-y goodness, you gotta go to Buford Highway. There's plenty of great spots all over this stretch of Atlanta, but El Rey Del Taco has long been a favorite amongst locals. From carne asada to al pastor, they do well with all, all served on handmade corn tortillas. If you're looking for a little adventure, try the tongue (cow tongue), cabeza (cow cheek), or buche (pork stomach) tacos!
El Progreso, lovingly known as "Prison Tacos" as they're right by a jail, is also somewhat of a cult favorite in Atlanta. There's plenty of fantastic, flavorful tacos and tortas to choose from. Peruse the butcher's counter while you're there as well to take some goodies home.
For some awesome birria, you have to head over to newcomer Birria El Gordo in Marietta, Georgia. This little taco spot often has a long line that stretches on and on outside the door thanks to their delicious birria quesatacos and consommé, a traditional goat or beef stew from the state of Jalisco. Check it out and see if it's worth the hype!
And for amazing chicken al carbon but at a third of the price of all the trendier spots in town, Brito Supermarket is where you want to go. This Buford Highway find has a whole bird for $9.99! You'll smell this flavorful, slow-roasted and whole-roasted Mexican grilled chicken from miles away and you might even catch them grilling it up outside when you pull up. Pick up some tortillas and cilantro to make tacos at home, and you've got yourself an A+ meal!
For Massive Portions and Family-Friendly Vibes…
Frontera is one of Atlanta's most iconic Mexican restaurants and has been serving incredible South of the Border flavors for over 35 years. Whether it's delicious twists on tacos like their tacos vampiros, their incredible steak burritos (sourced from Frontera's meat processor), or their mouthwatering margaritas (made with Frontera's own barrel of Herradura Tequila), everything you want is front and center at Frontera!
Casa Grande, from the Marietta Family Restaurant Group, has the same commitment to fantastic service, *massive* portions, delicious cakes, and magical touch that all of Gus' restaurants have. You'll love their awesome drinks, their sizzling fajitas, and their ooey gooey queso!
For Great Drinks and a Great Time…
Buckhead's Chido & Padres has recently revamped their menu, and we're totally impressed. The super instagrammable, Southwestern boho chic vibes are fantastic and the colorful patio is dreamy. The oyster toast is an umami bomb in the best way!
With Uno, Dos, Tres locations – and lots of "actitud" – Cinco restaurants brings authentic Mexican Flavors with lots of personality to the Atlanta area. With beautiful decor, rooftop patios and convenient locations in Dunwoody, Smyrna/Cumberland and Cumming, Cinco has something for all five of your senses. You could start by trying their handcrafted guacamole and homemade salsa. Maybe dig in to some tacos and quesadillas. Or if the smoky sights and sizzling sounds of a fajita are up your alley, Cinco has delicious options for you!