Atlanta Restaurants We Think Deserve a Michelin Star
Have you heard the news?! Michelin Guide is coming to Atlanta, already deploying its critics secretly to Atlanta area restaurants to see which are the best of the best.
Michelin–which, if you didn't know, is the same Michelin as Michelin tires–will be evaluating restaurants based on the following published criteria: the quality of their products, the harmony of flavors, the mastery of cooking techniques, the voice and personality of the chef reflected in the cuisine, and the consistency between each visit and throughout the menu.
We're all abuzz with ideas of which of our favorite restaurants could snag the coveted award. While we are no Michelin experts, here are some of our predictions for restaurants (listed alphabetically) that could nab a star or mention. Take the chance to visit some of them before that happens!
5070 Peachtree Blvd Suite B-140, Chamblee, GA 30341
Anyone who truly follows us knows how much we adore the Alden by Chef Jared Hucks. Their ever-changing seasonal menu is inspired by the chef's travels all around the world. You can't go wrong with the pork belly, a menu mainstay or the dessert menu's lunar chocolate or lemon tart if you see them featured. With eclectic but harmonious dishes based on seasonality, make the trip to
Chamblee
and visit The Alden!
490 East Paces Ferry Rd NE, Atlanta, GA 30305
Chef Gerry Klaskala has been providing one of Atlanta's most upscale experiences for years at Aria. The atmosphere at this Buckhead establishment is sexy, dark, and moody, and the service is always attentive. For the best experience, go for the 7 course tasting menu. And don't forget about dessert–Pastry Chef Kathryn King whips up some magic.
88 W Paces Ferry Rd NW, Atlanta, GA 30305
Something that is absolutely worth the splurge is Atlas, located in the St. Regis Hotel in Buckhead. The service is always impeccable, and Chef Freddy Money is always doing interesting things in the Atlas kitchen. One of the best ways to experience Atlas is by checking out this restaurant when they have a "Four Hands Collaborations," where they have acclaimed guest chefs collaborate with Atlas' head chef to create a menu for a few select nights only. Totally an experience worth having!
1460 Ellsworth Industrial Blvd NW Suite 1, Atlanta, GA 30318
Chefs/Owners Anne Quatrano and Clifford Harrison have won a James Beard award for the impressive culinary creations they make at Bacchanalia. The menu at Bacchanalia is always changing and evolving, so there's always something new for you to try, but one mainstay is that the ingredients are sourced fresh and organic from the owners' farm, Summerland. You'll often get a handful of amuse bouches throughout the meal, or chef's treat. Souffles are also on the menu for dessert and a delight every time.
10 1oth Street Midtown Atlanta, GA 30309
What's the next best thing to a culinary tour around the globe? A visit to the Consulate, a totally unique restaurant in Atlanta that features an ever-rotating themed menu featuring hard-to-find cuisines from all over the world. They've featured food from everywhere, from Cambodia to Cote d'Ivoire to South Africa, and they also have a menu of mainstays featuring the best hits from menus past. There's something for everyone here, and we simply love how this place is such a celebration of global cuisine.
3580 W Lawrenceville St, Duluth, GA 30096
Duluth's Falling Rabbit specializes in what you could think of as "casual fine dining." It's upscale food but in a comfortable and unpretentious atmosphere. Something we love is their theatrical and creative bar program – try the Spellbound cocktail for a smoky surprise. The menu is constantly changing, but can feature dishes like agnolotti, oysters, and more!
924 Garrett St, Atlanta, GA 30316
We'll be shocked if Gunshow doesn't earn a star or at least a mention. With its dim sum style service, it's truly a unique experience, and with a rotating roster of chefs there's always something new and interesting to try on the menu. A perennial favorite of ours? Chef Kevin Gillespie's homestyle banana pudding. We'll always save room for that!
1055 Howell Mill Rd, Atlanta, GA 30318
Hayakawa has got to be a shoe-in for Michelin. A longtime Buford Highway staple, they recently moved to West Midtown and renovated this restaurant to make it even smaller, more intimate, more upscale, and more authentic. Featuring a selection of fresh seafood from all over the world, including the Toyosu fish market in Tokyo. It's a splurge for sure, but their omakase is truly something worth experiencing at least once.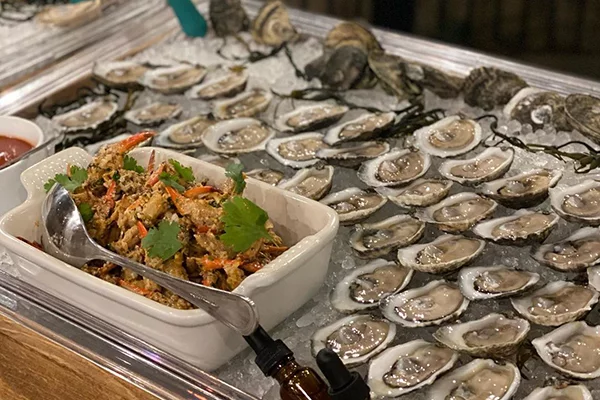 303 E Howard Ave, Decatur, GA 30030
When you think oysters, you should think of Decatur's Kimball House, which features delicious, fresh oysters from all over the U.S. and even some from one of the Kimball House owner's own oyster farm. Some of Kimball House's owners even founded Oyster South, a nonprofit that provides resources for oyster farming in the South.
But of course they're no one trick pony. When you think cocktails, you should also think Kimball House. Their cocktail list is full of fully balanced beverages, featuring your old favorites perfectly executed plus your favorites with a new twist you're going to love.
And finally, the rest of the food is nothing to sneeze at. Enjoy their farm-to-table New American, French inspired offerings, from "caviar and middlins" for an app to "duck breast in an orange jus served alongside crispy okra." Every trip to Kimball is sure to be a delight for every sense.
71 Georgia Ave SE Unit A, Atlanta, GA 30312
The Atlanta dining scene is currently experiencing a "Rich Asshole Epidemic." You know exactly what I'm talking about–gimmicky restaurants tons of glitz and glam but poor service, $20 batch cocktails, and $49 (pick one) truffle/wagyu/ caviar topped lobster rolls/beef tartar/bone marrow.
We're happy to report that Little Bear firmly bucks that trend, as a place that's focused 110% on doing fun and innovative things with food. Picky eaters should stay home, as there's a true fearless approach to food here incorporating everything from "chicken liver custard" to "poblano raw beef with mala spring onion oil." If you really want to get the full experience, just pick the "fuck f*ck me up, fam" Chef's Tasting Menu. You're not going to regret it.
36 Mill St, Marietta, GA 30060
Critics have long been singing the praises of this comfy Marietta neighborhood restaurant with a kitchen helmed by chef Brian so and sommelier Daniel Crawford. Each dish prepared with the utmost care, and no detail is overlooked. The interiors are simply yet cozy. A great option for date night, Spring is something you must add to your bucket list.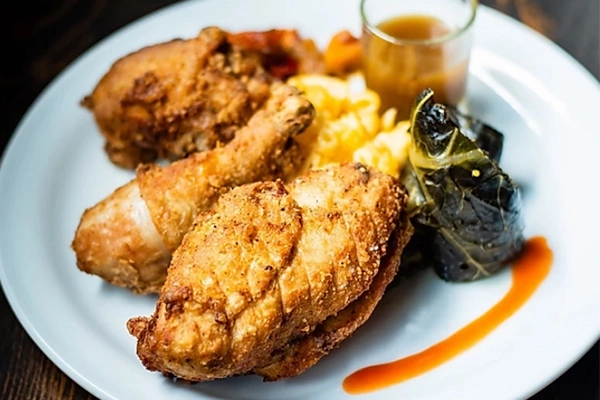 1133 Huff Rd NW Ste D Atlanta, GA 30318
A James Beard darling, Twisted Soul Cookhouse & Pours could definitely be a Michelin star or Bib Gourmand contender. Chef Deborah VanTrece takes a farm-to-table and modern approach to soul food which incorporates ingredients from local farmers and the result is out-of-this-world flavors. The bread basket is simply amazing, and the fried chicken plate is our favorite in the city.
1530 DeKalb Ave NE ste f, Atlanta, GA 30307
This James Beard award winning spot is surely a front-runner for a coveted Michelin Star. Choose from a four-course or seven-course tasting menu experience. The Hsu family and Chef Aaron Philips are the ones behind this fine dining establishment that's perfect for special occasions. If you really want to splash out, go for the wine pairings or caviar pairings.
Two Buckhead Plaza, 3050 Peachtree Rd NW Suite #1, Atlanta, GA 30305
Umi never fails to delight. They fit that in-between of being both a sexy, trendy destination and absolutely delicious for your taste buds. A place where yes, diners to see and be seen, but also come to truly enjoy a top notch culinary experience. Want to order like a pro? Get the spicy tuna crispy rice, the avocado salad, any of the sousaku nigiri, and the matcha souffle. Thank us later.
Honorable Mentions:
Here are some other spots we think that may not fit the mold of what the Michelin guide looks for in a Michelin star restaurant, but we love nonetheless or think could potentially nab a Michelin "Bib Gourmand"— value-for-money– award.
Antico Pizza – Fan favorite Atlanta pizza by a large margin, for wood-fired Neapolitan pie made using old world techniques
Busy Bee Cafe – Historic soul food spot that's always a crowd pleaser
Chai Yo Modern Thai – Upscale Thai food that infuses the old with new in a sexy atmosphere
Heirloom Market BBQ – Amazing Southern BBQ with a Korean twist, they never disappoint!
Kamayan ATL – A Buford Highway newcomer totally crushing it with killer Filipino food
Kyma – An Atlanta Eats favorite for fresh seafood and Greek food and totally craveable lamb pies
Slutty Vegan – One of Atlanta's most beloved spots with an all-vegan menu that's a celebrity favorite
Ticonderoga Club – Freakin' awesome cocktail menu plus creative mix of foods
Tum Pok Pok – Outstanding authentic Thai cuisine on Buford Highway