11 Diet-Busting (In the Best Way Possible) Dishes Around Atlanta
If you're going to deviate from your diet, don't just hungrily stuff a few hunks of cheese and stale bread in your mouth while standing barefoot in the light of your fridge (what, is that just us?).  Do it in the best, diet-busting way possible–with a decadent dish at these Atlanta restaurants that will keep you feeling more than satisfied for the rest of the week!
Go full glutton with the Brexit Burger at new Dunwoody hot spot, The Duke–an authentic, cozy, English pub in the heart of Atlanta! You can cheer on Meghan Markle's Brexit from England with this melty, cheesy burger. It's topped with French onion soup braised onions and melted, aged onion and chive cheddar. Pairs perfectly with a Highclere Castle Gin & Tonic, using the most premium of gins! Cheers to that!
2. The Vortex's Quadruple Coronary Bypass Burger
How about a meal you have to sign a waiver as a diet-buster? Honestly, even a quarter of the Vortex's Quadruple Coronary Bypass Burger may undo about a week's worth of clean eating, but healthy eating tips is not why you clicked on this article, is it? If you go for their super stack challenge and polish one off these off in 30 minutes (plus the bed of tots and fries it sits upon, as well as two 64 oz soft drinks), your meal is free!
Y'all, I know you can't see it, but I can smellll the truffle just looking at this photo. The long bone at Double Eagle Steakhouse in Dunwoody  is topped with fresh lobster and a heavenly truffle butter. This elegant after-works cocktail or date night spot is a classy, elegant experience!
Cafe Intermezzo has been a great, go-to date night spot for Atlantans, for years. The intimate, cozy European cafe vibes are unmatched. But the best things on the menu are the tasty coffee's and over-the-top desserts! The oreo cheesecake is a personal favorite, but they have every flavor imaginable.
Everything is delicious at this Alpharetta institution (they've been around for 30+ years!). This intimate, elegant spot has serious Mad Men vibes–they legitimately have a cigar bar and cigar lockers. However, we'll tell you right now that the best on the menu are the fried lobster tails. Dip them in their honey mustard sauce for a taste of heaven.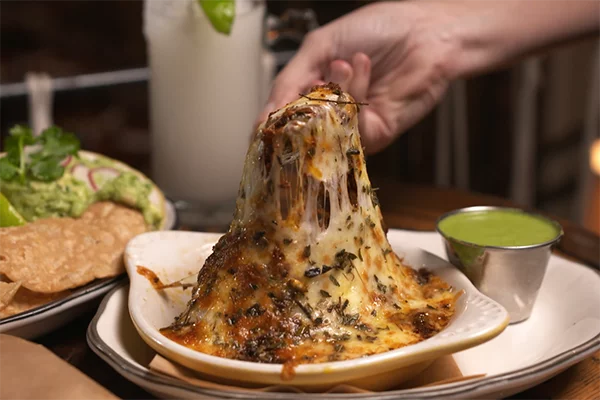 Everything at this Tex-Mex, Chef Ford. Fry, Old Fourth Ward/Buckhead spot is so so good, from the sangria to the enchiladas. But their queso fundido is truly the diet-busting cheat meal you're in search of when you're following Whole 30, keto, whatever. Served with wonderfully warm, fresh flour tortillas, you can order this queso plain or add some chorizo to it. What, it's extra protein!
Why is this baked potato so big???? Honestly, we don't know. It was a lot, and as you can say from the pic, we were shook to the core. Airport area folks know that Pit Boss BBQ is a Hapeville staple when you want phenomenal BBQ. Their smoked wings are a huge, screamin' YES. But if you're looking to go truly over-the-top, their baked potato special (not served everyday, so call ahead) is just the ticket. Topped with pulled pork and bacon bits, this giant baked potato has us full just lookin at it!
Honestly a little conflicted even including Andy's on the list, as a little bit of custard (made fresh hourly!) is not going to totally bust any diets. But if you're looking to cheat just a little, the raspberry concrete from this midwestern chain gets top marks. Concretes are made with a base of vanilla or chocolate frozen custard (like ice cream, but more dense) mixed in with fruit, marshmallow creme, chocolate fudge, or even whole pie slices! The raspberry concrete is the perfect mix of tart and sweet. As for Georgia locations, Andy's is currently only in #AwesomeAlpharetta!
24 scoops of ice cream topped with alllll the sweets 5-year-old you would have killed for + plus completely over-the-top presentation is what you'll find in the Sugar Factory's famous King Kong Sundae. We're supportive of even the most wild of diets and eating habits here at this, but please share this dish with a friend or 10. The Sugar Factory in Midtown is an Instagram sensation and THE place for a bachelorette party, girl's night, or birthday drinks!
Hopefully, this photo conveys the absolute UNIT that this pancake is. It's cooked partially in the pan and partially in the oven to achieve a cake-like consistency, then drizzled with a sweet cream icing and topped with powdered sugar and maple butter. The Little Farmhouse Cafe is newly expanded and is serving up crazy good brunch time eats near spaghetti junction on Presidential Parkway.  Took this pancake home after the photo and literally ate it for the next three days.
You'll have to call ahead to see if they have it on the menu, but in the summertime at least, Sweetwater Brewery Taproom whips up over-the-top, boozy milkshakes as weekly specials!  We were lucky enough to sample this "CoCo Caramel Shake," made with CoCo Hills Imperial Stout, caramel ice cream, chocolate cake, and chocolate & caramel sauce during our visit. It was gone and thrown down the hatch in about .3 seconds! The taproom was revamped and expanded just last year, and it's the perfect place to spend an afternoon eating gastropub bites, playing a round of cornhole, and knocking back some brews with your friends (bring your dog, too!).