21 Dishes Around Atlanta That Will Blow Your Mind
Last Updated: June 8, 2020. Restaurant hours are rapidly changing; please refer to restaurant websites for the most up-to-date information. 
Looking for some mind blowingly good, over-the-top, taco 'bout it all week long dishes? See why we're crazy about these meals all around Atlanta.
1. B and L Wings – Hot Honey Lemon Pepper Wings
June 8, 2020 Update: Now Available Saturdays and Sundays! 
Hot honey lemon pepper wings with a side of ranch fried okra, please and thank you! B and L wings is a pick-up only spot, currently only open on Saturdays, and we're telling you that the social media hype around these wings is real. Their breaded wings are one-of-a-kind with a sweetness that makes them super addicting. Follow them on Instagram and call to place your order!
2. The Flying Biscuit – Shrimp & Grits
June 8, 2020 Update: Most Locations Available for Pick-up, Delivery; Some Open For Dine-In
Yes, they're called the Flying BISCUIT, but real fans know that what's REALLY mind blowing about the Flying Biscuit are the creamy, dreamy grits. Add some expertly seasoned shrimp to the mix, and you've got a dish that's over-the-top good.
3. Cabernet Steakhouse – One of Everything!
June 8, 2020 Update: Available for Dine-in, Pickup, Delivery
You don't need 20/20 vision to see that Cabernet Steakhouse is amazing. This Alpharetta classic steakhouse has been open for 20 years. This platter, filled with a tomahawk steak, lobster tails, prime rib, and a whole bunch of other stuff will cost a pretty penny but will totally blow your mind. 🤯 Looking not to fully empty your wallet? Go for their fried lobster tails with honey mustard dipping sauce–they are some of the best things on the menu!
4. First Watch – Million Dollar Bacon
June 8, 2020 Update: Most Locations Open for Dine-in, Takeout, Delivery
What's even more Mmmmm-inducing than bacon? Candied "Million Dollar Bacon" from First Watch, which was also named as one of the best stoner snacks from Orlando Weekly! It's got a hint of pepper and a hint of sweet with that brown sugar coating and sweet, maple syrup drizzle. Locations all around Greater Metro Atlanta! Get yours with a big stack of pancakes!
5. South City Kitchen – Pork Chop
June 8, 2020 Update: Open For Takeout
South City Kitchen is a true Atlanta classic! They do Southern food just right. Their brunch is always crazy out-the-door, but the smokey, grilled pork chop with brussels, sweet potato and a mustard glaze on the dinner menu will hit the spot. Total gut bomb and totally worth it!
6. Food Terminal – Sichuan Bone Marrow Ramen
June 8, 2020 Update: Open for Takeout
Looking for a ramen with just the riiiight amount of spice to totally blow your mind? Food Terminal's new menu item, their Szechuan Bone Marrow Ramen, is just the ticket. Made with a five spice pork belly, roasted bone marrow for an extra bit of umami, seaweed, spring onion, and soft boiled egg to top it all off. It's so good, y'all.
7. Homegrown – Comfy Chicken Biscuit
June 8, 2020 Update: Opening Soon For To-Go, Dine-In
We're simple folk. When we're at Homegrown, we order the comfy chicken biscuit. It's comfort on a plate, so why deviate? Homegrown is the place to go for that home cooked meal taste, and this biscuit dish is served open-faced and covered in with about 4 ladlefuls worth of sausage gravy. Drooling at my desk just thinking about it!
8. Antico – Margherita DOP
June 8, 2020 Update: Open for To-Go, Delivery
Antico's famous pies are the favorite pizzas of Atlanta diners everywhere. Their margherita DOP is classic, timeless, and mind blowingly tasty every time we have it. Looking for a bit more savory flavor? Try the extra truffle-y Sophia. For spice, the Diavola is a can't miss. For cheese, cheese, and more cheese, try the Pomodorini!
9. Buckhead Diner – Blue Cheese Chips
June 8, 2020 Update: Open for Dine-In, Takeout
For some serious snackage in a classic environment, try Buckhead Diner's blue cheese chips! We love this upscale diner's romantic feel and their savory classics. The blue cheese chips are a great side with anything and everything, but pair it with their choco-nana milkshake for a sweet treat!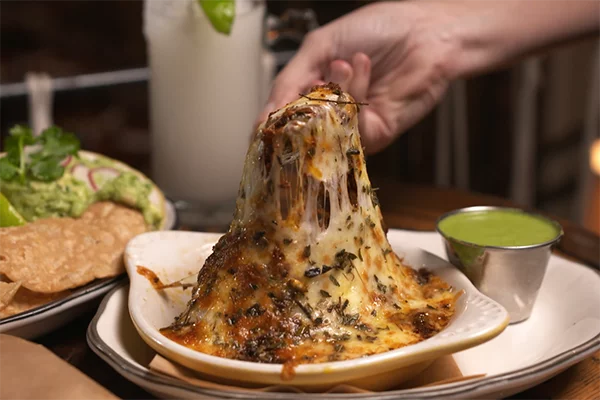 10. Superica – Queso Fundido
June 8, 2020 Update: Open for Curbside Pickup, Dine-in, Patio Dining
Queso is already mindblowing in and of itself, but when you add chorizo and warm tortillas from Superica into the mix, you get a truly mind blowing dish! Order up a plate of this cheesy, ooey, gooey treat to share (or not), add in a pitcher of their extra strong margaritas, and you're in for a good time.
11. Casi Cielo – Duck Carnitas
June 8, 2020: Open for Takeout, Dine-in, Patio
Newcomer to the Atlanta and Sandy Springs dining scene Casi Cielo is everything we didn't know we were missing. We had no idea that Mexican food and duck were such a perfect pairing, but it all blends together into the most decadent of dishes, their "pato con mole negro." It's duck carnitas with red onions, cilantro, black mole, and served with rice and pork frijolada. Pair yours with a mezcal cocktail next date night!
12. Fox Bros – Chicken Fried Rib
June 8, 2020 Update: Open for Dine-in, To Go
In the south, we eat our chicken fried, and we eat our ribs chicken fried! Award-winning Atlanta staple Fox Bros BBQ has a chicken fried rib that's worth the hype. The meat is tender and fall of the bone and the fried breading adds an additional layer of crisp. Shot out to Fox Bros for continuing to innovate BBQ!
13. Tasty China – Crispy Tender Pork Belly
June 8, 2020 Update: Open for Dine-in, Takeout
If you haven't tried Szechuan food, you need to make a trip to Tasty China as soon as possible! Their crispy, tender pork belly is every bit the spicy treat that will have your tastebuds screaming for more. Keep your eye on the number of chilli peppers each menu item has. We find that Tasty China has a bit more kick to their dishes than a lot of other Sichuan spots we have tried around town!
14. Cinnaholic – Cinnamon Rolls
June 8, 2020 Update: Open for Pickup
For the sweetest of sweetest of SWEETEST tooths, Cinnaholic has your back! There's endless toppings you can add to the top of your cinnamon roll, from strawberries to oreos to cookie dough to chocolate-y syrup. Bonus: this treat is totally vegan!
15. Hal's – Filet Mignon
June 8, 2020 Update: Open for Delivery, Takeout, and Dine-in
Hal's Steakhouse is always a great idea when you want something rich and decadent. And they obviously know steak! The filet mignon is always perfection every time we go. Try their escargot appetizer too!
16. Big Dave's Cheesesteaks – Philly Cheesesteak
June 8, 2020: Temporarily Closed For Repairs
Big Dave's is the crowd favorite, and for good reason! This local spot is a social media sensation for its over-the-top, decadent cheesesteaks with expertly seasoned meats and a bread that complements every bite you take. Try the cheesesteak eggrolls, too, if you're looking for that cheesesteak taste in a bite size snack that won't leave you in a total food coma for the rest of the day!
17. Breakers – "All You Can Eat"
June 8, 2020 Update: Open For Delivery
For your Korean BBQ fix, look no further than Breakers in Duluth. High-quality meats, value for your money, and a more upscale, date-night friendly vibe sets this place apart from the rest.  Try the "All You Can Eat" menu for $28 to load up on your choice of meats and whatever you do, grill up some pork belly. It's tender, delicious, and totally craveworthy.
18. El Tesoro – Breakfast Tacos
June 8, 2020 Update: Open For Takeout
El Tesero has a breakfast taco that you'll TACO 'bout all week long. Cheese, yellow corn tostadas, and beef come together for the most delicious of breakfasts. Mind successfully blown!
19. Little Rey – Half Chicken Al Carbon
June 8, 2020 Update: Open For Curbside Pick-up, Dine-In
Trust us and go ahead and get **at least** a half bird of Little Rey's addicting chicken al carbon, served with cilantro rice, corn tortillas, and ranch beans. This chicken is totally tasty!
20. Nina & Rafi – Tony Pepperoni Pizza
June 8, 2020 Update: Open for Pick-up, Delivery
The wait time is real at Beltline hot spot Nina & Rafi, but we're here to tell you the Tony Pepperoni pie is 100% worth it! This pie is covered with what feels like about a thousand of these lil peps that have just a hint of spice and kick that makes this pie totally addicting. For a meal of champions, pair yours with the meatball appetizer, the caprese salad, and an aperol spritz. It's worth the extra workout! You can also go at lunch time if you want to get a slice only!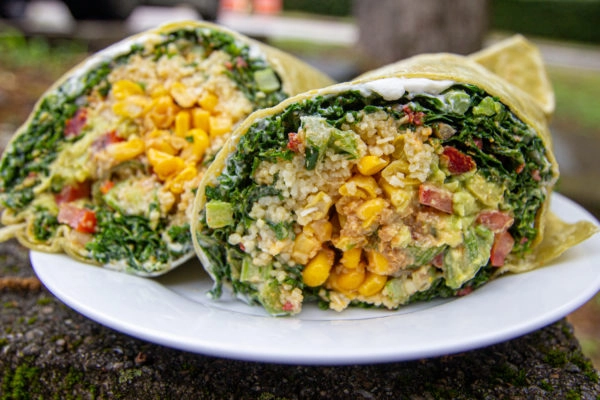 21. Tassili's Raw Reality Cafe – Punany Wrap
June 8, 2020 Update: Open for Pick-up, Order Online First
Head to the Westside for these MASSSIVE raw vegan wraps where it's alllll about the sauce. You know that owner Tassili Ma'at has really done something special when she has vegans and non-vegans alike lining up out the door at all times of day. The Punany Wrap is the biggest hit at this spot. Pro tip: add a bit of their Pad Thai sauce for extra flavor!
22. Louisiana Bistreaux – Crawtater Grouper
July 28, 2020 Update: Open for Pick-up, Dine-in, UberEats
For the kind of meal you're just not going to be able to put your fork down for, try Louisiana Bistreaux' crawtater grouper. It's major WOAH in one dish: fried grouper served over jalapeño grits with spinach, a creamy sauce, AND crawfish. Food coma = immediate. Locations in East Point, Decatur, and Buckhead!