Steak Shapiro's Top 9 Steakhouses
Atlanta, Georgia has more outstanding steak houses than any other city in America. There, I said it. Don't get me wrong, we are great at BBQ, Soul Food, Asian, Italian, etc.–but it is with bold classic steak houses where we truly separate ourselves from other cities. When you're a guy named "Steak," you have tried a few over the years and here is my list of the 9 most perfect steak houses that totally define our city, listed below in alphabetical order.
Celebrated restaurateur Michael Arnette is a Brookhaven staple whose upscale steak house with an open kitchen is simply outstanding. The sexy upstairs bar makes for one of the liveliest spots in town. Steak Tip: The next level Seafood Tower is a memorable way to start any meal.
The ultimate men's club, Bone's is one of the swankiest joints and delivers impeccable service like few steakhouses in America, let alone this city. Steak Tip: The Onion Rings alone are worth the price of admission.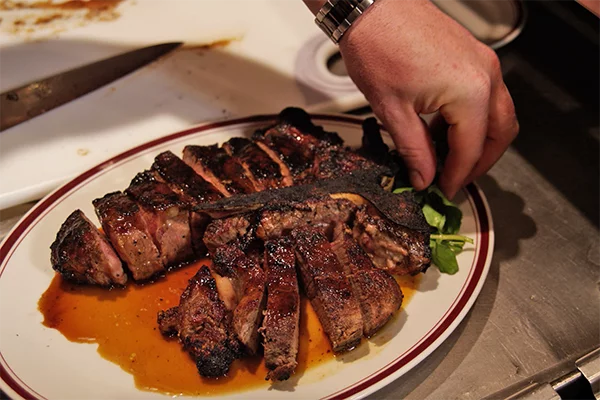 Buckhead Life's classic steakhouse is still the place to see and be seen and they deliver spectacular steaks, a lively bar scene and a private club downstairs for the city's elite. Steak Tip: Hong Kong Sea Bass and fried lobster tails.
Who knew the Norsan Restaurant Group could do a steakhouse in Duluth that is good or better than anything in Buckhead. I love their bar, their service and the finest steaks and sides you could dream of. Steak Tip: Jumbo Sea Scallops over linguine, yes please.
Sandy Springs should be more than proud of a steak house that rivals the great ones not just in Atlanta but in America. Peter Kaiser partnered with Kevin Rathbun for perfect food and literally perfect service. Steak Tip: The pappardelle bolognese is shockingly spectacular.
The premier chef in Atlanta has built one of the most celebrated restaurants in the Southeast. The Beltline views, incredibly sexy vibe and world class food and service makes this spot special. Steak Tip: The creamy charred corn side dish is world famous.
Many call Hal's the perfect night out and I agree with them. Perfect New Orleans theme with delicious oysters, perfect steaks and memorable sides along with the energy of Atlanta's most fun crowd. Steak Tip: The filet is considered the finest you will ever eat.
Superstar Chef and operator Ford Fry has delivered one of the most expensive but spectacular restaurants in the city with food and vibe that is second to none. Steak Tip: Veal Parmesan is stupid delicious.
The old school New York vibe in the heart of Buckhead has delivered the finest steaks and the classiest service for almost twenty years. Steak Tip: The massive six pound lobster that comes out in a red wagon, not even kidding.
Arnette's Chop Shop
Bone's
Chops Lobster Bar
Frankie's
Kaisers Chop House
Kevin Rathbun Steak
Hal's
Marcel
NY Prime